Keel petal incision: a simple and efficient method for genetic crossing in Medicago truncatula
Received: 9 January 2014
Accepted: 17 March 2014
Published: 16 May 2014
Abstract
Background
Genetic crossing is an essential tool in both forward and reverse genetic approaches to understand the biological functions of genes. For Medicago truncatula (barrel medic) various crossing techniques have been used which differ in the methods used to dissect the female parent's unopened flower bud to remove immature anthers for prevention of self-pollination. Previously described methods including front, side or back incision methods may damage the flower bud, impeding successful fertilization and/or seed development because they may allow pollen to dislodge and floral organs to desiccate after crossing, all of which diminish the success rates of crossing.
Results
We report the keel petal incision method for genetic crossing in M. truncatula ecotype R108 and demonstrate successful crosses with two other M. truncatula ecotypes, A17 and A20. In the method presented here, an incision is made along the central line of the keel petal from the bottom 1/3rd of the female parent's flower bud to its distal end. This allows easy removal of anthers from the flower bud and access for cross-pollination. After pollination, the stigma and the deposited pollen from the male donor are covered by the keel petal, wing petals and standard petal, forming a natural pouch. The pouch prevents dislodging of deposited pollen from the stigma and protects the internal floral organs from drying out, without using cling-film or water-containing chambers to maintain a humid environment. The keel petal incision method showed an approximate 80% success rate in the M. truncatula R108 ecotype and also in other ecotypes including Jemalong A17 and A20.
Conclusions
Our keel petal incision protocol shows marked improvement over existing methods with respect to the ease of crossing and the percentage of successful crosses. Developed for the M. truncatula R108 ecotype, the protocol has been demonstrated with A17 and A20 ecotypes and is expected to work with other ecotypes. Investigators of varying experience have achieved genetic crosses in M. truncatula using this method.
Keywords
LegumeGenetic crossingBarrel medic Medicago truncatula Artificial hybridizationKeel petal
Background
Medicago truncatula (barrel medic) is an important model legume species extensively used to study symbiotic interactions with soil rhizobia and arbuscular mycorrhizal fungi leading to symbiotic nitrogen fixation and mycorrhization respectively [1–3]. It has also found use as a model for studies on secondary metabolism [4–6], plant pathogens [7, 8], leaf development [9–11] and other processes. M. truncatula, in the Galegoid clade of the Papilionoideae legume subfamily, is closely related to economically important crops also in the Galegoid clade including alfalfa (M. sativa), pea (Pisum sativum) and lentil (Lens culinaris) as well as crop legumes in the Phaseoloid clade including soybean (Glycine max) and common bean (Phaseolus vulgaris) [12]. In the past two decades, extensive genomic and genetic resources have been developed for M. truncatula, making it an elite legume model amenable for functional genomics as well as for genetic studies to identify key regulators in important processes. These resources include a global gene expression atlas [13] and a nearly complete genome sequence [14]. M. truncatula's genome may contain up to 50,000 protein coding genes, most of unknown biological function [14]. To facilitate genetic studies in M. truncatula, several populations of mutants have been developed [15], including those treated with ethyl methane sulfonate (EMS) [16], fast neutron bombardment (FNB) [17–19] and a near saturation insertion mutant population carrying the tobacco Tnt1 retrotransposon [20–23].
An efficient technique for genetic crossing in M. truncatula is essential in our efforts to characterize mutants and to help identify their defective genes. Genetic crossing is commonly used to cross-fertilize mutants with their wild-type parents and to outcross mutants to different ecotypes to map the mutation of interest. Mutant populations generated using EMS, FNB or Tnt1 transposition harbor multiple mutations in the same plant which may require backcrossing to the wild-type parent to remove extraneous mutations not linked to the mutant phenotypes under study and to investigate the mode of inheritance of phenotypes/traits. Back- and out-crossing provide valuable tools to identify causal mutations underlying mutant phenotypes by co-segregation/linkage analysis. The M. truncatula genome contains many gene families with redundant functions due to gene duplications [12]. To study the functions of redundant genes, double mutants can be created by genetic crossing [24]. Genetic crossing is also essential for linkage mapping of natural variations and for genome-wide association studies [25, 26].
M. truncatula
flowers are hermaphroditic, with both male and female organs in the same flowers. A
M. truncatula
flower is comprised of a calyx, a large standard petal, two small wing petals on both sides of the flower and a fused keel petal which cover both male and female floral organs (Figure
1
A, B). The stigma is surrounded by eight fused anthers (Figure
1
B).
M. truncatula
is a self-pollinated species and fertilization occurs when the flower is still closed (cleistogamy). When the flower reaches maturity, its anthers grow close to the stigma surface and rupture to release the pollen grains (anthesis) on the stigma surface which allows the flower to self-fertilize. When performing a genetic cross, it is important to artificially open the closed flower bud to visualize and access the anthers and stigma before anthesis. In a cross, for the flower bud serving as a female, all the anthers are removed before they release pollen. To artificially fertilize the female flower, pollen grains from mature anthers of a male donor are deposited onto the stigma surface of the female flower to allow cross-pollination to occur.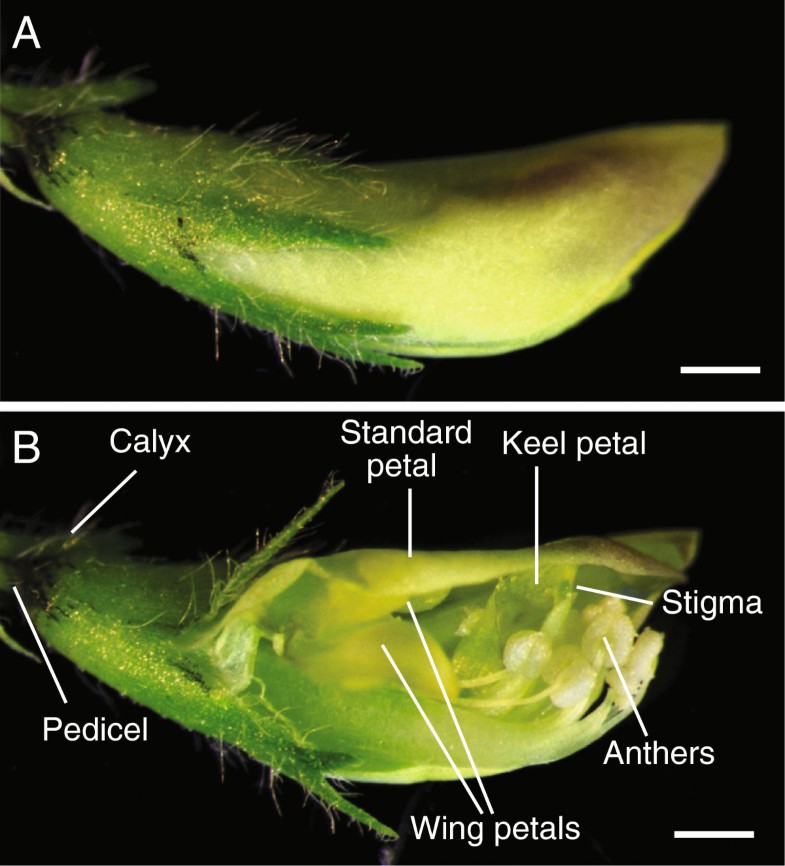 Several detailed genetic crossing techniques have been described for
M. truncatula
, which differ by how the immature flower bud is opened to allow removal of anthers and to allow access to the stigma for cross-pollination (Figure
2
) [
27
–
29
]. These methods also differ in how the flower is treated post cross-pollination to assure a successful cross. We call these: (1) the front cut method [
27
–
29
]; (2) the side cut method, also called the pouch method [
28
,
29
]; and (3) back cut method (a variation of the side cut method; Mark Taylor, unpublished data). In the front cut method, the flower buds are cut vertically along the central line of the curved side of the standard petal towards its tip from the proximal one third of the flower bud (Figure
2
A). In the side cut (Figure
2
B) and back cut (Figure
2
C) methods, similar cuts are made on the side and back of the flower buds respectively. The side cut method is time consuming and in all three procedures, the incision may damage the flower bud, rendering the female flower unusable. After cross-pollination using either the front or back cut methods, it is difficult to close the flower bud completely, which may lead to mechanical loss of deposited pollen and/or desiccation of internal floral organs.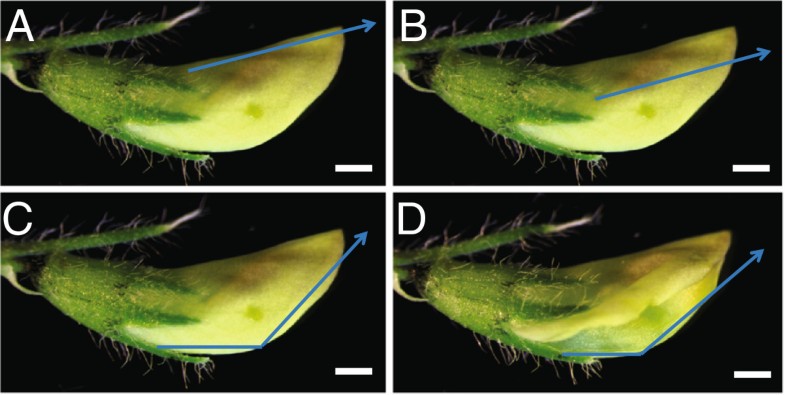 Another crossing method employs male-sterile mutants as females. The mtapetala (tap) mutant, found in the M. truncatula Jemalong A17 ecotype [16], has been extensively used for this purpose [16, 30–33]. However the tap mutation is not found in other ecotypes.
Here we report an improved genetic crossing technique called keel petal incision (Figure 2D; Additional file 1: Video S1; youtu.be/wDtRHWg1LBM), initially developed for the M. truncatula R108 ecotype. The keel petal incision method allows easy access to an immature flower for anther removal and artificial pollination. It also preserves floral morphological features permitting the standard and wing petals to close to their natural positions after cross pollination. This allows fertilization and embryo development to occur under protection of the flower petals and obviates the need for maintaining the pollinated flower in cling-film or humidified containers. Keel petal incision is a simple and efficient crossing technique with high success rates (>80%) in the R108 ecotype and in other ecotypes, A17 and A20.
Conclusions
Crossing is essential for genetics. Here we described a new crossing technique for M. truncatula that involves incising the keel petal of the female flower to expose the flower's stigma and anthers, remove its anthers and permit an artificial cross. After the cross is complete, the standard, wing and keel petals can be arranged similarly to their original positions in the unopened flower bud, protecting the floral organs from desiccation and removing the need for extraneous materials to maintain humidity for the fertility of the flower and deposited pollen. We demonstrated that this method can be used for the M. truncatula R108, A17 and A20 ecotypes and expect that it will find utility in other ecotypes. This method has been successfully used by investigators of varying experience, including junior graduate students and undergraduates in our labs.
Materials and methods
Plant growth
M. truncatula seeds were scarified with sulfuric acid, treated with bleach, imbibed and vernalized as described [16, 28]. Shorter vernalization (1–4 days at 4°C) results in delayed flowering and a larger plant with higher numbers of flowers. Longer vernalization (4–14 days at 4°C) results in earlier flowering accompanied by smaller plant stature and reduced flower numbers. If plants are grown exclusively for crossing, longer vernalization is preferred to shorten the time to flowering. Details of the effect of vernalization on flowering time and growth stature can be found in [28]. Different vernalization times were used and did not appear to affect crossing success. After vernalization, seeds were germinated at 25°C in the dark; in our hands, seeds germinated within 12–24 hours. Subsequently, the plants were screened for nodulation phenotypes 15 days post-inoculation with S. meliloti using an aeroponic chamber [30, 35], or by growing the plants on a Turface/vermiculite mixture [23]. After phenotyping, the seedlings were grown in medium size (four inch; ten cm) pots so that they are easy to handle while performing crosses. To avoid waterlogged roots, we grew M. truncatula in a peat-based potting medium with Turface (Profile, Buffalo Grove, Ill) mixed in (3:1), at 22°C under16:8 hr light:dark cycles. Plants were irrigated as needed and fertilized with a commercial general purpose fertilizer once a week.
Crosses and PCR confirmation
The crosses were performed under a Nikon model C-PS stereo microscope (Nikon, Tokyo, Japan). Images and video clips of M. truncatula flowers and crossing techniques were obtained using Leica MZ10F (Leica, Buffalo Grove, IL) microscope. Two pairs of fine tip forceps (HL-14 #5, http://www.buyincoins.com) and a straight-edge scalpel (scalpel blade handle 9303 #3, and scalpel blade 9311 #11, both from http://www.microscopesamerica.com) were used for keel petal incision, the removal of anthers from the unopened female flower bud and artificial cross-pollination (Additional file 2: Figure S1). Mature pods from the successful cross-pollinations were wrapped using micro-perforated polythene sheets (MP1120160T, http://www.prismpak.com).
The following primers were used for PCR genotyping to confirm crosses: Tnt1-F, GCATTCAAACTAGAAGACAGTGCTACC and Tnt1-R, TGTAGCACCGAGATACGGTAATTAACAAGA [34] (Tnt1, Genbank:X13777). MtIRE-like specific primers [36] (MtIRE-like, Genbank:AY770392, Genbank:AC122727) were used as a control to confirm that extracted DNA from wild-type plants was of sufficient quality for PCR using MtIRE- F, CCAAATCGTTGAAAGCTCGTTCACAACTCC and MtIRE- R, CGTCTTGACCAGCAAACACGACACG.
Abbreviations
BC:

Back cross
DNA:

Deoxyribonucleic acid
EMS:

Ethyl methane sulfonate
FNB:

Fast neutron bombardment
M. truncatula :

Medicago truncatula
PCR:

Polymerase chain reaction.
Declarations
Acknowledgements
This work was supported by National Science Foundation grant IOS 1127155 to MU and RD and by USDA-NIFA grant 2010-65115-20384 to MU. AS was partially supported by Department of Education grant P217A120023 to Dr. D Elrod and UNT's McNair Scholars Program. Video and audio equipment used in the production of the supplemental video for this article were provided by the University of North Texas Media Library.
Authors' Affiliations
(1)
Department of Biological Sciences, University of North Texas, Denton, USA
(2)
Plant Biology Division, The Samuel Roberts Noble Foundation, Ardmore, USA
Copyright
© Veerappan et al.; licensee BioMed Central Ltd. 2014
This article is published under license to BioMed Central Ltd. This is an Open Access article distributed under the terms of the Creative Commons Attribution License (http://creativecommons.org/licenses/by/2.0), which permits unrestricted use, distribution, and reproduction in any medium, provided the original work is properly credited. The Creative Commons Public Domain Dedication waiver (http://creativecommons.org/publicdomain/zero/1.0/) applies to the data made available in this article, unless otherwise stated.