Protocol: a method to study the direct reprogramming of lateral root primordia to fertile shoots
Received: 18 February 2016
Accepted: 3 May 2016
Published: 12 May 2016
Abstract
Background
Plants have the remarkable property to elaborate entire body plan from any tissue part. The conversion of lateral root primordium (LRP) to shoot is an ideal method for plant propagation and for plant researchers to understand the mechanism underlying trans-differentiation. Until now, however, a robust method that allows the efficient conversion of LRP to shoot is lacking. This has limited our ability to study the dynamic phases of reprogramming at cellular and molecular levels.
Results
Here we present an efficient protocol for the direct conversion of LRP to a complete fertile shoot system. This protocol can be readily applied to the various ecotypes of Arabidopsis. We show that, the conversion process is highly responsive to developmental stages of LRP and changes in external environmental stimuli such as temperature. The entire conversion process can be adequately analyzed by histological and imaging techniques. As a demonstration, using a battery of cell fate specific markers, we show that confocal time-lapse imaging can be employed to uncover the early molecular events, intermediate developmental phases and relative abundance of stem cell regulators during the conversion of LRP to shoot.
Conclusion
Our method is highly efficient, independent of genotypes tested and suitable to study the reprogramming of LRP to shoot in intact plants as well as in excised roots.
Keywords
Arabidopsis
Auxin
Cytokinin
Lateral root
Shoot
Regeneration
Trans-differentiation
Background
The profound capacity of somatic cells to reproduce an entire organism has been widely exploited in in vitro plant regeneration [1, 2]. This spectacular property of plant cells has great impact on both, basic plant research and biotechnological application. On the one hand, in vitro plant regeneration can be exploited to understand many fundamental questions pertaining to subjects such as stem cell specification, cell fate determination, cell differentiation, meristem formation and organogenesis in the absence of positional information laid down during embryogenesis. On the other hand, the relatively simple and robust approach of this system attracts biotechnology sector for in vitro micropropagation, haploid production and genetic engineering.
Regeneration can be induced from the explant either directly or indirectly and are defined based on the presence or absence of an intermediate phase that leads to the formation of callus, a regenerative mass of cells. Indirect regeneration demands pre-treatment of the explant with high concentration of auxin which induces callus formation. Callus formation involves the activation of pericycle or pericycle-like cells and largely follows lateral root developmental pathway regardless of the origin of explants [3–5]. Root or shoot can be regenerated from callus when it is cultivated on media containing high auxin relative to cytokinin or high cytokinin relative to auxin, respectively. On the other hand, organs can also be regenerated directly from the explants without passing through a callus phase. Direct conversion of lateral root primordia (LRP) to shoot upon cytokinin treatment is one such example [4, 6, 7]. LRP is formed from xylem pole pericycle cells and it is induced by auxin [8, 9]. Application of cytokinin can convert LRP to shoot in a concentration-dependent manner and this process provides an elegant example of trans-differentiation [4, 6, 7]. Cytokinin rapidly induces the expression of a shoot stem cell regulator, WUSCHEL (WUS) in the LRP, and facilitates the conversion process [6, 7]. Consistent with the rapid upregulation of WUS during cytokinin-induced LRP-to-shoot conversion, inducible ectopic overexpression of WUS can convert LRP to shoot in the absence of external inductive cues and can induce shoot formation from Arabidopsis primary root meristem [6, 10].
Direct conversion of LRP to shoot can be exploited in sterile plants and in those where normal propagation by seed is not possible. This approach can substitute callus-mediated shoot regeneration that is more time consuming, laborious and difficult to achieve in some plant species. Moreover, explants that undergo prolonged sub-culture might encounter somaclonal variation associated with callus growth, and thus, such long-term callus-mediated culturing may not be desirable for the regeneration of elite crop species [
11
]. Therefore, direct conversion of LRP to shoot offers an attractive alternative for plant breeding industry.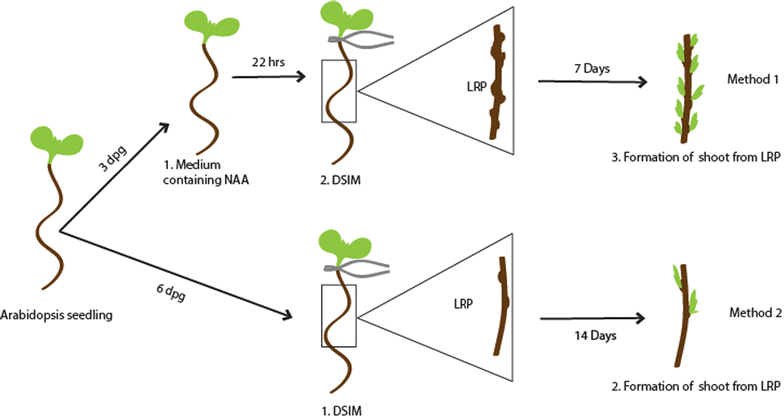 Conversion of LRP to shoot must involve massive reprogramming in response to shoot inductive cues. Study of early cellular and molecular events regulating the reprogramming is essential to probe the underlying mechanisms. The model dicot species, Arabidopsis, can be used to study the in depth mechanism and it can serve as a reference for studies in other plant species [12–14]. Recent studies in Arabidopsis have begun to address this process [4, 6, 7]. Although previous studies in Arabidopsis have attempted to understand the molecular players involved in LRP-to-shoot conversion, they do not provide a robust method that can monitor the transient intermediate phases of conversion in real time [4, 7]. Dissection of the intermediate phases in which the converting structures are likely to remain morphologically identical to untreated LRP is instrumental to understand the mechanisms. Here, we describe a simple and highly reproducible method that can be used for the synchronized and efficient conversion of LRP to complete fertile shoot system in Arabidopsis which allows us to dissect the transient intermediate developmental phases of conversion (Fig. 1). We reveal the unrecognized role of external environmental stimulus, temperature, in the conversion of LRP to shoot. Using a battery of cell fate specific fluorescent markers, we show that time-lapse imaging is a useful tool to gain deeper insights into these processes. Furthermore, we illustrate the use of classical histological analysis to understand the anatomical changes during the conversion. Our methods can be used to study the process in both, the excised root as well as in growing plants.
Materials
Reagents
Reagents for seed sterilization

Dried seeds of Arabidopsis thaliana, 20 % sodium hypochlorite, 70 % ethanol and autoclaved distilled water.

Murashige and skoog (MS) medium

Use de-ionized Milli Q water to prepare growth media. All the hormones and antibiotics should be filter-sterilized and should be added to autoclaved, cool medium (45–50 °C). Preparation of hormone stocks is described in Table

1

.

Table 1

Details of hormone/antibiotic stock preparation

| Antibiotic/hormone | Stock concentration | Solvent | Concentration in media | Amount to be added for 50 ml medium (µl) | Amount to be added for 1 l medium (ml) |
| --- | --- | --- | --- | --- | --- |
| Ampicillin | 100 mg/ml | 40 % ethanol | 100 µg/ml | 50 | 1 |
| NAA | 1.86 mg/ml | DMSO | 10 µM | 50 | 1 |
| 2iP | 10 mM | DMSO | 10 µM | 50 | 1 |
| Trans zeatin | 10 mM | DMSO | 10 µM | 50 | 1 |

To prepare 1L MS medium, add 2.165 g (for half strength) or 4.3 g (for full strength) of MS salt (Sigma, M5524) and 10 g of sucrose (Sigma, S0389). Adjust pH to 5.8 with 1 N KOH and add 8 g of plant Agar (Sigma, A7921). Autoclave the medium (121 °C for 20 min) and cool it to 45–50 °C. Add 1 ml of 100 mg/ml filter-sterilized Ampicillin (final conc. 100 µg/ml) to 1L medium and pour 50 ml each into square Petri dishes within the LAF.

Note Addition of Ampicillin to the medium can prevent bacterial contamination.

NAA pretreatment medium

Add 50 µl of 1.86 mg/ml NAA (naphthaleneacetic acid) (final concentration 10 µM) to 50 ml full strength MS agar medium and pour into square Petri dishes in the LAF.

Direct shoot inducing medium (DSIM)

Add 4.3 g of MS salt (Sigma, M5524) and 10 g of Sucrose (Sigma, S0389), 0.5 g of MES (2-(N-Morpholino) ethane sulfonic acid) (Sigma, M2933) and 1 ml of Gamborg's vitamin solution (Sigma, G1019) for 1 l of 1× DSIM. Adjust pH to 5.7 with 1 N KOH and add 8 g of plant Agar (Sigma, A7921). After autoclaving, cool the medium to 45–50 °C and add 1 ml of 100 mg/ml filter-sterilized Ampicillin (final conc. 100 µg/ml) and specific hormones to 1 l medium as mentioned below. Pour 50 ml medium into each square Petri dish in the LAF. Two hormonal combinations for DSIM are described here.

DSIM-1: 10 µM 2iP (6-(γ,γ-dimethylallylamino) purine)

DSIM-2: 10 µM trans-zeatin

Root inducing medium (RIM)

Add 500 µl of 1 mg/ml indol-3-butyric acid (IBA) into the basal composition of DSIM (without cytokinin) to make 1 l RIM. Pour into square Petri dishes in the LAF.

Soilrite–vermiculite mixture

Mix soilrite and exfoliated vermiculite (1:1) with 1× MS solution (without sucrose and agar) for ex vitro establishment of seedlings. It is desirable to autoclave both soilrite and vermiculite before mixing them with MS solution to destroy germs and weeds.

Hormone/antibiotic stocks

The hormone stocks should be prepared in DMSO and filter sterilized by 0.22 µm filter. All the stocks should be stored at −20 °C.

Staining reagents for confocal microscopy

10 µg/ml propidium iodide (filter sterilized) (Sigma).

10 µg/ml FM4-64 (filter sterilized) (molecular probes).

Both propidium iodide and FM4-64 should be dissolved in sterile distilled water followed by filter sterilization. Store in amber coloured tubes at 4 °C.

Note Caution! Propidium iodide is a potential carcinogen. Wear protective gloves to avoid contact with skin.

Fixing solution preparation for histological analysis

401 ml ddH2O

25 ml 1 M Na3PO4 with pH 7.2

54 ml 37 % formaldehyde

20 ml 25 % glutaraldehyde

Note Formaldehyde and glutaraldehyde are toxic. The preparation should be performed in fume hood.

Solution A preparation

Leica historesin embedding kit is used for embedding. Dissolve 0.5 g historesin activator into 50 ml basic resin, mix thoroughly. Solution A can be stored at 4 °C, dark, for up to 2 weeks.

Embedding solution preparation

Add hardener into solution A with the volume ratio 1:14. Mix thoroughly by vortexing.

Note Embedding solution should be made freshly before use as it cannot be stored. It hardens within 10 min.

Plant materials and constructs

Arabidopsis

ecotypes Col-0, Ws and L

er

are used in this study.

pPLT2::PLT2

-

vYFP

[

6

,

15

]

pSCR::H2B

-

vYFP

, and

pWUS::erCFP

[

6

] have been described previously.

pARF10::ARF10

-

YFP

construct is generated by incorporating genomic sequence of

ARF10

between its 4.984 kb upstream regulatory sequence at the 5′ end and the coding region of

vYFP

at the 3′ end. The genomic sequence of

STM

is cloned with its 5.752 kb upstream regulatory sequence fused in translational frame with the

vYFP

to generate

pSTM::STM

-

YFP

. All the DNA fragments mentioned above are amplified from Col-0 genomic DNA using the primers listed in Table

2

. Multisite Gateway recombination (Invitrogen) based cloning system is used to clone all components into pCAMBIA 1300 destination vector. Floral-dip method is used to transform Col-0 plants and transgenics are selected based on hygromycin resistance.

Table 2

Details of oligonucleotide primers (gateway compatible) used in this study (5′–>3′)

| Primer name | Forward primer | Reverse primer |
| --- | --- | --- |
| ARF10 promoter | ggggacaactttgtatagaaaagttgttgtcacgattagaatgcacatgcagttcgt | ggggactgcttttttgtacaaacttgtctagacgaagttgtgtaacccccaaattct |
| ARF10 gene | ggggacaagtttgtacaaaaaagcaggctgtatggagcaagagaaaagcttggatccacaac | Ggggaccactttgtacaagaaagctgggttagcgaagatgctgagcggaccagtcttcgtag |
| STM gene | ggggacaagtttgtacaaaaaagcaggctgtatggagagtggttccaacagcacttcttgtc | Ggggaccactttgtacaagaaagctgggttaagcatggtggaggagatgtgatccattgg |
Equipment
Equipment for in vitro culture
Laminar air flow chamber (LAF)

Microscissors-Vannas scissor, straight (Ted Pella, 1346) (flame sterilized)

Forceps (flame sterilized)

Scalpel and scalpel blades (flame sterilized)

Micro pipettes

Sterile pipette-tips (200 µl and 1 ml)

1.5 ml micro-centrifuge tubes

Spirit lamp

Sterile disposable square Petri plates, size: 120 mm × 120 mm (Himedia PW050-1)

Parafilm

Gloves

Plant growth chamber (Percival AR-100L3)
Equipment for microscopy
Stereo microscope (Leica M205FA) for bright field imaging

Confocal laser scanning microscope (Leica TCS SP5 II) for time-lapse fluorescent imaging

Microscope slides (Himedia CG029)

Microscope cover glass 22 × 22 mm (Corning 2850-22)
Equipment for resin cross section
Micro pipettes

Sterile pipette tips (200 µl and 1 ml)

1.5 ml micro centrifuge tubes

13 × 19 × 5 mm Polyethylene mold cups

Flat bottom 6 well cell culture plates

20 × 15 × 10 mm wooden block

Microscope slides

Microtome (Leica, Jung RM2055)

Microtome knife

Water bath (Kunz instruments, HIS-2)

Flattening table (Kunz instruments, HP-3)

Copier films (Folex, A4 size)

Double side adhesive tape

Scissors and forceps
Equipment setup
Embedding chamber making

Cut the copier film into size of 3 × 4 cm, cover it with double side adhesive tape, then dig a hole in the middle with the size 1 × 2 cm, stick it to another piece of intact copier film, the chamber left can be used to embed material. The chamber depth equals to the film thickness. If the material is thick, just stick two or more layers of film together to make the chamber deeper.

Note This method is quite flexible, this can be modified by using another material instead of copier film, as long as the material is not organic solution permeable and if a chamber to hold the samples can be made. The chamber size can be adjusted according to the sample size. This kind of chamber is recyclable.
Results and discussion
Here we provide detailed methods which can be readily used to study the conversion of LRP-to-shoot in the model organism, Arabidopsis. Both methods described here were effective in converting LRP into complete shoot system (Fig. 3a–l). We examined if shoot conversion can be achieved only in excised root or if this method can also be implemented to growing plants where complete root system is in the context of growing shoot. We found that our method can also be used to trigger shoot formation from LRP in intact plant (Fig. 3d). The ability to convert the LRP to shoot by external inductive cues in both intact plant and excised root is consistent with our previous study where inducible ectopic overexpression of shoot stem cell regulator, WUS, triggered shoot from LRP of both intact plant as well as excised root [6].
Though previous studies [4, 6, 7] have shown that LRP can be converted to shoot, it was not known if the developing shoot can be used to generate complete fertile shoot system. We show that the converted shoots bearing flowers and siliques can be successfully established ex vitro (Fig. 3k, l). Method I, which demanded auxin pre-treatment, displayed more number of LRP-to-shoot conversion. This is due to the presence of more number of LRP in the explants of method I than those of method II. As previously shown, NAA pre-treatment induced more number of LRP along the entire length of the root at both xylem pole pericycle [7, 19]. Upon DSIM treatment, these LRP converted into shoot. But it was not known if LRP at all stages can convert into shoot. We have tested the capacity of different stages of LRP to convert into shoot. We found that LRP stages II and III were more responsive to convert into shoot (Fig. 5a, e, i, m). LRP at the very late stage of development (lateral root emergence stage) was recalcitrant to convert into shoot (Additional file 1). The degree of shoot conversion ability of LRP at different developmental stages might be due to the varying sensitivity of LRP to cytokinin. It has been reported that stage V/VI LRP is least sensitive to cytokinin [20]. Thus, the developmental stage of LRP plays a significant role in determining the conversion process.
Besides the developmental stage of LRP, the concentration of cytokinin is also a vital factor to accomplish LRP-to-shoot conversion. At lower concentration, cytokinin perturbs LRP organization and thereby suppresses lateral root outgrowth [20, 21]. At higher concentration, cytokinin triggers trans-differentiation leading to the conversion of LRP to shoot. We have tested various concentrations of three cytokinins such as 6-(γ,γ-dimethylallylamino) purine (2iP), trans-zeatin (TZ) and kinetin (KT) to identify the most effective concentration of cytokinin that can convert maximum number of LRP to shoot. We found that both 2iP and TZ (10 and 20 µM) were more efficient to convert LRP into shoot than KT (Method-I: 2iP = 8 ± 0.57, TZ = 7.8 ± 0.87, KT = 4.1 ± 0.85). While 10 µM 2iP or TZ was sufficient to convert LRP to shoot in method I, 20 µM of 2iP or TZ was required in method II.
In addition to the developmental stages of root and hormonal concentrations, external environmental stimuli may play a crucial role in LRP-to-shoot conversion. The culture temperature can be a potential factor that influences the conversion. To test this, we cultured the explants at both normal temperature (22 °C) and high temperature (29 °C). Many of the LRP cultured at high temperature arrested (42 %) during the conversion process despite the abundance of cytokinin (Fig. 3j). These arrested LRP made green bulges. Interestingly, some of these bulges eventually lead to the formation of lateral roots (Fig. 3j). Consistent with our observation, a recent study shows that seedlings grown at high temperature make more lateral roots [22]. Incubation at lower temperature (18 °C/20 °C cycle) marginally reduced the efficiency of LRP-to-shoot conversion (Additional file 2). Our data suggests that LRP-to-shoot conversion is hypersensitive to temperature and the LRP choose default root developmental pathway at high temperature even in the presence of high cytokinin. We have also tested the effect of continuous light and diurnal (16 h light/8 h dark) conditions on LRP to shoot conversion. We did not notice any significant difference in conversion between these conditions (Additional file 3).
In different plant species, the ideal culture conditions such as culture temperature, developmental stages of LRP and hormonal concentration required for the transition can vary. Based on our results in Arabidopsis, we recommend to standardize (1) temperature, (2) developmental stages of lateral root primordia (preferably early stages of LRP), (3) concentration of cytokinin, to adapt our protocol for other plant species.
Collectively, our method describes the use of time-lapse imaging technique for the fine dissection of the early developmental changes during trans-differentiation in Arabidopsis. We have also explored the role of external stimuli such as light and temperature in the LRP to shoot conversion. Further, this method may be adopted for other plant species on standardizing the parameters that influence the conversion process.
Conclusion
Studies on the conversion of LRP-to-shoot are important in the light of the fact that many plant species adopt root-to-shoot conversion as one of the natural means of vegetative propagation. Many species like murraya, poplars, guava etc. have the natural capacity to make shoots from root when attached to or detached from the mother plant. The newly formed plant is called 'a sucker' or 'a root sprout' and these eventually grow as an independent plant. Although the frequency of sucker formation is less, some plant species mainly depend upon this mode of reproduction when seed based propagation is rare. Studies on this mode of propagation are highly fragmentary and the mechanisms underlying root-to-shoot conversion remain unknown. Although our method has been developed for Arabidopsis, it can be used as a reference to study the cellular and molecular mechanism underlying trans-differentiation in other plant species. Taken together, our method for the LRP-to-shoot conversion is highly efficient, independent of genotype tested and is amenable for time-lapse imaging to delineate the mechanism underlying this process.
Declarations
Authors' contributions
AK, DR, XW, SB and ZBT performed research. AK, DR, XW, KS, JX, APM and KP analyzed data. AK and KP wrote the paper with the help of all co-authors. XW, JX and APM contributed new reagents and tools. All authors read and approved the final manuscript.
Acknowledgements
KP acknowledges the Grant from Department of Biotechnology (DBT), Govt. of India and infrastructures and financial support from IISER-TVM. AK is supported by IISER-TVM fellowship. DR acknowledges UGC fellowship. XW and APM acknowledge the grant from Academy of Finland and University of Helsinki. XW is also supported by a grant from the Chinese Scholarship Council. ZBT acknowledges DST-Inspire fellowship. JX acknowledges National University of Singapore Young Investigator Award and an AcRF Tier 2 Grant (MOE2014-T2-1-128) from the Ministry of Education of Singapore. The authors acknowledge Eswar Reddy and Anzal KS for their generous technical support.
Competing interests
The authors declare that they have no competing interests.
Open AccessThis article is distributed under the terms of the Creative Commons Attribution 4.0 International License (http://creativecommons.org/licenses/by/4.0/), which permits unrestricted use, distribution, and reproduction in any medium, provided you give appropriate credit to the original author(s) and the source, provide a link to the Creative Commons license, and indicate if changes were made. The Creative Commons Public Domain Dedication waiver (http://creativecommons.org/publicdomain/zero/1.0/) applies to the data made available in this article, unless otherwise stated.
Authors' Affiliations
(1)
School of Biology, Indian Institute of Science Education and Research, Thiruvananthapuram, India
(2)
Institute of Biotechnology, University of Helsinki, Helsinki, Finland
(3)
Department of Biosciences, Viikki Plant Science Centre, University of Helsinki, Helsinki, Finland
(4)
Department of Applied Biological Science, Faculty of Science and Technology, Tokyo University of Science, Noda, Japan
(5)
Department of Biological Sciences and Centre for BioImaging Sciences, National University of Singapore, Singapore, Singapore