Evaluation of alternative RNA labeling protocols for transcript profiling with Arabidopsis AGRONOMICS1 tiling arrays
Received: 31 January 2012
Accepted: 13 June 2012
Published: 13 June 2012
Abstract
Microarrays are routine tools for transcript profiling, and genomic tiling arrays such as the Arabidopsis AGRONOMICS1 arrays have been found to be highly suitable for such experiments because changes in genome annotation can be easily integrated at the data analysis level. In a transcript profiling experiment, RNA labeling is a critical step, most often initiated by oligo-dT-primed reverse transcription. Although this has been found to be a robust and reliable method, very long transcripts or non-polyadenylated transcripts might be labeled inefficiently. In this study, we first provide data handling methods to analyze AGRONOMICS1 tiling microarrays based on the TAIR10 genome annotation. Second, we describe methods to easily quantify antisense transcripts on such tiling arrays. Third, we test a random-primed RNA labeling method, and find that on AGRONOMICS1 arrays this method has similar general performance as the conventional oligo-dT-primed method. In contrast to the latter, however, the former works considerably better for long transcripts and for non-polyadenylated transcripts such as found in mitochondria and plastids. We propose that researchers interested in organelle function use the random-primed method to unleash the full potential of genomic tiling arrays.
Keywords
Transcript profilingArabidopsisMicroarrayAGRONOMICS1Tiling arrayRNA labeling
Background
Transcript profiling has become a routine experimental approach in many fields of biology. One way to perform such profiling is to use DNA microarrays. For the model plant Arabidopsis thaliana, microarrays that probe the transcriptome have been used for more than ten years [1–8], and ATH1 arrays manufactured by Affymetrix have probably been used most widely [9]. Although ATH1 arrays proved to generate robust and reliable data, they lack probes for one third of the annotated Arabidopsis genes. For genome-wide profiling, researchers have started to use transcriptome arrays from other manufacturers or genome tiling arrays, which contain probes against the entire genome. Tiling arrays are not restricted to probe mRNA but also other transcripts such as sRNA (small RNA), tRNA (transfer RNA) and miRNA (micro RNA), and yield information on splicing. In Arabidopsis, tiling arrays have already identified many novel genes, intergenic non-coding RNAs and antisense transcripts [10–16]. Tiling arrays have also frequently been used in Arabidopsis epigenome profiling such as with chromatin-immunoprecipiation (ChIP-chip) (for review see [17]) and for detection of deletion mutations [18]. Another major advantage of tiling arrays is that they are not limited to current genome annotations but can be re-analyzed when new genome annotation information becomes available. In Arabidopsis thaliana, the Affymetrix Arabidopsis 1.0R tiling array was used in diverse applications ranging from transcript discovery to ChIP-chip [13, 15, 19–23]. An alternative Arabidopsis tiling array is the recently developed AGRONOMICS1 Affymetrix array [24]. The design of the AGRONOMICS1 array is similar to the Affymetrix Arabidopsis 1.0R array but lacks mismatch probes. Instead, it contains probes against both genome strands while the Affymetrix Arabidopsis 1.0R array probes only one strand. This allows strand-specific transcriptome profiling on single AGRONOMICS1 arrays and gives doubled probe density for epigenome profiling applications.
Since its release, AGRONOMICS1 arrays have been used for many experiments some of which have been published [25–27]. Initially, the GeneChip©3' IVT Express kit (Affymetrix) was utilized to prepare samples for hybridization to AGRONOMICS1 arrays because this kit was also widely used to prepare samples for ATH1 arrays. Nevertheless, this method has some disadvantages, mostly because it is based on oligo-dT priming. Oligo-dT priming disfavors labeling of long transcripts. In addition, non-polyadenylated transcripts are labeled only poorly. Because transcripts in organelles usually lack polyA tails [28], oligo-dT-based labeling methods are not suitable for projects where expression data for plastidial or mitochondrial genes are needed. In addition, it has been reported that the use of T7 sequences in common oligo-dT priming protocols can cause artifacts on tiling arrays [29]. Labeling methods based on random priming at the reverse transcription step carry the potential to overcome the limitations of oligo-dT-based labeling [30–34].
Here, we tested an alternative labeling method based on random priming at the reverse transcription step and develop appropriate data analysis routines. The comparison of this and the previously used protocols revealed, in general, a very good agreement between fold change values from both methods. Considerable differences between both methods were observed for transcript signal estimates for long transcripts and for organellar transcripts, which both are only inefficiently labeled by oligo-dT priming. In both cases, expression estimates were much larger for the method based on random priming. In summary, we present an RNA labeling procedure together with an appropriate data analysis pipeline that can replace established oligo-dT based methods in projects where expression of plastidial or mitochondrial genes is of interest.
Results and discussion
Analyzing AGRONOMICS1 arrays based on the TAIR10 genome version
A major advantage of genome tiling microarrays is that they can accommodate changes in genome annotation. After the AGRONOMICS1 array was developed, the TAIR10 version of the Arabidopsis genome was released. We generated new TAIR10-based CDF (chip description format) files, which can be used to generate expression estimates from raw data (CEL files) not only for new but also for past experiments (Table
1
). We compared expression estimates derived from a published data set from dark-grown and illuminated seedlings, which was based on labeling with the Affymetrix IVT Express kit [
24
], using the TAIR9- and the TAIR10-based CDF files, and as expected found very high agreement between both (Additional file
1
: Figure S1). Because antisense transcripts have attracted much attention in recent years, we generated a second TAIR10-based CDF file that can be used to profile antisense transcripts. Note that originally most labeling protocols for Affymetrix expression arrays generated labeled aRNA (antisense RNA), which hybridizes with probes against the antisense strand. Nowadays, however, protocols generating labeled cDNA or labeled aRNA are both common. Table
2
summarizes usage of the new CDF files.
Table 1
Properties of custom-made CDF files for AGRONOMICS1 arrays
| CDF file | Genome version | # of probes (ath1) + control probes) | # of probe sets (ath + control probe sets) | # of genes probed(M + P)2) | Description |
| --- | --- | --- | --- | --- | --- |
| agronomics1_ TAIR9_gene | TAIR9(2009) | 1,246,484 (1,093,816 + 152,668) | 30,608 (30,237 + 371) | 29,920(33 + 67) | Gene-specific probe sets of all suitable probes from the antisense strand |
| agronomics1_ TAIR10_gene | TAIR10(2010) | 1,626,780 (1,474,112 + 152,668) | 31,027 (30,656 + 371) | 30,466(35 + 85) | Gene-specific probe sets of all suitable probes from the antisense strand |
| agronomics1_TAIR10_gene_sense | TAIR10(2010) | 1,397,929 (1,245,261 + 152,668) | 30,757 (30,386 + 371) | 30,174(36 + 84) | Gene-specific probe sets of all suitable probes from the sense strand |
Table 2
Matching CDF files and RNA labeling protocols
| CDF file | 3'-IVT kit | WT kit |
| --- | --- | --- |
| agronomics1_ TAIR10_gene | Detection of sense transcripts | Detection of antisense transcripts |
| agronomics1_TAIR10_gene_antisense | Detection of antisense transcripts | Detection of sense transcripts |
Applying the new CDF files to the dataset of RNA from dark-grown and illuminated seedlings, we identified 780 and 333 genes that were induced or repressed by light, respectively (p < 0.01, fold change > 2). With the same criteria, 5 and 0 genes had no significant difference in abundance of sense transcripts but had antisense transcripts that were induced or repressed by light, respectively. Three of the 5 genes overlapped with annotated genes on the opposite genome strand. Visual inspection of the tiling array data suggested that in these cases the apparent antisense signal was caused by a sense signal from the overlapping gene. In contrast, for two genes (
AT4G31875
and
AT5G64401
) strong antisense signals could not be explained by an overlap with known genes (Figure
1
). Note that the IVT Express labeling protocol used here was earlier shown to have high strand-specificity [
24
]. Thus, the new antisense-CDF file can be used to quantify antisense transcripts.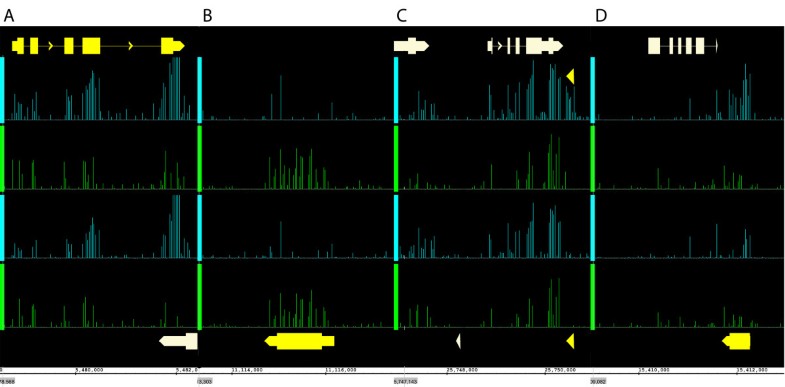 The approach presented here differs from that of Coram and colleagues, who also quantified antisense transcript [35]. These authors used Affymetrix GeneChip Wheat Genome arrays, which are 3'IVT expression arrays and carry probes only for the sense strand. Therefore, two alternative labeling methods were used to label transcripts derived from sense or antisense transcription, respectively. Labeled samples were separately hybridized to arrays making two arrays per sample needed. It also required sufficient RNA for two labeling reactions per sample, which could be limiting for rare samples. In addition, the different labeling protocols imposed different sensitivities. In contrast, our approach relies on only one labeling reaction and hybridization and does not increase required amounts of RNA or experimental costs. Instead, labeled antisense transcripts are directly probed by complementary oligonucleotides present on the AGRONOMICS1 array. Because different probes are used to interrogate sense and antisense transcripts, signal intensities can also in this case not directly be compared. In most cases, however, such probe-specific effects will have a minor impact on the expression signals generated by RMA. It should also be noted that this approach approximates potential antisense transcripts based on the annotation of the sense transcript. To accurately determine transcript boundaries, algorithms to segment the hybridization signal along chromosomal coordinates are needed [36].
Performance of the oligo-dT-based and random-primed labeling protocols
Together, we found that the random-primed labeling protocol performed similar to the oligo-dT-primed protocol in most comparisons, but was more sensitive for organellar and long transcripts.
Conclusions
Genomic tiling microarrays are valuable tools for biology, and we have developed two extensions that expand the application range of AGRONOMICS1 tiling arrays. First, we developed new CDF files for these arrays. Because the CDF files are based on the latest Arabidopsis genome version (TAIR10), estimation of gene expression levels will be more reliable. Importantly, raw data from past experiments can easily be re-analyzed with the new files. The AGRONOMICS1 tiling array contains probes from both genome strands, and we developed CDF files that contain probes located within annotated exons and match either the sense or the antisense strand. The CDF files can be used to simultaneously estimate levels of sense and antisense transcripts without the need for additional experiments or array hybridization.
Second, we tested an alternative labeling protocol that is not based on oligo-dT priming. Oligo-dT-based labeling methods are reliable and widely used for transcript profiling, but they suffer from certain deficiencies. In particular, oligo-dT priming fails to efficiently label organellar and very long transcripts. We found that when using AGRONOMICS1 tiling arrays a random-primed protocol compares favorably to the conventional oligo-dT-primed protocol. First, reproducibility of technical replicates was similar or even higher for the random-primed protocol. In addition, signal log ratios did not globally differ between both labeling methods, indicating that overall results are consistent and comparable. In contrast to signal ratios, signal values were less similar between the two methods. Therefore, a direct comparison of expression values is only justified for one and the same labeling method. Second, expression signals for long transcripts were considerably higher when using random priming. This causes an improved signal-to-noise ratio specifically for long transcripts. Third, expression signals of organellar transcripts were detected with much greater sensitivity and greater precision when using random priming.
In summary, alternative CDF files or labeling protocols enable the utilization of AGRONOMICS1 tiling arrays to interrogate antisense transcripts, transcripts from organelles or transcripts of very long genes in addition to the commonly probed nuclear mRNAs.
Declarations
Acknowledgements
We thank Alessando Fammartino and Remy Bruggmann (Functional Genomics Center Zurich) for help with array hybridizations and generating the CDF files, respectively, and Sascha Laubinger (University Tübingen) for providing RNA. This work was supported by the Sixth Framework Program of the European Commission through the AGRON-OMICS Integrated Project (grant no. LSHG–CT–2006–037704).
Authors' Affiliations
(1)
Department of Biology, Plant Biotechnology,ETH Zurich, Zurich, Switzerland
(2)
Functional Genomics Center Zurich, ETH and University of Zurich, Zurich, Switzerland
(3)
Department of Plant Biology and Forest Genetics, Uppsala BioCenter, Swedish University of Agricultural Sciences and Linnean Center for Plant Biology, Uppsala, Sweden
Copyright
© Müller et al.; licensee BioMed Central Ltd. 2012
This article is published under license to BioMed Central Ltd. This is an Open Access article distributed under the terms of the Creative Commons Attribution License (http://creativecommons.org/licenses/by/2.0), which permits unrestricted use, distribution, and reproduction in any medium, provided the original work is properly cited.