An efficient procedure for plant organellar genome assembly, based on whole genome data from the 454 GS FLX sequencing platform
Received: 11 September 2011
Accepted: 29 November 2011
Published: 29 November 2011
Abstract
Motivation
Complete organellar genome sequences (chloroplasts and mitochondria) provide valuable resources and information for studying plant molecular ecology and evolution. As high-throughput sequencing technology advances, it becomes the norm that a shotgun approach is used to obtain complete genome sequences. Therefore, to assemble organellar sequences from the whole genome, shotgun reads are inevitable. However, associated techniques are often cumbersome, time-consuming, and difficult, because true organellar DNA is difficult to separate efficiently from nuclear copies, which have been transferred to the nucleus through the course of evolution.
Results
We report a new, rapid procedure for plant chloroplast and mitochondrial genome sequencing and assembly using the Roche/454 GS FLX platform. Plant cells can contain multiple copies of the organellar genomes, and there is a significant correlation between the depth of sequence reads in contigs and the number of copies of the genome. Without isolating organellar DNA from the mixture of nuclear and organellar DNA for sequencing, we retrospectively extracted assembled contigs of either chloroplast or mitochondrial sequences from the whole genome shotgun data. Moreover, the contig connection graph property of Newbler (a platform-specific sequence assembler) ensures an efficient final assembly. Using this procedure, we assembled both chloroplast and mitochondrial genomes of a resurrection plant, Boea hygrometrica, with high fidelity. We also present information and a minimal sequence dataset as a reference for the assembly of other plant organellar genomes.
Keywords
Mitochondrial GenomePlastid GenomeRead DepthCircle GraphResurrection Plant
Background
Organellar genomes are widely used in evolutionary and population genetics studies. The plastid genome contains many essential genes, especially those required for photosynthesis. Information from multiple plastid genomes harbors suites of characters that transcend the green plant branch in the tree of life [1]. There are multiple copies of the organellar genomes in plant cells, e.g. plant leaf cells often contain 400 to 1,600 copies of the plastid genome [2]. In angiosperms, most chloroplast (cp) genomes are circular DNA molecules ranging from 120 to 160 kb. They have a quadripartite organization, consisting of two copies of inverted repeats (IRs) of 20-28 kb in size, which divides the rest of the genome into a large-single-copy region (LSC; 80-90 kb) and a small-single-copy (SSC; 16-27 kb) region [3]. Plants have larger and more complex mitochondrial (mt) genomes than other unicellular and multicellular eukaryotes. Mitochondrial genomes, especially those in seed plants, are exceptionally varied in size and structure, and their sequence contents accumulate many repetitive sequences [4, 5].
Recently, there has been a dramatic increase in the number of completely sequenced organellar genomes. To date, sequences from 206 cp genomes and 47 mt genomes have been deposited in the GenBank Organelle Genome Resources. Most of them are sequences generated by the Sanger capillary sequencers [6]. With the emergence of next-generation sequencing technologies, new approaches for cp genome sequencing and assembly have been proposed because of their timesaving, high-throughput, and low-cost advantages [7–9]. As for mt genomes, three main strategies have been used: physical map-based [10–12], shotgun-based [13–15], and gene-based [16]. However, all these strategies for sequencing organellar genomes either require the isolation of cp or mt DNA from nuclear DNA [17] or are difficult to assemble because of the dynamic structure of multipartite molecules [18–20]. Isolating mitochondria and their DNA is often challenging, so that it is imperative to develop better methods for sequencing and assembling these genomes that do not include experimental sample enrichment.
In this study, we present a rapid procedure for complete cp and mt genome sequence assembly from whole genome shotgun data, without organellar DNA isolation. Using this procedure, we successfully assembled the complete cp and mt genomes of a resurrection plant, Boea hygrometrica (Bunge) R Br of the Gesneriaceae family. This is the first mitochondrial genome to be sequenced from a resurrection plant. Boea hygrometrica is an unusual, desiccation-tolerant angiosperm native to China [21, 22]. Comprehensive analyses of the organellar genomes of this particular plant, and comparison with those of other plants, will help us to understand the evolution of Boea hygrometrica.
Discussion
We presented a novel, rapid procedure for assembling organellar genome sequences, which take advantage of shotgun sequencing protocols and eliminates cumbersome steps, such as isolation of organellar DNAs, as compared to other sequencing strategies. Two recent studies have been published that report the sequence of chloroplast genomes from total genomic DNA based on the SOLiD [
28
] and Illumina platforms [
29
]. However, compared to these two methods, our procedure, based on the 454 sequencing platform, is superior because of the longer sequencing reads and the efficient assembling software (Newbler), which enabled the complete assembly of the organellar genome without reference sequences or gap-filling experiments. Considering the repeats in the organellar genome, the procedure required other long segment PCR experiments or long mate-pair library data (such as SOLiD sequencing) to resolve the repeats, especially in the mitochondrial genome. As part of our assembly procedure, the read-depth of contigs is important for separating chloroplast or mitochondrial genomic contigs from nuclear contigs
(
Figure
3
). The substantial coverage biases across the organellar genome are also present in the 454 sequencing platform, as have been found for the Illumina sequencing platform [
30
]. However, comparing the different coverage depths between the organellar and nuclear genome assemblies, there are substantial coverage biases across organellar genomes; and these can be ignored if the total data are adequate for assembling organellar genomes. The read-depth of contigs belonging to chloroplast or mitochondrial genomes depends on their copy numbers in the cell and their proportion of the total DNA. The copy number of plant organelles is difficult to estimate. Therefore, the lowest sequencing coverage used to complete the assembly of an organellar genome depends on the plant (nuclear) genome size and the plant materials used for sequencing. The larger the copy number in a plant cell (such as in fresh leaf), the less sequencing data is needed. Moreover, the copy number difference between organellar and nuclear DNA is independent of the sequencing platform. Therefore, this procedure can be extended to other platforms with low coverage genome sequencing, such as the Illumina HiSeq platform. In addition, our strategy is also very useful for plant sequencing projects when an adequate coverage has not been reached, but a data quality assessment is required. For example, 454 sequencing data from a single lane or less may be enough for organelle-rich samples, and thus the cost for such a data acquisition becomes reasonable. Finally, there are new low-throughput sequencing platforms already in the market, such as IonTorrent and 454 GS Junior, for which our procedure is appropriate for data evaluation.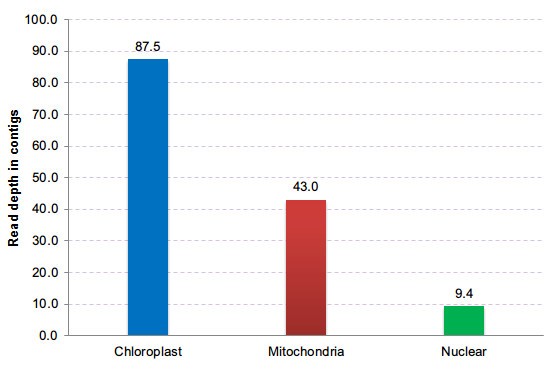 Conclusions
We have successfully applied a new, efficient procedure to determine the complete chloroplast and mitochondrial genome sequences of the resurrection plant, Boea hygrometrica. Subsequently, we have also applied this approach to completely assemble the mt genome of Phoenix dactylifera L with only one run of Roche/454 data, and two Hassawi rice (Oryza sativa L. in Saudi Arabia) organellar genomes (both cp and mt genomes) (data not shown). Therefore, we are confident that our efficient and straightforward procedure will prove useful for further organellar genome sequencing and assembly.
Materials and methods
Materials and datasets
Boea hygrometrica plants were collected from their natural habitat in Beijing, and maintained in a greenhouse (approximately 25°C, 16 h/8 h light period) with regular irrigation. After 2 weeks of growth, fresh green leaves were collected. We extracted genomic DNA from 50 g of leaves according to a CTAB-based protocol [31]. According to the manufacturer's manual for the 454 GS FLX Titanium, we used 5 μg of purified DNA to construct the libraries. In addition, two mate-pair libraries were constructed for the SOLiD 4.0 (Applied Biosystems, Foster City, CA) sequencing platform. We downloaded 206 sequenced plant chloroplast genome sequences from the NCBI (National Center for Biotechnology Information) ftp site http://ftp.ncbi.nih.gov/genomes/Chloroplasts/plastids and 47 sequenced plant mitochondrial genome sequences from NCBI Organelle Genome Resources http://www.ncbi.nlm.nih.gov/genomes/GenomesGroup.cgi?taxid=33090&opt=organelle.
Assembly pipeline
Our organellar genome assembly pipeline is shown schematically in Figure
4
. Unlike other protocols [
10
,
16
,
17
], it does not require the isolation of organellar DNAs from the total DNA. The total shotgun sequence reads contain a mixture of sequences from both organellar and nuclear genomes. For the Roche/454 GS FLX platform, the nuclear genomic data with a low average coverage is not sufficient for alignment of long contigs with a random DNA library. For a reference genome sequence dataset, there is a high correlation between contig read depth and the number of copies in the genome [
32
]. Per contig read depth analysis of assemblies based on 454 reads therefore enables de novo detection of high-copy chloroplast or mitochondrial contigs. According to the manual of the Roche/454 sequencing assembly software Newbler, contigs are constructed with the trimmed reads and there are almost no overlaps among contig sequences. Moreover, a file named "454AllContigGraph.txt" in the results of Newbler assembly records all the contigs read depths, and the relatedness of contig connections, which can be used to build a contig graph. In this contig graph, contigs are the nodes, and reads spanning between them (starting in one contig and continuing or ending in another) are the edges. The initial contig graph of organellar genomes are mixed with other repeat-containing nuclear contigs. Taking the advantage of the difference of read depths among contigs, we could isolate the organellar contigs from the nuclear contigs. In this procedure, for the organellar genome assembly of
Boea hygrometrica
, the average read depths of contigs were 87, 43, and 9 in the chloroplast, mitochondria, and nuclear assemblies, respectively (Figure
3
). Therefore, we set the coverage to 60 and 20 to separate contigs belonging to the three different genomes, except for repeat-containing contigs. The false links and forks in the assembly graph normally belong to different genomes. Therefore, they can be removed in the same way. After removing contaminating nuclear contigs, only clean and complete organellar genome graphs should remain. We could subsequently use all the raw data to fill the gaps between two connected contigs. Most of the gaps between two connected contigs are zero or one mismatch base pair (see the manual of Roche 454 Newbler software). To validate the final genome assembly, we need to incorporate other types of data or experiments to ensure the correct connections among contigs, such as SOLiD mate-pair data or PCR walks.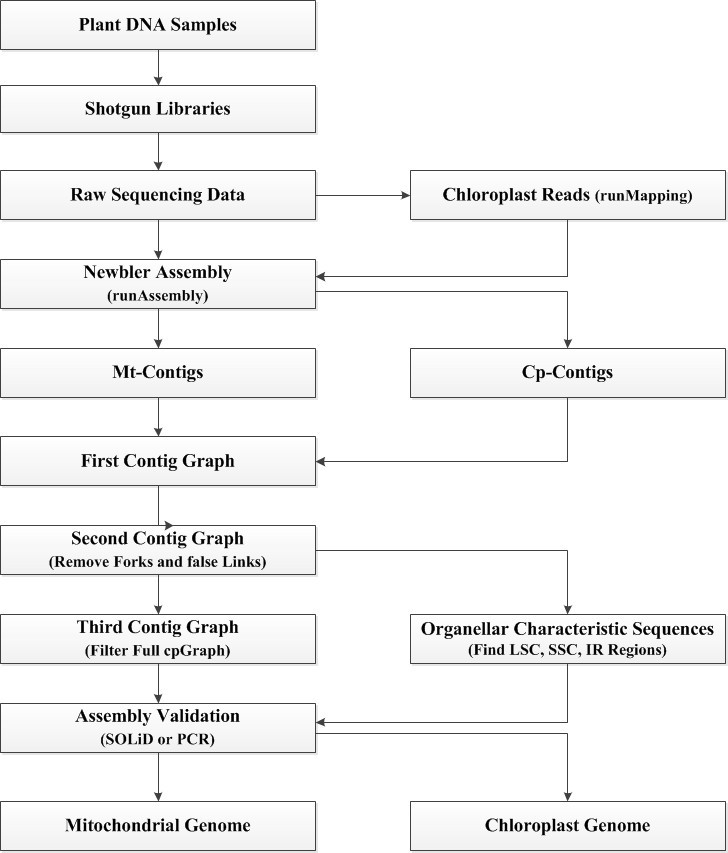 Accession numbers
The genome data have been submitted to the National Center for Biotechnology Information (NCBI) database. The accession numbers are [GenBank: JN107811] and [GenBank: JN107812] for Boea hygrometrica chloroplast and mitochondrial genomes, respectively.
Declarations
Acknowledgements
We wish to thank Xing Deng and Xuming Wang for their preparation of the B. hygrometrica materials for this project. We also thank Douglas Senalik and Simon Gladman for sharing two important perl scripts for this procedure.
Funding
This work was supported by grants from the Knowledge Innovation Program of the Chinese Academy of Sciences (KSCX2-EW-R-01-04), the Natural Science Foundation of China (90919024), the Natural Science Foundation of China (30900831) and the National Basic Research Program (973 Program) from the Ministry of Science and Technology of the People's Republic of China (2011CB944100).
Authors' Affiliations
(1)
James D. Watson Institute of Genome Sciences, Zhejiang University, Hangzhou, China
(2)
Key Laboratory of Genome Sciences and Information, Beijing Institute of Genomics, Chinese Academy of Sciences, Beijing, China
Copyright
© Zhang et al; licensee BioMed Central Ltd. 2011
This article is published under license to BioMed Central Ltd. This is an Open Access article distributed under the terms of the Creative Commons Attribution License (http://creativecommons.org/licenses/by/2.0), which permits unrestricted use, distribution, and reproduction in any medium, provided the original work is properly cited.