Inoculation insensitive promoters for cell type enriched gene expression in legume roots and nodules
Received: 24 July 2015
Accepted: 5 January 2016
Published: 22 January 2016
Abstract
Background
Establishment and maintenance of mutualistic plant–microbial interactions in the rhizosphere and within plant roots involve several root cell types. The processes of host–microbe recognition and infection require complex signal exchange and activation of downstream responses. These molecular events coordinate host responses across root cell layers during microbe invasion, ultimately triggering changes of root cell fates. The progression of legume root interactions with rhizobial bacteria has been addressed in numerous studies. However, tools to globally resolve the succession of molecular events in the host root at the cell type level have been lacking. To this end, we aimed to identify promoters exhibiting cell type enriched expression in roots of the model legume Lotus japonicus, as no comprehensive set of such promoters usable in legume roots is available to date.
Results
Here, we use promoter:GUS fusions to characterize promoters stemming from Arabidopsis, tomato (Lycopersicon esculentum) or L. japonicus with respect to their expression in major cell types of the L. japonicus root differentiation zone, which shows molecular and morphological responses to symbiotic bacteria and fungi. Out of 24 tested promoters, 11 showed cell type enriched activity in L. japonicus roots. Covered cell types or cell type combinations are epidermis (1), epidermis and cortex (2), cortex (1), endodermis and pericycle (2), pericycle and phloem (4), or xylem (1). Activity of these promoters in the respective cell types was stable during early stages of infection of transgenic roots with the rhizobial symbiont of L. japonicus, Mesorhizobium loti. For a subset of five promoters, expression stability was further demonstrated in whole plant transgenics as well as in active nodules.
Conclusions
11 promoters from Arabidopsis (10) or tomato (1) with enriched activity in major L. japonicus root and nodule cell types have been identified. Root expression patterns are independent of infection with rhizobial bacteria, providing a stable read-out in the root section responsive to symbiotic bacteria. Promoters are available as cloning vectors. We expect these tools to help provide a new dimension to our understanding of signaling circuits and transcript dynamics in symbiotic interactions of legumes with microbial symbionts.
Keywords
Cell type specific expressionCell type enriched expressionCell type specific promoter activityCell type enriched promoter activityNodulation symbiosis Lotus root structure Lotus nodule structure Lotus japonicus Legume
Background
Plant roots are dynamic structures involved in diverse developmental and physiological processes [
1
]. Apart from their roles in water and nutrient homeostasis, roots perceive biotic and abiotic environmental factors from the rhizosphere, and mediate appropriate responses [
2
–
4
]. Roots grow from an apical meristem at the tip and can be divided into developmental zones along their longitudinal axis [
5
]. The root apical meristem shows high rates of cell proliferation and is followed by the elongation zone, where meristematic activity ceases while cell elongation continues to increase cell length. Further distal from the tip, in the differentiation zone, rapid cell elongation has terminated and cells begin to acquire distinct cellular identities along the radial axis of the root [
4
,
5
]. Major cell types are the peripheral epidermis, often including both root hair-developing trichoblasts as well as atrichoblasts, the cortex including the endodermis as its innermost cell layer, the pericycle, and the central vasculature with phloem and xylem elements for rootward and shootward long-distance transport, respectively [
6
] (Fig.
1
). These distinct cell types differentially contribute to the functionality of the organ and plant as a whole [
1
,
4
]. Only root cap and epidermis are in direct contact with the rhizosphere, but plant responses to stimuli also involve internal cell types such as cortex, endodermis, pericycle and vasculature [
3
].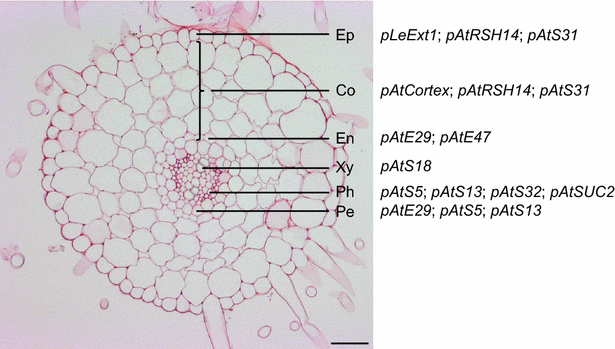 The generation and maintenance of cellular identities in the root are determined by cell type dependent patterns of transcriptional activity [7–10], complemented by post-transcriptional control such as miRNA-mediated regulation of mRNA stability and translation [6]. Lee et al. [6] compared the cell type distribution of mRNAs of 44 Arabidopsis transcription factors to the respective promoter activity patterns in roots. The results suggested that for 80 % of investigated genes, about three kilobases of noncoding sequence upstream of the translation start site were sufficient to reproduce mRNA abundance patterns observed by hybridization-based gene-chip analysis [6, 10]. This observation implies that in the remaining 20 %, regulatory elements other than the five promoter regions contributed to mRNA patterning [6]. Beyond differential patterns of transcriptional and/or translational activity, the coordination of developmental processes requires intercellular communication and signal transduction between root cell types, in which diverse molecules including hormones [11–14], peptides [15–17] and regulatory RNAs [17, 18] are involved.
Many plants engage in synergistic interactions with bacterial or fungal microorganisms in their root systems. Legumes, known for their ability to form nitrogen-fixing root symbiosis, are responsive to compatible rhizobial bacteria within a section of the differentiation zone of the root referred to as the susceptible zone, that is transcriptionally distinct from other parts of the root [19]. The legume-rhizobia interaction involves the initiation of nitrogen-fixing nodule organs by the host plant, often preceded by deformation and curling of root hairs during epidermal infection [20]. In the model legume Lotus japonicus, Mesorhizobium loti bacteria usually invade the root through tube-like structures, infection threads, which initiate within root hair curls [21]. Infection progresses into and through cortical cell layers, and cortical cytokinin perception and signaling are required for reactivation of cell division [22, 23]. Within days of infection initiation, nodule primordia form in the root cortex. As their development progresses, bacteria invade the central primordial tissue through ramifying infection threads. Membrane-bound units of one or more bacteria are eventually released from infection thread tips into nodule cells, where they develop into nitrogen-fixing symbiosomes [24].
To dissect gene expression patterns in legume root interactions with microbial symbionts, previous studies have relied on laser microdissection of defined cell pools or tissue fragments to investigate mRNA or protein populations therein [25–30]. Though specific, such approaches are elaborate, and allow for the processing of limited sample numbers only. In addition, they rely on the availability of expensive equipment.
Here, we present a set of promoters showing cell type enriched expression in one or more cell types including epidermis, cortex, endodermis, pericycle, phloem poles and xylem elements of
L.
japonicus
roots. These can be used for targeted isolation of cells for global transcriptome, proteome or metabolite analysis, as well as for directed expression of genes of interest in particular cell types. Activity patterns of the promoters predominantly originating from Arabidopsis or tomato (Table
1
) have been tested using
GUS
reporter gene fusions in transgenic roots of composite plants [
31
]. Infection with
M.
loti
demonstrated that expression patterns were stable upon rhizobial infection at the early, pre-nodulation stage of 3 days post infection. A subset of promoter:
GUS
constructs was used to generate whole-plant transformants, and expression patterns in transgenic lines were confirmed to resemble those in transgenic roots of composite plants. These stable lines were further used to analyze expression activity of the respective promoters in young and mature nodules harvested at 14 days post infection. The collection of promoters established and tested here is a valuable toolbox for directing expression in particular root and nodule cell types or cell type combinations, and for global analyses of how particular cell types contribute to symbiosis and organ development in
L.
japonicus
and related legume species.
Table 1
Promoters tested for cell type enriched expression in L. japonicus roots
Predominant expression in L. japonicus roots

Promoter name

Promoter fragment used (bp)

Sequence origin (species)

Locus/accession

Gene product

References

Epidermis (trichoblast/atrichoblast)

pLeExt1 a,b

1122

Tomato

NM_001247899

Extensin/xyloglucanv endotransglycosylase

Epidermis and cortex

pAtS31

3041

Arabidopsis

At5g19790

ERF/AP2 TF

Lee et al. [6]

pAtRHS14

1249

Arabidopsis

At4g22080

Pectin lyase

Won et al. [35]

Cortex

pAtCortex a

1666

Arabidopsis

At1g09750

Aspartyl protease

Endodermis and pericycle

pAtE29 a

2724

Arabidopsis

At4g05170

bHLH TF

Lee et al. [6]

pAtE47

3296

Arabidopsis

At2g37950

C3H TF

Lee et al. [6]

Pericycle and phloem

pAtS5

2202

Arabidopsis

At5g24800

bZIP TF

Lee et al. [6]

Phloem and pericycle

pAtS32

3000

Arabidopsis

At2g18380

C2C2-Gata TF

Lee et al. [6]

pAtS13 a

4018

Arabidopsis

At1g07640

Dof TF

Lee et al. [6]

pAtSUC2 c

942

Arabidopsis

At1g22710

Sucrose-proton symporter

Stadler et al. [37]

Proto- and metaxylem

pAtS18 a

3010

Arabidopsis

At5g12870

MYB TF

Lee et al. [6]

Unspecific

pLjPDC1

2987

L. japonicus

Lj1g2372300

Pyruvate decarboxylase

This manuscript

pAtE30

3004

Arabidopsis

At4g21340

bHLH TF

Lee et al. [6]

pAtE31

1484

Arabidopsis

At4g28890

C3H TF

Lee et al. [6]

pAtE49 d

2414

Arabidopsis

At3g05150

C2H2 TF

Lee et al. [6]

Unstable (phloem)

pAtS8 e

3082

Arabidopsis

At5g60200

C2C2-Dof TF

Lee et al. [6]

Unstable (proto- and metaxylem)

pAtS20 f

3002

Arabidopsis

At1g71930

NAC TF

Lee et al. [6]
Results and discussion
Isolation of promoters with cell type enriched expression patterns in L. japonicus roots
To identify promoters showing activity in one or more defined cell types in L. japonicus roots (Fig. 1), we assembled candidates based on their published expression properties in other plant species. These were then tested for their potential to drive expression of the E. coli β-glucuronidase (GUS) reporter gene in L. japonicus roots in a cell type enriched manner. A total of 17 out of 24 tested promoters induced GUS activity in L. japonicus transgenic roots on composite plants (Table 1). To determine promoter activity patterns, entire transgenic roots were analyzed longitudinally. Root zones responsive to rhizobial infection, identified by the presence of immature, developing root hairs (differentiation zone), were cross-sectioned to visualize expression patterns in inner root cell types.
Conclusions and perspectives
We present a promoter toolbox for cell type enriched expression analysis in roots and nodules of the model legume L. japonicus, which we expect to significantly contribute to our understanding of nodulation symbiosis as well as root development in legumes. Beyond assisting in the analysis of individual genes' function in L. japonicus roots and nodules, the promoters presented in this study can provide a stepping-stone for global translatome analysis of L. japonicus roots undergoing initial stages of symbiosis. Such analyses will significantly improve the resolution of our current understanding of root symbiosis from the organ- to the cell type level.
Methods
Biological material
Cloning works made use of E. coli strains TOP10 or DB3.1. Agrobacterium tumefaciens AGL1 [47] was used for whole plant transformation and Agrobacterium rhizogenes AR1193 [48] for transgenic root generation. Mesorhizobium loti MAFF 303099 expressing DsRED [49] for L. japonicus infection experiments. Promoter expression analysis was performed in transgenic roots of L. japonicus ecotypes MG20 [50] and Gifu B-129 [51].
Promoter isolation
Promoter candidates were selected based on published expression patterns in plant roots and amplified for sequence cloning and verification from genomic DNA of A. thaliana var. Col-0 or from plasmid templates (pAtSUC2, pLeExt1). A pENTR/D-TOPO (Invitrogen, Life Technologies) based construct containing pE30 [6] was kindly provided by P. Benfey (Duke University, Durham, USA) and used for recombination into expression vectors.
Expression construct generation
To analyze their expression patterns in L. japonicus roots, promoter fragments were inserted before an intron-containing β-glucuronidase (GUS) coding sequence [52] followed by a CaMV35S terminator using a Gateway (Invitrogen, Life Technologies)-compatible derivative of a pIV10 [48] integration plasmid (selection: 100 mg/l ampicillin and 100 mg/l spectinomycin). Upon transformation into appropriate A. rhizogenes the latter recombines into the transfer-DNA of the agrobacterial root inducing plasmid [48]. Gateway recombination reactions were done following manufacturers' instructions (Invitrogen, Life Technologies).
Constructs for stable transformation are based on a pGreenII0029 (selection: kanamycin 50 mg/l) binary plasmid equipped with a Gateway (Invitrogen, Life Technologies) destination cassette followed by GUS coding and CaMV35S terminator sequences as used in the pIV10 construct employed in transgenic root generation.
Fragments for cloning were amplified using Phusion High-Fidelity DNA Polymerase (Fermentas, Life Technologies) following manufacturers' instructions. All intermediate and final constructs were confirmed by Sanger sequencing. Primers used for promoter fragment amplification and cloning are listed in Additional file 2: Table S2.
Plant growth and transformation
Lotus japonicus seeds were scarified in sulphuric acid for up to 20 min depending on age and subsequently surface sterilized in 0.5–1 % sodium hypochlorite solution for 20 min. Seeds were then imbibed at 4 °C overnight and grown in a 16 h light/8 h dark regime at 21/16 °C, respectively. Transgenic roots were generated as previously described [31]. Composite plants were grown on 12 × 12 cm square cultivation dishes on wedged 0.5 × strength Gamborg B5 medium (Duchefa Biochemistry) supplemented with 1 % Agar Noble (Sigma-Aldrich) for 6 weeks. They were then transferred to magenta growth containers (Sigma-Aldrich) with a 4:1 mix of Leca clay granules (Optiroc) and Vermiculite in 60 ml of 0.25 % Broughton and Dilworth medium [53] supplemented with 1 mM KNO3 (B&D). After 10 days, plants were either mock treated with 20 ml ¼ strength B&D medium or inoculated with 20 ml of an M. loti suspension in ¼ strength B&D at an optical density of 0.001 at λ = 600 nm.
Whole plant transformation of L. japonicus Gifu seedlings was done using a modified version of an earlier published protocol [54]. Shoots emerging from calli were transferred to soil substrate for rooting at a length of three to four cm and kept under greenhouse conditions until the seeding stage. Plants were genotyped for transgene presence, and seeds were collected from positively scoring plants for the isolation of lines homozygous for one transgene insertion. Seeds of three to four homozygous lines were collected and germinated as described above, then transferred directly to magenta growth containers. After 1 week of growth, plants were either mock treated with 20 ml ¼ strength B&D medium or inoculated with 20 ml of an M. loti suspension in ¼ strength B&D at an optical density of 0.001 at λ = 600 nm and harvested 2 weeks after inoculation. Cultivation conditions were as described for composite plants.
Identification of transgene insertion sites in transgenic plants
To isolate lines containing a minimal number of transgene insertions and to facilitate the identification of integration sites, we have adapted Sequence-Specific Amplification Polymorphism (SSAP) analysis in the L. japonicus background [55] for pGreenII0029 transfer-DNA. Lines containing one or two transgene insertion sites were considered for onward analysis.
GUS staining and fixation
GUS staining was done as described by Vitha et al. [56] with few modifications. Briefly, roots were harvested into ice-cold phosphate buffer (50 mM NaH2PO4, 50 mM Na2HPO4, pH 7.0). Phosphate buffer was then exchanged for X-Gluc substrate buffer [0.5 mg/ml X-Gluc dissolved in DMSO, 50 mM phosphate buffer, 1 mM K4(Fe(CN)6), 1 mM K3(Fe(CN)6), 0.05 % Triton X-100]. Roots were vacuum infiltrated for 10 min and incubated in staining buffer for 12 h at 37 °C.
For direct inspection or embedding in agarose, roots were fixed by vacuum infiltration for 10 min at room temperature, followed by 30 min incubation at 4 °C in a solution of 4 % glutaraldehyde in 50 mM phosphate buffer, pH 7.
For semithin sections, a representative subset of stained root and nodule samples were fixed by vacuum infiltration in a solution of 4 % paraformaldehyde and 1 % glutaraldehyde in 100 mM phosphate buffer (pH 7.2) for 20 min, incubated at 4 °C over night while shaking, then dehydrated in serial dilutions of ethanol in water (15, 30, 45 and 60 %) for 30 min each and stored in 70 % ethanol. Roots were then embedded in Kulzer Technovit 7100 resin (Emgrid Australia) following the manufacturers' instructions.
Microscopic analysis
GUS stained, fixed roots and nodules were viewed and documented directly using a Leica M165FC stereomicroscope and Leica DFC 310 FX camera system. Entire roots were analyzed longitudinally, and root zones responsive to rhizobial infection identified by the presence of immature, developing root hairs (differentiation zone) were cross-sectioned to visualize expression patterns in inner root cell types. For analysis of cross sections, roots or nodules were embedded in 3 % agarose and sectioned at 60–80 γm thickness using a vibratome (Leica VT 1000 S, Leica). Vibratome sections of were used for screening larger numbers of roots, and 3–5 representative samples were used to generate semithin sections. Semithin sections (7–8 γm) of resin embedded samples were prepared using a Leica RM2045 microtome and stained with 0.1 % Ruthenium Red (Sigma-Aldrich) in water. Cross sections were analyzed using an Axioplan 2 microscope (Zeiss), and pictures were taken with an AxioCam color camera from the same supplier.
Declarations
Authors' contributions
SG performed experiments with support by ZY, KM, and AJ; JS provided advice and edited the manuscript; SG and KM planned experiments and KM wrote the manuscript. All authors read and approved the final manuscript.
Acknowledgements
We are grateful to P. Benfey (Duke University, Durham, USA) for providing pENTR/D-TOPO plasmids containing pAtE28, pAtE30, pAtS17 and pAtS21, M. Bucher (University of Cologne, Germany) for providing the pLeExt1 and N. Sauer and R. Stadler (Friedrich-Alexander-Universität Erlangen-Nürnberg, Germany) for providing the pAtSUC2 promoter fragments used in this manuscript. We thank Daniela Tsikou for help with preparing plants, and Dörte Meyer and Linards Klavins for excellent technical assistance. This work was supported by the Danish National Research Foundation Grant no. DNRF79 and the ERC Advanced Grant 268523.
Competing interests
The authors declare that they have no competing interests.
Statement
The experiments were performed in facilities classified for recombinant work with bacteria and plants and in accordance with Danish regulations for genetically modified organisms and good laboratory practice.
Open AccessThis article is distributed under the terms of the Creative Commons Attribution 4.0 International License (http://creativecommons.org/licenses/by/4.0/), which permits unrestricted use, distribution, and reproduction in any medium, provided you give appropriate credit to the original author(s) and the source, provide a link to the Creative Commons license, and indicate if changes were made. The Creative Commons Public Domain Dedication waiver (http://creativecommons.org/publicdomain/zero/1.0/) applies to the data made available in this article, unless otherwise stated.
Authors' Affiliations
(1)
Department of Molecular Biology and Genetics, Centre for Carbohydrate Recognition and Signalling (CARB), Aarhus University, Aarhus, Denmark