An UPLC-MS/MS method for highly sensitive high-throughput analysis of phytohormones in plant tissues
Received: 5 September 2012
Accepted: 12 November 2012
Published: 22 November 2012
Abstract
Background
Phytohormones are the key metabolites participating in the regulation of multiple functions of plant organism. Among them, jasmonates, as well as abscisic and salicylic acids are responsible for triggering and modulating plant reactions targeted against pathogens and herbivores, as well as resistance to abiotic stress (drought, UV-irradiation and mechanical wounding). These factors induce dramatic changes in phytohormone biosynthesis and transport leading to rapid local and systemic stress responses. Understanding of underlying mechanisms is of principle interest for scientists working in various areas of plant biology. However, highly sensitive, precise and high-throughput methods for quantification of these phytohormones in small samples of plant tissues are still missing.
Results
Here we present an LC-MS/MS method for fast and highly sensitive determination of jasmonates, abscisic and salicylic acids. A single-step sample preparation procedure based on mixed-mode solid phase extraction was efficiently combined with essential improvements in mobile phase composition yielding higher efficiency of chromatographic separation and MS-sensitivity. This strategy resulted in dramatic increase in overall sensitivity, allowing successful determination of phytohormones in small (less than 50 mg of fresh weight) tissue samples. The method was completely validated in terms of analyte recovery, sensitivity, linearity and precision. Additionally, it was cross-validated with a well-established GC-MS-based procedure and its applicability to a variety of plant species and organs was verified.
Conclusion
The method can be applied for the analyses of target phytohormones in small tissue samples obtained from any plant species and/or plant part relying on any commercially available (even less sensitive) tandem mass spectrometry instrumentation.
Keywords
PhytohormonesJasmonatesLC-MS/MSSolid phase extraction (SPE)QuantificationElectrospray ionizationPlant stress responseWounding
Background
Plant hormones play a key role in the regulation of plant development and response to various biotic and abiotic stresses. Salicylic acid (SA), abscisic acid (ABA), jasmonic acid (JA) and related compounds (Figure
1
) are known to participate in plant response against pathogens, herbivores and abiotic factors such as UV irradiation, ozone exposure, high and low temperature, osmotic stress and mechanical wounding [
1
–
5
].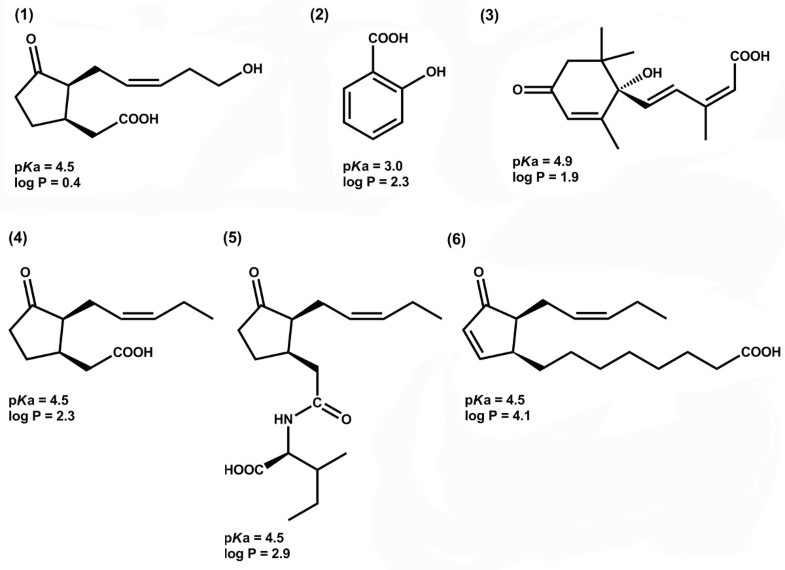 Wounding is known to trigger multiple plant defense mechanisms, such as synthesis of proteinase inhibitors, phytoalexins and volatile attractants, all directly mediated by jasmonates [4, 6] and influenced by SA [1] and ABA [3]. (+)-7-iso-JA is synthesized in chloroplasts and peroxisomes [5] and is then converted into the biologically active conjugate (+)-7-iso-JA-isoleucine (JA-Ile) [2]. In Arabidopsis thaliana, JA accumulates locally in leaves already 30 s after wounding, and less than 5 min are necessary for a significant increase in JA-Ile levels [7]. The rise in JA and JA-Ile is accompanied by a rise of cis-12-oxophytodienoic acid (OPDA) in local and systemic leaves, respectively [8]. However, the fine mechanisms underlying distribution of JA, JA-Ile and their precursor OPDA as well as their hydroxylated and carboxylated derivatives [9] within plant tissues are still unknown. To fill this gap, highly-sensitive analytical approaches providing hormone content information for small (≤ 50 mg) tissue amounts are required.
Gas chromatography (GC) coupled on-line to mass spectrometry (MS) is routinely applied for the simultaneous analysis of multiple hormones in plant tissues [10]. However, as high analyte volatility is the prerequisite for proper GC-separation, derivatization of hydrophilic groups is required. Besides this relatively time-consuming step, even the modern GC-MS approaches still require at least 300 mg fresh plant material to reach dynamic range of a mass spectrometer [11]. Moreover, in order to reduce signal interference in quadrupole (Q) and ion trap (IT) mass analyzers, additional (most often multistep) depletion of non-hormone compounds is usually required [12]. These two factors dramatically reduce method sensitivity and sample throughput.
Reversed phase-high performance liquid chromatography (RP-HPLC)-electrospray ionization (ESI)-MS is an elegant way to overcome these limitations. High separation efficiency and selectivity of RP-HPLC minimizes ESI matrix effects [13], ensuring sensitive detection of analytes without additional derivatization procedures [9]. Tandem mass spectrometry (MS/MS) with triple quadrupole (QqQ) instruments operating in multiple reaction monitoring (MRM) mode is characterized with favorable duty cycles and reduced chemical noise that provides further sensitivity improvement [14]. Relatively short dwell times (≤ 50 ms) typical for modern QqQ mass spectrometers make a rapid analysis of multiple hormones possible [15]. Application of ultra performance liquid chromatography (UPLC) [16] as well as solid-phase extraction (SPE)-based enrichment [17] may further improve sensitivity of phytohormone analysis. Nevertheless, obtained in the presence of biological matrix method quantification limits (LOQm) reported for JA, SA and ABA typically do not exceed 2.5 × 10-14 mol (even with top-sensitive instruments). Hence, relatively large sample amounts are still required for analysis.
Here we present a new sensitive, precise and high-throughput UPLC-ESI-MS/MS-based method for simultaneous analysis of jasmonates, SA, and ABA in plant tissues. After introduction of an SPE-based enrichment/depletion procedure and adjustment of both chromatographic and mass spectrometric parameters, phytohormones could be detected in plant extracts with LOQs of 10-17 - 10-15 mol. The procedure proved to be fast, universal, reproducible, and provided a throughput of at least 96 samples per day. Finally, the method was successfully applied to the study of wound-induced rise in jasmonates in tomato leaves (Solanum lycopersicum, cv. MicroTom), cross-validated with a well-established GC-MS procedure [12] and applied to various plant organs and species.
Conclusions
Jasmonates, ABA and SA are the key players in the regulation of plant defense against pathogen and herbivore attack. Knowledge about their spatial and temporal distribution in plant tissues is necessary for understanding the mechanisms of local and systemic plant response to these biotic stress factors. However, for quantification of phytohormones highly sensitive and precise analytical methods are required. We have introduced a high-throughput LC-MS/MS-based approach for absolute quantification of four jasmonates, SA and ABA in methanolic extracts of plant tissue. In the sample preparation step, a quantitative enrichment of phytohormones and depletion of cationic metabolites and photosynthetic pigments was achieved on mixed-mode RP/cation exchange polymeric resins. Besides, LC mobile phase composition was adjusted to provide optimal chromatographic resolution and higher MS-ionization efficiency. Combined, these approaches resulted in a dramatic sensitivity increase in comparison to previously established methods. Due to this sensitivity gain, phytohormone analysis can be successfully performed with a wide range of commercially available mass spectrometers with a low plant material consumption. The validated method was successfully applied to quantitative characterization of jasmonate concentration dynamics in Solanum lycopersicum leaf tissues and cross-validated with a well-established GC-MS method.
Methods
Reagents
(±) Abscisic acid (ABA), salicylic acid (SA), ammonium acetate, ammonium formate, formic acid, acetonitrile and methanol (all LC-MS grade) were from Sigma Aldrich (Taufkrichen, Germany). JA was obtained by alkali hydrolysis of methyl jasmonate (MeJa, Firmenich, Geneva, Switzerland). JA-Ile was kindly provided by Dr. Kramell (IPB). 12-Hydroxyjasmonic acid (12-OH-JA) was obtained as described by Kitahara et al. [43]. OPDA was synthesized from linolenic acid using linseed enzyme [44]. 2H6-ABA was synthesized according to Gómez-Cadenas et al. [45]. 2H6-JA was obtained as described by Miersch et al. [46]. 2H2-(−)-JA-Ile was prepared from 2H2-(±)-JA and Ile [47]. 2H5-OPDA was prepared from (17-2H2, 18-2H3)-linolenic acid as described by Zimmerman and Feng [44]. 2H6-SA was purchased from Campro Scientific (Veenendaal, Netherlands). Water was purified in-house by a Milli-Q Plus Ultrapure Water System (Millipore GmbH, Schwalbach, Germany) (resistance >18 MΩ).
Extraction of phytohormones from plant tissues
20– 50 mg of fresh plant material was homogenized in a mortar under liquid nitrogen and extracted with 500 μL methanol containing 0.1 ng/μL of each stable isotope-labeled internal standard (2H6-SA, 2H6-ABA, 2H6-JA, 2H2-(−)-JA-Ile and 2H5-OPDA). The extraction was performed in 1.6 mL cryo-tubes (Precellys Steel Kit 2.8 mm, Peqlab Biotechnologie GmbH, Erlangen, Germany) using a bead mill (FastPrep24 instrument, MP Biomedicals LLC, Santa Ana, CA, USA) with acceleration of 6.5 m/s2 for 30 s. After centrifugation at 20000 g (2 min, 0°C), 450 μL of supernatant was transferred into a polypropylene tube, diluted with water to 5 mL and subjected to solid-phase extraction (SPE).
Solid-phase extraction (SPE)
Solid phase extraction was performed in a 96-well plate format using filter plates and deep well receiving plates in conjunction with centrifugation. For the phase screening experiments, 96-deep well filter plates (Agilent Technologies, Böblingen, Germany) were packed with 15 – 60 mg of SPE materials representing different chemistry and specificity (Additional file 1: Table S2). For the solid phase screening experiment, the plates were conditioned with 500 μL methanol and equilibrated with 500 μL of water before loading of the standard mixture containing 18.8 mg/L SA, ABA and JA dissolved in 1 mmol/L ammonium formate. After washing with 100 μL of water, phytohormones were consecutively eluted by 300 μL portions of acetonitrile, isopropanol, 5% aq. NH4OH in isopropanol, and 5% formic acid in isopropanol. All steps were performed by centrifugation at 10 g (Avanti J-E centrifuge, Beckman-Coulter, Kreefeld, Germany). The fractions were collected in separate tubes and stored at −20°C.
For analysis of plant samples and calibration mixtures, the same 96-well filter plates were packed with 50 mg of a strong cation exchange HR-XC material (Macherey & Nagel, Düren, Germany). The material was conditioned with 1 mL methanol and equilibrated with 1 mL water. Afterwards, the plant extracts, diluted as described previously, were loaded on each well in five 1 mL-portions. The fraction containing phytohormones was eluted by 900 μL acetonitrile without additional washing. 850 μL of the eluate fraction were transferred to a 1.5-mL polypropylene tube and storied at −20°C before LC-MS analysis. Alternatively, eluate fractions were completely dried before storage.
RP-UPLC-ESI-MS/MS
Separations were performed on a Waters HSS T3 C18 column (1 x 100 mm, particle size 1.8 μm) at 40°C using a Waters ACQUITY UPLC System, equipped with an ACQUITY Binary Solvent Manager and ACQUITY Sample Manager (20 μL sample loop, partial loop injection mode, 3.3 μL injection volume). Eluents A and B were water and 90% aq. acetonitrile, respectively, both containing 0.1% HCOOH, 0.3 mmol/L NH4CH3COO (adjusted to pH 4.0 with acetic acid), or 0.3 mmol/L NH4HCOO (adjusted to pH 3.5 with formic acid). Elution was performed isocratically for 0.5 min at 5% eluent B and then consecutive linear gradients to 30, 80 and 95% eluent B in 5, 0.5 and 2 min, respectively were run. The column was re-equilibrated for 3 min. The flow rate was set to 150 μL/min and the column temperature was maintained at 40°C. Phytohormones were detected on-line by ESI-MS/MS using a 3200 Q TRAP® LC/MS/MS System hybrid QqLIT mass spectrometer equipped with an ESI-TurboIon-Spray™ interface, operating in negative ion mode and controlled by Analyst 1.5 software (AB Sciex, Darmstadt, Germany). The LC-ESI source operation parameters were as the following: ion spray voltage, -2700 V; nebulizing gas, 40 psi; source temperature, 550°C; drying gas, 40 psi; curtain gas, 25 psi. Instrument tuning and mass calibration were performed with 100 μmol/L polypropylene glycol solutions.
QqQ scans were acquired as multiple reaction monitoring (MRM) experiments with Q1 and Q3 resolution set as "unit". Dwell times were defined by "scheduled MRM" function set as following: MRM detection window, 70 s and targeted scan time, 1 s. Compound-dependent parameters for authentic standards were optimized individually in flow injection experiments and further applied to their stable isotope-labeled counterparts (summarized in Additional file 1: Table S1, ). For these measurements, the ESI source operation parameters were set as following: ion spray voltage, -4500 V; nebulizing gas, 30 psi; source temperature, room temperature (RT); drying gas, 0 psi; curtain gas, 10 psi.
For infusion experiments, a syringe pump (Hamilton OEM Syringe Pump, 10 mL Syringe, Hamilton Bonaduz AG , Bodanuz, Switzerland) operating at 10 μL/min was coupled on-line to the same ESI-QqLIT mass spectrometer operating in negative ion mode. Individual analytes were dissolved in aq. formic acid (pH 2.7), ammonium acetate and ammonium formate buffers (adjusted to pH 4.0 and 3.5 with acetic and formic acids, respectively) at the concentration of 1 μmol/L. The concentrations of solvent additives ranged from 0.1 to 3.0 mmol/L. The analytes were tracked in Q1 scans by their [M-H]- ions.
Method validation
For external calibration and instrument detection (LODi) and quantification (LOQi) limit determination, the mixture containing 1 mmol/L of each individual standard was serially diluted with 20% aq. methanol by 2.0 – 2.5-fold increment to obtain 23 concentration steps (0.01 nmol/L – 500 μmol/L). The method limits of quantification (LOQm) were determined by the standard addition method [37]. For this, 20 mg of lyophilized plant pool (i.e. a mixture consisting of tomato leaves and roots, potato leaves, rice leaves and roots, barley leaves and Arabidopsis leaves mixed in equal proportion) was spiked with a standard mixture containing 2H6-SA, 2H6-ABA, 2H6-JA, 2H2-(−)-JA-Ile, 2H5-OPDA at eight concentration levels (0.14 – 27.33 μg/L). The spiked samples were extracted with methanol and subjected to SPE as described above.
Recoveries of phytohormones on PS/DVB-based Cromabond® HR-XC material (Macherey & Nagel, Düren, Germany) were determined by the standard addition method. SA, ABA, JA, 12-OH-JA, JA-Ile and OPDA were diluted in 500 μL aliquots of methanol at the concentrations of 0, 1.3, 2.5, 5.0, 10.0 and 15 μg/L and processed with and without extraction of complex lyophilized plant pool (20 mg). The obtained extracts were subjected to RP-LC-MS/MS with and without further drying in nitrogen stream. The residues were reconstituted in 40 μL acetonitrile before further dilution to 80 μl with 0.3 mmol/L aq. ammonium formate (pH 3.5).
The analyte abundances expressed as peak heights were plotted against their concentrations. Additionally, regression coefficients and R2 values were calculated.
Plant material and wounding experiments
Seeds of tomato plants (Solanum lycopersicon cv. MicroTom) were germinated on expanded clay of 2–5 mm particle size (Original Lamstedt Ton; Fibo ExClay, http://www.fiboexclay.de) watered with tape water. After one week, seedlings were transferred into soil, grown in a phytotron at 29°C, 50% relative humidity and 18-h light/6-h dark cycle, and were watered every second day with tape water. Oryza sativa L., Arabidopsis thaliana (L.) Heynh and Medicago truncatula Gaertn. plants were grown as described elsewhere [12, 40–42]. Wounding of tomato plants was performed at onset of flowering (about six weeks after sowing) and was done by squeezing the leaflets of two leaves per plant five times across the mid-vein with tweezers. For each point a separate plant was used. The tomato leaves (two leaves per plant only) were harvested before wounding and 10, 20, 30, 60, 120, 240 and 1440 min post-treatment. Tissue extraction, SPE and RP-HPLC-MS/MS were performed as described above. The organs obtained from unstressed plants of other species (O. sativa roots, A. thaliana seedlings and rosette leaf, M. truncatula roots and leaf) were treated in the same way. The content of individual phytohormones was calculated as the ratio of analyte and internal standard peak heights multiplied by the concentration of the corresponding internal standard.
Quantitative determinations of OPDA, JA and JA-Ile by GC-MS
Methanolic extracts obtained from wounded tomato leaves were subjected to the well established GC-MS-based strategy comprising ion exchange chromatography and RP-HPLC purification steps [12].
Declarations
Acknowledgements
We thank Birgit Ortel for her excellent technical assistance. The work was partially funded by the German Research Council (DFG, project HA2655/11-1 to B.H.).
Authors' Affiliations
(1)
Department of Cell and Metabolic Biology, Leibniz Institute of Plant Biochemistry, Halle (Saale), Germany
(2)
Department of Biochemistry, Max Planck Institute for Chemical Ecology, Jena, 07745Germany
(3)
Centre for Biotechnology and Biomedicine, Faculty of Chemistry and Mineralogy, Institute of Bioanalytical Chemistry, Leipzig University, Leipzig, Germany
Copyright
© Balcke et al.; licensee BioMed Central Ltd. 2012
This article is published under license to BioMed Central Ltd. This is an Open Access article distributed under the terms of the Creative Commons Attribution License (http://creativecommons.org/licenses/by/2.0), which permits unrestricted use, distribution, and reproduction in any medium, provided the original work is properly cited.