Fingerprinting antioxidative activities in plants
Received: 20 November 2008
Accepted: 26 January 2009
Published: 26 January 2009
Abstract
Background
A plethora of concurrent cellular activities is mobilised in the adaptation of plants to adverse environmental conditions. This response can be quantified by physiological experiments or metabolic profiling. The intention of this work is to reduce the number of metabolic processes studied to a minimum of relevant parameters with a maximum yield of information. Therefore, we inspected 'summary parameters' characteristic for whole classes of antioxidative metabolites and key enzymes.
Results
Three bioluminescence assays are presented. A horseradish peroxidase-based total antioxidative capacity (TAC) assay is used to probe low molecular weight antioxidants. Peroxidases are quantified by their luminol converting activity (LUPO). Finally, we quantify high molecular weight superoxide anion scavenging activity (SOSA) using coelenterazine.
Experiments with Lepidium sativum L. show how salt, drought, cold, and heat influence the antioxidative system represented here by TAC, LUPO, SOSA, catalase, and glutathione reductase (GR). LUPO and SOSA run anti-parallel under all investigated stress conditions suggesting shifts in antioxidative functions rather than formation of antioxidative power. TAC runs in parallel with GR. This indicates that a majority of low molecular weight antioxidants in plants is represented by glutathione.
Conclusion
The set of assays presented here is capable of characterising antioxidative activities in plants. It is inexpensive, quick and reproducible and delivers quantitative data. 'Summary parameters' like TAC, LUPO, and SOSA are quantitative traits which may be promising for implementation in high-throughput screening for robustness of novel mutants, transgenics, or breeds.
Keywords
Salt StressGlutathione ReductaseLuminolAssay BufferLight Output
Results and discussion
Lepidium sativum
plants were challenged with four different types of abiotic stress. After stress and a recovery period (see Figs. 4.1 in additional file
4
) plant material was processed (see Fig. 4.2 in additional file
4
) and the antioxidative status was fingerprinted. Changes of screening parameters were drawn as polygon for each sample (Figure
4
). The area of each polygon then gives a quantitative impression of changes in total antioxidative power of the sample.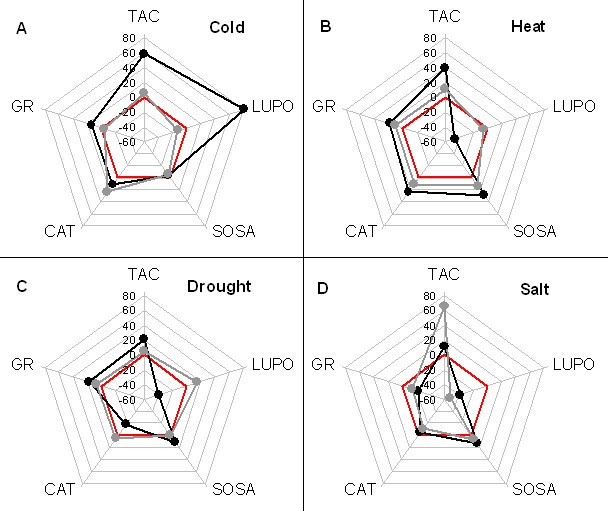 Conclusion
Here, we provide a set of 'summary parameter' assays which can be run in parallel with a minimum of effort necessary for plant tissue preparation and processing and at low cost. TAC delivers valuable data about the presence of low molecular weight antioxidants in general. LUPO displays all luminol converting peroxidase activities in the sample. SOSA quantifies high molecular weight superoxide anion scavengers.
Together with common CAT and GR assays, we obtained specific fingerprints from Lepidium sativum for each type of abiotic stress situation. The highly flexible antioxidative system of plants is mainly based on functional shifts rather than costly formation of new antioxidative resources.
The approach reported here may help to detect and fingerprint plant robustness. Generic parameters like TAC, SOSA and LUPO have the potential to be developed as tools for high- throughput screening the robustness of novel mutants, transgenics, or breeds.
Methods
Chemicals
Bradford Assay Reagent (BioRad #500-0069)
Calcium chloride (CaCl2 6 H2O; Riedel deHaen #12074; MW = 220 g/mol)
Coelenterazine (NanoLight Technologies #303; MW = 423 g/Mol)
Di-potassium hydrogen phosphate (Roth #T875; MW = 174 g/Mol)
EGTA (Sigma #E4378; MW = 340 g/Mol)
Ethanol abs. (Roth # 9065)
Glutathione – oxidised (GSSG; Roth #6378; MW = 612 g/Mol)
Horseradish peroxidase (HRP; Sigma #P6140, ca. 2 kU/ml)
Hydrochloric acid (HCl; Roth #4625; 1 M, i.e. 34% 1:10 diluted in H2O)
Hydrogen peroxide solution (H2O2; Merck # 1.08597; 30% = 8.8 M; MW = 34 g/Mol)
Hypoxanthine (Fluka #56700; MW = 136 g/Mol)
Iodophenol (Fluka #58020, MW = 220 g/Mol)
Luminol (Fluka #09253; MW = 177 g/Mol)
Murashige and Skoog (M&S) medium (Duchefa, #M0222)
NADPH tetra-sodium salt (Roth #AE14; MW = 833 g/Mol)
Potassium di-hydrogen phosphate (Merck #1.04873; MW = 136 g/Mol)
Potassium hydroxide (KOH; Roth #6751; MW = 56 g/Mol; 5 M in H2O)
Sodium chloride (NaCl; Fluka #71378; MW = 58 g/Mol)
TRIS ultra pure; (ICN Biomedicals #77861; MW = 121 g/Mol)
Triton® X-100 (Sigma #X100; MW = 647, Liquid ρ = 10.7 kg/L ≅ 1.65 M)
Trolox (Aldrich #23,881; MW = 250 g/Mol)
Xanthine oxidase (from bovine milk; Sigma #X4500)
Plant growth
Seeds from Lepidium sativum were obtained from Sperli (#42.953, Germany, http://www.sperli-samen.de). For surface sterilization 4 gram of seeds were vortexed 2 min. in 80% ethanol and dried on filter paper.
For cold and heat treatment seeds were sown on 2 layers of synthetic capillary matting (medical fleece "Rolta®-soft" # 932048, Hartmann, Germany, http://de.hartmann.info/) soaked with 0.5 × Murashige and Skoog medium (Duchefa #M0222). Seedlings were grown in a mini propagator (26 × 11 × 7 cm, Windhager®; Austria; http://www.windhager.at) at 21°C with a 16 h photoperiod (50 μE, white fluorescent lamps Osram L36 W/77) for five days before treatment with abiotic stress.
For salt and drought treatment plants were hydroponically grown on 0.5 × M&S medium in sterile Growtek™ culture vessels (#BEL1768; BLD Science®, NC, USA; http://www.bestlabdeals.com) as above. Hydroponical growth enables easy removal and exchange of nutrient medium.
Plant stress treatment
Cold and heat stress were applied by placing the mini-propagator for 12 h at 0°C or 6 h at 42°C, respectively, in the dark. Recovery times were allowed for 12 h and 6 h, respectively, in the growth room. Whole plants were harvested and processed.
Salt stress was induced by exchange of the nutrient medium with 150 mM NaCl in 0.5 × MS medium. Salinity was applied for 24 h. For recovery, the salt solution was removed. Roots were rinsed with tap water before plants were allowed to recover for 24 h in 0.5 × MS medium and under conditions as before.
For drought stress, the nutrient medium was completely withdrawn for 24 h. This period is sufficient to produce an appreciable limp appearance and yet short enough to maintain ability for full recovery. For recovery (24 h) 0.5 × MS medium was replaced. From plants grown in Growtek™ vessels only the green parts were harvested and processed.
Processing plant material
Plant material was harvested after stress treatment and after recovery time. Untreated controls were run in parallel (experimental design see Fig. 4.1 in additional file 4). Portions of 4 grams fresh weight were snap-frozen in liquid nitrogen and stored at -80°C until processed.
During further processing (see Fig. 4.2 in additional file 4) contact of samples with ambient oxygen was minimised. Frozen plant material was ground in liquid nitrogen with a mortar and pestle. Ten volumes ice-cold degassed buffer (100 mM TRIS/HCl pH 8.6 + 2 mM CaCl2 + 1 mM Triton® X-100) was added to the powder (ml/g), vortexed for 2 min, and filtered through a fluted paper filter in a 0°C cabinet under N2-atmosphere. This crude extract was aliquotted for membrane filtration (TAC) and for dialysis (LUPO, SOSA, enzyme assays).
For analysis of low molecular weight total antioxidative capacity (TAC) the crude extract was passed through a membrane filter (MWCO = 10 kDa, VivaSpin 20, VivaScience, Germany, http://www.vwr.de) by centrifugation at 0°C.
Since low molecular weight antioxidants and phenolics can interfere with enzymatic assays of LUPO, SOSA, CAT, and GR [94], these compounds were removed by dialysing the crude extract in dialysis membrane tubing (MWCO = 10 kDa; Roth #E668.1) for 30 min per 100 μl dialysate against twohundred-fold volume of ice-cold assay buffer.
Assay results have to be displayed with reference to an invariable parameter. Therefore, in many previous studies plant fresh weight or dry weight was used. However, dry weight is not invariable with salt treatment due to considerable ion uptake and fresh weight may vary with drought treatment due to loss of water. Consequently, we employed the total protein content as a reference parameter, knowing that this may also vary within certain limits. Thus, after dialysis the protein concentration was determined by the Bradford assay [95]. Before assaying, all samples were supplemented with buffer in order to equalise differences in protein concentrations.
Assay procedures
Luminescence assays were performed with a simple chemiluminometer (PMT 9829A, Electron Tubes Ltd. Ruislip, UK) equipped with a light tight sample housing to hold vials in front of the detector [96].
TAC: HRP-based total low-molecular-weight antioxidative capacity assay
The assay buffer was 1 mM CaCl2 + 100 mM TRIS/HCl pH 8.6. Iodophenol was dissolved in ethanol to give a 100 mM colourless stock solution. Luminol dissolved in 5 M KOH gave a 1 M stock solution. The assay mixture (sufficient for ca. 2000 samples) was prepared by adding 20 μl ethanolic iodophenol stock, 500 μl luminol stock, 100 μl HRP suspension, and 660 μl Triton® X-100 to 1 L of assay buffer. This mixture can be used diluted to increase assay sensitivity and thereby meet samples with lower TAC (Fig. 1.6 in additional file 1). It is stable for several weeks, when stored at 4°C (Fig. 1.7 in additional file 1). H2O2 (1.1 mM) solution was prepared by diluting H2O2-stock (30%) 1:8000 in 100 ml of assay buffer. The light emitting reaction was started by mixing 0.5 ml H2O2 with 0.5 ml of assay mixture. After establishment of a constant signal, the luminescence was quenched by injecting the sample (0.5 ml). Light recording was continued until luminescence recovery (details in additional file 1).
LUPO: Luminol-based peroxidase assay
An assay buffer of 100 mM TRIS/HCl pH 8.6 + 2 mM CaCl2 + 1 mM Triton® X-100 was used. Luminol (1 mM) solution was prepared by diluting 1 M alkaline luminol stock solution in assay buffer. A 17.6 mM H2O2 solution was prepared by diluting H2O2 (30%) 1:500 in assay buffer. Dialysed samples were diluted 1:100 in assay buffer. 0.5 ml of diluted sample was mixed with 0.5 ml luminol solution and background luminescence was recorded. The light reaction was started by adding 0.5 ml 17.6 mM H2O2 solution. Counts per second (cps) were recorded for several minutes and light output integrated (details in additional file 2).
SOSA: CTZ-based superoxide anion scavenging activity assay
An assay buffer containing 100 mM potassium phosphate pH 7.4 + 0.1 mM EDTA + 6 mM Triton® X-100 was used. CTZ (50 μM) solution was prepared by diluting a 5 mM methanolic stock solution in thoroughly de-gassed potassium phosphate buffer (100 mM pH 7.4). CTZ solution was aliquotted to 0.25 ml portions in luminometer vials under an oxygen free atmosphere and capped. Hypoxanthine (1 M) stock solution was prepared in 5 M KOH. HX (1 mM) was prepared by dilution this alkaline stock 1:1000 in assay buffer. Xanthine oxidase mix was prepared by diluting XOD suspension 1:3000 in assay buffer. Dialysed samples were diluted 1:8 in assay buffer. Dark-background from uncapped CTZ aliquots was recorded before injecting 0.25 ml HX-solution. Background luminescence was recorded for a while and then 0.5 ml XOD-mix was injected to initiate the superoxide-CTZ reaction. 0.5 ml of diluted dialysed sample was injected to quench luminescence and light recording was continued for several minutes. Before assaying for SOSA the dialysate was checked for TAC to ensure that no low molecular weight antioxidants adulterate the assay.
Catalase assay
The assay buffer consisted of 100 mM potassium phosphate pH 7.4 + 8.8 mM H2O2. The CAT-assay was based on the UV-absorption of H2O2 [97]. The consumption of H2O2 after injecting the CAT-containing sample was recorded at λABS = 240 nm in a spectrophotometer (Ultrospec 2100pro, GE-Healthcare Europe, München, Germany). The linear decay in H2O2 was calculated (Figures 5E, 6E, 7E, 8E).
Glutathione reductase assay
An assay buffer containing 100 mM potassium phosphate pH 7.4 + 0.1 mM NADPH + 1 mM GSSG was used. The GR-assay is based on the absorption of light by NADPH, the co-substrate of the GR [98]. The fall in absorption of λABS = 340 nm was recorded with a spectrophotometer (as above) after injecting the GR containing sample. The linear decay of NADPH signal was calculated (Figures 5C, 6C, 7C, 8C).
Abbreviations
APX:

ascorbate peroxidase
Avrg:

average
CAT:

catalase
cps:

counts per second
FW:

fresh weight
GPX:

glutathione peroxidase
GR:

glutathione reductase
GSH:

glutathione
HRP:

horseradish peroxidase
LUPO:

luminol converting peroxidase
MWCO:

molecular weight cut-off
PO:

peroxidase
ROS:

reactive oxygen species
SOD:

superoxide dismutase
SOSA:

superoxide scavenging activity
StDv:

standard deviation
TAC:

total antioxidative capacity.
Declarations
Acknowledgements
We are grateful to Lee Shaw (Kiel) for critically reading the manuscript. Many thanks, to Sonja Vollbehr for technical assistance, to Bruce Bryan of Prolume Ltd. (Eagar, AZ, USA) for the generous gift of coelenterazine, and to Axel Scheidig (Structural Biology Group, Kiel) and Ulf-Peter Hansen (Biophysics Group, Kiel) for their noble support. We gratefully acknowledge financial support from the Deutsche Forschungsgemeinschaft (PL253/5-1) as well as the access to the core facilities of the ZBM, CAU, Kiel.
Authors' Affiliations
(1)
Zentrum für Biochemie und Molekularbiologie, Universität Kiel, Kiel, Germany
Copyright
© Saleh and Plieth; licensee BioMed Central Ltd. 2009
This article is published under license to BioMed Central Ltd. This is an Open Access article distributed under the terms of the Creative Commons Attribution License (http://creativecommons.org/licenses/by/2.0), which permits unrestricted use, distribution, and reproduction in any medium, provided the original work is properly cited.