A plastome primer set for comprehensive quantitative real time RT-PCR analysis of Zea mays: a starter primer set for other Poaceae species
Received: 01 February 2008
Accepted: 02 June 2008
Published: 02 June 2008
Abstract
Background
Quantitative Real Time RT-PCR (q2(RT)PCR) is a maturing technique which gives researchers the ability to quantify and compare very small amounts of nucleic acids. Primer design and optimization is an essential yet time consuming aspect of using q2(RT)PCR. In this paper we describe the design and empirical optimization of primers to amplify and quantify plastid RNAs from Zea mays that are robust enough to use with other closely related species.
Results
Primers were designed and successfully optimized for 57 of the 104 reported genes in the maize plastome plus two nuclear genes. All 59 primer pairs produced single amplicons after end-point reverse transcriptase polymerase chain reactions (RT-PCR) as visualized on agarose gels and subsequently verified by q2(RT)PCR. Primer pairs were divided into several categories based on the optimization requirements or the uniqueness of the target gene. An in silico test suggested the majority of the primer sets should work with other members of the Poaceae family. An in vitro test of the primer set on two unsequenced species (Panicum virgatum and Miscanthus sinensis) supported this assumption by successfully producing single amplicons for each primer pair.
Conclusion
Due to the highly conserved chloroplast genome in plant families it is possible to utilize primer pairs designed against one genomic sequence to detect the presence and abundance of plastid genes or transcripts from genomes that have yet to be sequenced. Analysis of steady state transcription of vital system genes is a necessary requirement to comprehensively elucidate gene expression in any organism. The primer pairs reported in this paper were designed for q2(RT)PCR of maize chloroplast genes but should be useful for other members of the Poaceae family. Both in silico and in vitro data are presented to support this assumption.
Keywords
Prime PairReverse Transcriptase Polymerase Chain ReactionPlastid GenePoaceae FamilySingle Amplicon
Background
Chloroplasts are semi-autonomous organelles believed to have developed from free-living photosynthetic bacteria [1, 2] They are members of a diverse and flexible family of organelles called plastids that are responsible for photosynthesis plus other essential biosynthetic pathways and cellular functions. Plastids have maintained a small remnant genome with a species-specific number of genes mostly involved in photosynthesis and gene expression. The full function and development of all the plastid types, however, requires thousands of nuclear encoded gene products.
Maize is an agriculturally important monocot grass that has served as a genetic model system for decades [3], is the focus of a major genome project [4, 5], and is especially valuable for the study of chloroplast biology [6]. Other members of the grass family (Poaceae) also offer unique opportunities to study differential plastid gene expression. The presence of closely related species with either C3 or C4 photosynthetic capabilities enables comparison of dimorphic C4 chloroplast development to monomorphic C3 species. In addition, grasses such as switchgrass (Panicum virgatum) and miscanthus (Miscanthus sinensis) are the subjects of an increased focus on cellulosic ethanol production [7].
To date, most Poaceae chloroplast gene expression studies have concentrated on proteomic or physiologic assays or focused on post-transcriptional modification and regulation of transcripts, [8–10]. While these approaches elucidate end point development of transcribed genes, they rarely illuminate the transcription activity of a particular gene. q2(RT)PCR is a maturing tool sensitive enough to detect the existence of small amounts of nucleic acid [11]. This allows for in-depth, comprehensive investigations into transcript abundance and offers a useful tool to help elucidate the relationship between transcription, translation, and expression.
q2(RT)PCR is dependent upon the amplification and quantification of a single amplicon that makes primer design and amplification conditions key to the success of an experiment. Substantial time and resources may be spent in the design, testing, and subsequent reworking of primers for optimal efficiency [12].
In this paper we describe the development and empirical optimization of primer pairs to amplify each rRNA and mRNA from maize plastids. Primer sequences, optimal annealing temperatures, and extension times are reported. In addition, each primer set was tested, in silico, against published plastome sequences and in vitro against switchgrass and miscanthus transcripts. Using the conditions optimized for maize, all primer pairs successfully produced a single amplicon for these two grass species.
Results and Discussion
Some plastid genes with intra-cellular homologs could be specifically amplified when primers were designed to take advantage of small non-similar regions within the genes. This was achieved by comparing the homology between the genes and designing primers to recognize unique regions within chloroplast genes. Primers were then compared to other competing homologs, if the primer homology was less than 50% and there were no 3' matching nucleotides, then the design process was completed and the primers synthesized. The similarity estimation was based on the BLAST [13] percent identity score and not the E value which can be inflated when sequence sizes are small. One exception to this design strategy was the atpA gene primers which have >50% homology and should anneal to mitochondrial homologous regions. The possible mitochondrial amplicon however was predicted to be 125,630 base pairs long. An experimental end-point check of the atpA primers amplified the desired 77 base pair chloroplast amplicon and the single product was verified by a q2(RT)PCR melt curve. Multi-genomic genes exhibiting high homology but whose primer annealing sites and subsequent amplicons are plastid specific when analyzed in this manner are reported in Additional File 1 as category 1 or category 2 genes. Multi-genomic genes with homologies below 50% and whose primer pairs were determined to amplify only chloroplast genomic material are also reported in Additional File 1 as category 1 or category 2 genes.
Conclusion
Primers were designed and empirically optimized to quantify plastid transcripts from Zea mays. Due to the highly conserved nature of plastomes within the family Poaceae, this set of primers works equally as well for the majority of targeted genes of other species in the Poaceae family, particularly members of the PACCAD clade. This primer set and the conditions published in this report should reduce the time and cost associated with primer design and testing for future plastid q2(RT)PCR experiments.
Methods
q2(RT)PCR Primer Design and validation
q2(RT)PCR primer design and validation procedural flow can be seen in Figure
6
. Primer pairs were designed from the NCBI published
Zea mays
complete chloroplast genome sequence accession numbers [GenBank: X86563 and GenBank: NC_001666], NAPD-Malic enzyme accession number [GenBank: J05130], and NAPD-Malate dehydrogenase accession number [GenBank: AY105634] [
19
]. Gene sequences were obtained from each coding sequence (CDS) listing, rRNA listing, or accession number sequence. The coding sequence was then analyzed using the BLAST [
13
] program for homology to mitochondrial and known nuclear maize genomes. Primers were designed with an attempt to utilize dissimilar sequences between the genomes using the online software primer3 [
20
]. Suggested primers were checked for inhibitory secondary structures using mFold [
21
] and edited until the recommended primer produced a positive delta G at 45°C. This ensured selected primer pairs would possess a null or positive delta G energy signature at reverse transcriptase annealing temperatures and amplify chloroplast specific gene sequences. Primer pairs were then optimized to produce a single amplicon of predicted length by end-point temperature gradient PCR with maize whole leaf tissue RNA template and visualized on a 3% TAE agarose gel run alongside a 2-Log ladder from New England Biolabs (Ipswitch, MA). Optimization of primer pairs consisted of running eight temperature gradient dependent reactions and visualizing them on a 3% agarose gel. The gradient spanned a 10°C range, ± 5° from the average melting temperatures (Tm) of the primer pairs as reported by the supply company. Reaction elongation times were set at two minutes in the initial primer set testing phase. Several of the initial primer pairs produced amplicons of greater length than the predicted length. Elongation times for these and subsequent primer pairs were reduced to 30 seconds to better match calculated elongation time [
22
] for amplicons of the desired size. Amplicons from switchgrass and miscanthus were then verified as the only product via end point RT-PCR visualized on 3% TAE agarose gel and then subsequently verified by the q2(RT)PCR melt curve for a single amplicon with BioRad's IQ™5 Optical System software, Hercules, CA,. All primers were obtained from Integrated DNA Technologies, Coralville, IA.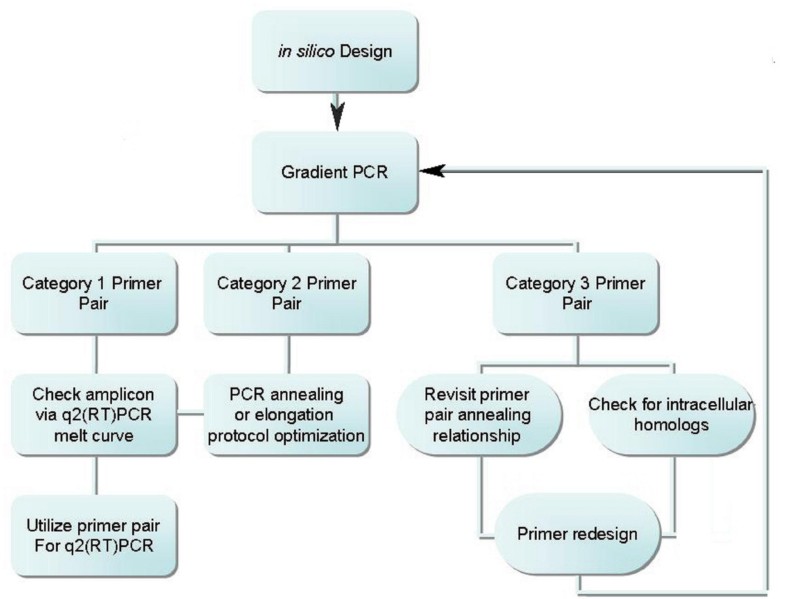 RNA material preparation
Maize (inbred line T42) stage 2 leaves were dissected into basal, mid, and tip sectional tissue as described in Cahoon, et al [23] and mixed into a single sample. Switchgrass stem and leaf and miscanthus leaves were harvested from mature demonstration specimens maintained by the MTSU greenhouse. Tissue samples were cut into approximately 2 mm by 2 mm sections, placed in liquid nitrogen, and ground with ceramic mortars and pestles. RNA was extracted with Trizol® according to the manufacturer's suggested protocol, Invitrogen (Carlsbad, CA). Each extraction was checked for a DNA/RNA concentration utilizing a Spectronic® Genesys™ spectrophotometer (Lincoln, NE). Ambion's Turbo DNase-free™ or DNase-free™, (Applied Biosystems, Foster City, CA) was used according to manufacturers suggested protocol to remove contaminating DNA. DNase treatments were repeated until each RNA extraction was visually confirmed to be DNA free by end point PCR reactions.
Gene Expression Verification
Each gene primer pair was verified utilizing BioRad's (Hercules, CA) iCycler and IQ™5 Multi-color Real-Time PCR Detection System. 25 μl reactions were prepared with BioRad iScript™ One-Step RT-PCR kit with SYBER®Green utilizing approximately 200 ng/ul cleaned RNA per reaction for each of the three tissue samples. Amplicon presence and purity was confirmed by analysis of the IQ™5 Optical System's melt curve, melt curve peak, and PCR amplification software.
Abbreviations
RT-PCR:

reverse transcriptase PCR
q2(RT)PCR:

quantitative real time reverse transcriptase PCR
Declarations
Acknowledgements
Work was funded by an internal research enhancement program awarded to ABC. The authors wish to thank Larry Sizemore of the MTSU greenhouse facility for providing switchgrass and miscanthus samples, Drs. Rebecca Seipelt and Matthew Elrod-Erickson for their critical reading, and members of "Lab 122" for their helpful discussions and insight. Dai Gu contributed by designing the rpl14 and rps16 primer pairs.
Authors' Affiliations
(1)
Department of Biology, Middle Tennessee State University, Murfreesboro, USA
Copyright
© Sharpe et al; licensee BioMed Central Ltd. 2008
This article is published under license to BioMed Central Ltd. This is an Open Access article distributed under the terms of the Creative Commons Attribution License (http://creativecommons.org/licenses/by/2.0), which permits unrestricted use, distribution, and reproduction in any medium, provided the original work is properly cited.