An efficient protocol for perennial ryegrass mesophyll protoplast isolation and transformation, and its application on interaction study between LpNOL and LpNYC1
Received: 8 May 2017
Accepted: 25 May 2017
Published: 5 June 2017
Abstract
Background
Perennial ryegrass (Lolium perenne L.) is an important temperate grass used for turf and forage purposes. With the increasing accumulation of genomic and transcriptomic data of perennial ryegrass, an efficient protoplast and transient gene expression protocol is highly desirable for in vivo gene functional studies in its homologous system.
Results
In this report, a highly efficient protoplast isolation (5.6 × 107 protoplasts per gram of leaf material) and transient expression (plasmid transformation efficiency at 55.2%) was developed and the detailed protocol presented. Using this protocol, the subcellular locations of two ryegrass proteins were visualized in chloroplasts and nuclei, respectively, and protein–protein interaction between two chlorophyll catabolic enzymes (LpNOL and LpNYC1) was recorded in its homologous system for the first time.
Conclusion
This efficient protoplast isolation and transformation protocol is sufficient for studies on protein subcellular localization and protein–protein interaction, and shall be suitable for many other molecular biology applications where the mesophyll protoplast system is desirable in perennial ryegrass.
Keywords
RyegrassLoliumProtoplastTransient gene expression
Background
Perennial ryegrass (Lolium perenne L.) is the most widely distributed and cultivated turf and forage grass in temperate zones. World-wide consorted programs are working on the molecular genetics of this grass species. The draft genome of this perennial ryegrass was recently published [1] and the assembly of the genome dataset is undergoing. The accumulation of genomic and transcriptomic datasets provided unprecedented opportunity to conduct functional genomic studies in perennial ryegrass. Stable genetic transformation systems have been established in perennial ryegrass, yet the whole transformation takes months to obtain rooted transgenic plants [2, 3].
The plant protoplast system provides a complementary or, sometimes, an alternative way to the stable genetic transformation system for gene functional analysis in many cases, such as protein subcellular localization, in vivo protein–protein and protein-DNA interactions, protein trafficking and signal transduction, etc. Currently, mesophyll protoplast-based transient expression assays are routinely used in biological studies in Arabidopsis (Arabidopsis thaliana) [4, 5], maize (Zea mays) [4], tabacco (Nicotiana tabacum) [6], rice (Oryza sativa) [7, 8], Populus [9, 10], and cucumber (Cucumis sativus) [11]. Successful ryegrass protoplast isolation from mesophyll cells has been reported previously and was used in the study on chloroplast photosynthetic and photorespiratory carbon metabolism [12]. However, its efficiency remains low and not sufficient engouth for protoplast transformation studies according to our preliminary experimental results following the previously published one (data not shown). An efficient transient expression system based on ryegrass mesophyll protoplast transformation was not reported yet.
In this study, a highly repeatable and efficient protocol for mesophyll protoplast isolation and gene transient expression was developed using ryegrass leaves as starting materials. This protocol provides a facile tool for protein subcellular localization and bimolecular fluorescence complementation (BIFC) assays as shown in this study as well as the other in vivo molecular studies where this system is applicable.
Results and discussion
Protoplast isolation from mesophyll cells of perennial ryegrass
Selecting the proper starting leaf material was critical for the whole protocol. Using unselective green leaves (the 1st to the 3rd leaves from the top) for the protoplast isolation and transient gene expression assay (e.g. for the detection of subcellular localization) yielded inconsistent results. While consistent result was only achieved with the newly and fully expanded leaves (the 2nd leaf from the top which is ~10–12 days after leaf emergence) from healthy plants. The optimum concentrations of cellulose R-10 and macerozyme R-10 used in this study on ryegrass were the same as those used in rice [
8
], maize [
4
] and wheat [
17
]. The concentration of mannitol in the enzyme solution was critical for integrity of isolated protoplasts [
18
]. After testing a series of mannitol concentrations in the enzyme solution (1.50% cellulose R-10 and 0.75% macerozyme R-10), we found that mannitol at 0.6 M lead to the highly protoplast isolation efficiency (5.6 × 10
7
protoplasts per gram; Fig.
1
) and protoplast viability (82.8%) after enzyme digestion (Fig.
1
). After further removal of broken cell debris using centrifugation, the re-suspended protoplast density can be readily achieved at 7.3 × 10
6
protoplasts per ml (Fig.
1
). Compared to the previous ryegrass protoplast isolation protocol [
12
], the current protocol used different digestive enzyme mix and mannitol concentration with optimized experimental procedures (see notes and details in "
Methods
" section), which were all indispensable factors for successful and efficient ryegrass protoplast isolation.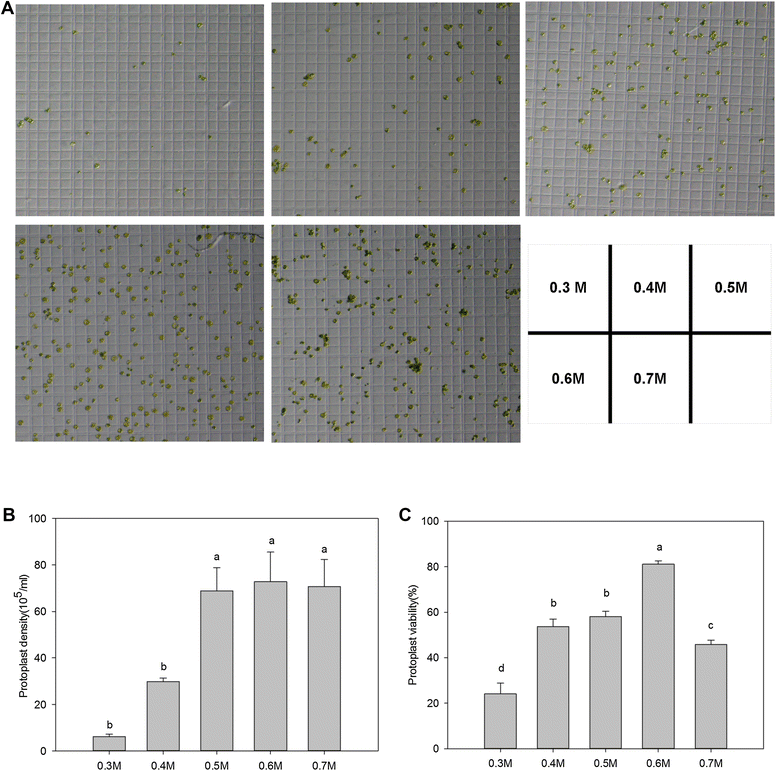 PEG-mediated protoplast transformation
The isolated protoplasts were subjected to PEG-mediated transformation. After adjusting variable parameters, we achieved up to 55.2% transformation efficiency with 10 µg plasmid DNA (plasmid size ~10 kb) prepared with a regular plasmid midi-prep kit. Higher protoplast transformation efficiency could be achieved using higher amount or purity (e.g. with CsCl purified plasmid DNA) of plasmid DNA [5]. The mannitol concentration in the PEG-Ca2+ solution was also critical for the transformation efficiency that the highest efficiency was achieved at 0.3 M mannitol (data not shown).
The developed protocol can be efficiently applied to protein subcellular localization and BiFC assays. For examples, LpPPH, a ryegrass chlorophyll catabolic enzyme, was previously shown to localize in chloroplast using Arabidopsis protoplast [
13
]; using the current protocol, we were able to confirm its subcellular localization in its homologous system (Fig.
2
). In another experiment, a putative ryegrass NAC transcription factor was shown localized in the nucleus in ryegrass protoplast (Fig.
2
).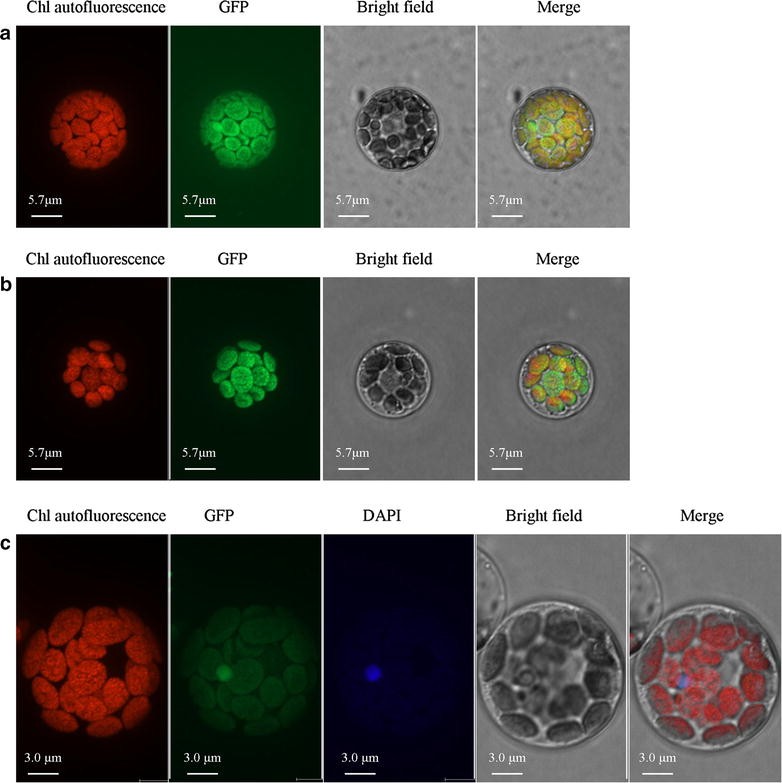 LpNOL and LpNYC1 interact in vivo using BIFC
The current protocol is also efficient enough for protein–protein interaction assay (e.g. BIFC). We cloned two putative chlorophyll catabolic enzyme-encoding genes,
LpNOL
&
LpNYC1
, from perennial ryegrass, and fused them with split N- and C- terminal citrine fragments, respectively. Orthologs of these two genes in model plant species Arabidopsis and rice encode key chlorophyll catabolic enzymes (CCEs), which physically interact with each other and cooperatively catalyze the degradation of Chl b [
19
,
20
]. As shown in Fig.
3
, the citrine signal was only visualized in the chloroplasts when
LpNOL
&
LpNYC1
were co-transformed, proving that these two proteins interact with each other in vivo in its homologous system.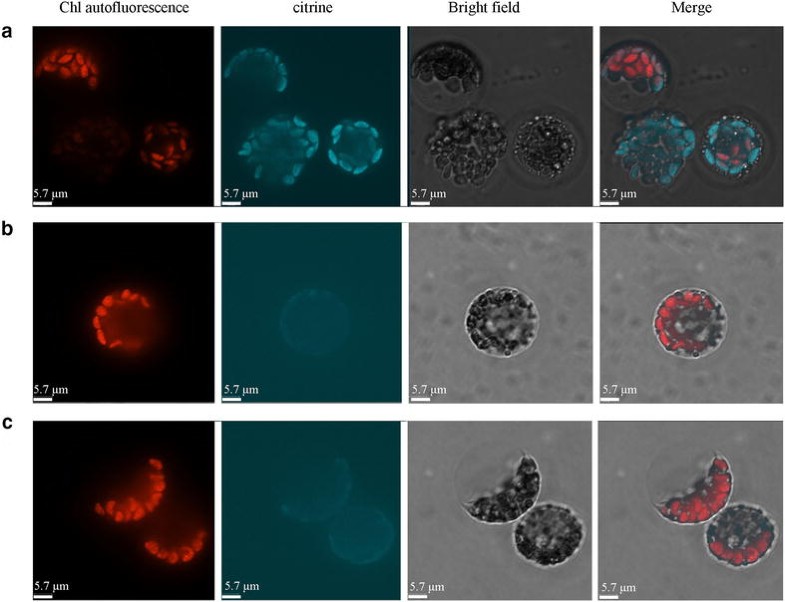 Conclusions
In sum, a highly efficient mesophyll cell protoplast isolation and transformation protocol was developed for perennial ryegrass, which can be readily used for protein subcellular localization, and protein–protein interaction analysis. The protocol was illustrated in Fig.
4
with critical points pinpointed, and the recipes were shown in Table
1
.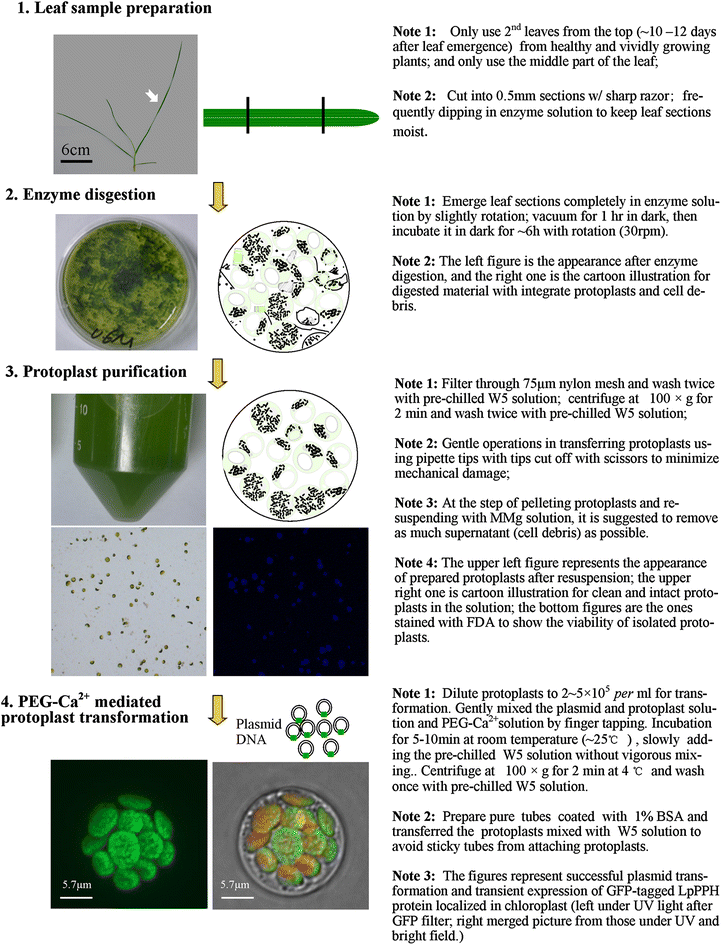 Declarations
Authors' contributions
GY, QC and ZX performed vector construction, ryegrass protoplast isolation and transformation experiments, and participated in manuscript preparation; QC and BZ designed and constructed the pair of BiFC vectors; BX and BH conceived and designed the experiments, analyzed data and prepared the manuscript. All authors read and approved the final manuscript.
Competing interests
The authors declare that they have no competing interests.
Availability of data and materials
The datasets supporting the conclusions and description of a complete protocol are included within the article.
Consent for publication
All authors agreed to publish this manuscript.
Ethics approval and consent to participate
All authors read and approved the manuscript.
Funding
This project was supported by a Grant from 31572455 from the National Science Foundation of China, by grant BK20140693 from the Natural Science Foundation of Jiangsu Province, China, and by Grant KYZ201552 from the Fundamental Research Funds for the Central Universities.
Publisher's Note
Springer Nature remains neutral with regard to jurisdictional claims in published maps and institutional affiliations.
Open AccessThis article is distributed under the terms of the Creative Commons Attribution 4.0 International License (http://creativecommons.org/licenses/by/4.0/), which permits unrestricted use, distribution, and reproduction in any medium, provided you give appropriate credit to the original author(s) and the source, provide a link to the Creative Commons license, and indicate if changes were made. The Creative Commons Public Domain Dedication waiver (http://creativecommons.org/publicdomain/zero/1.0/) applies to the data made available in this article, unless otherwise stated.
Authors' Affiliations
(1)
College of Agro-grassland Science, Nanjing Agricultural University, Nanjing, People's Republic of China
(2)
Jiangsu Key Laboratory for Poplar Germplasm Enhancement and Variety Improvement, Nanjing Forestry University, Nanjing, People's Republic of China
(3)
Department of Plant Biology and Pathology, Rutgers, the State University of New Jersey, New Brunswick, USA
(4)
Department of Horticulture, Virginia Polytechnic Institute and State University, Blacksburg, USA