Remote, aerial phenotyping of maize traits with a mobile multi-sensor approach
Received: 20 October 2014
Accepted: 20 January 2015
Published: 25 February 2015
Abstract
Background
Field-based high throughput phenotyping is a bottleneck for crop breeding research. We present a novel method for repeated remote phenotyping of maize genotypes using the Zeppelin NT aircraft as an experimental sensor platform. The system has the advantage of a low altitude and cruising speed compared to many drones or airplanes, thus enhancing image resolution while reducing blurring effects. Additionally there was no restriction in sensor weight. Using the platform, red, green and blue colour space (RGB), normalized difference vegetation index (NDVI) and thermal images were acquired throughout the growing season and compared with traits measured on the ground. Ground control points were used to co-register the images and to overlay them with a plot map.
Results
NDVI images were better suited than RGB images to segment plants from soil background leading to two separate traits: the canopy cover (CC) and its NDVI value (NDVIPlant). Remotely sensed CC correlated well with plant density, early vigour, leaf size, and radiation interception. NDVIPlant was less well related to ground truth data. However, it related well to the vigour rating, leaf area index (LAI) and leaf biomass around flowering and to very late senescence rating. Unexpectedly, NDVIPlant correlated negatively with chlorophyll meter measurements. This could be explained, at least partially, by methodical differences between the used devices and effects imposed by the population structure. Thermal images revealed information about the combination of radiation interception, early vigour, biomass, plant height and LAI. Based on repeatability values, we consider two row plots as best choice to balance between precision and available field space. However, for thermography, more than two rows improve the precision.
Conclusions
We made important steps towards automated processing of remotely sensed data, and demonstrated the value of several procedural steps, facilitating the application in plant genetics and breeding. Important developments are: the ability to monitor throughout the season, robust image segmentation and the identification of individual plots in images from different sensor types at different dates. Remaining bottlenecks are: sufficient ground resolution, particularly for thermal imaging, as well as a deeper understanding of the relatedness of remotely sensed data and basic crop characteristics.
Keywords
Remote sensingAerial phenotypingNear infrared imagingImage analysisNDVIThermal imaging Zea mays
Background
Field-based high-throughput phenotyping methods are urgently needed by plant breeding research [1,2]. Whereas laboratory-based phenotyping platforms that monitor the performance of single plants of model species have advanced greatly in recent years (e.g. [3], for a review see [4]), the development of field-based phenotyping approaches has lagged. For field-based methods, progress has been made mostly using camera-based approaches that are mounted on ground-based vehicles like tractors (e.g. [5,6]; for a review see [2,7]). Yet, there is little progress on methods and platforms that operate from the air [1] although currently drones are becoming increasingly popular for aerial photography. However, high quality camera systems often still exceed the payload of available drones. Automation of data processing, difficulties in extraction of meaningful parameters and blurry images taken from conventional carrier systems such as airplanes travelling at relatively high altitude are other reasons which presently restrict fast methodological advances. Nevertheless, the potential throughput of airborne phenotyping approaches is intrinsically higher than that of ground-based approaches, for several reasons: (1) wider viewing angle from the air, (2) potentially higher travelling speed, (3) absence of physical contact with and hence no mechanical distraction of the growing crop and (4) independence of wet soil conditions that prevent traffic on the ground.
Maize is one of the most important staple crops and has gained an enormous importance in tropical and temperate regions as a food, fodder, and energy crop. As a consequence there is a high need to develop high-throughput methods for hybrid breeding of maize in order to increase selection efficiency [8-11]. Relevant breeding approaches require field-based testing of their genotypes [12]. Often hundreds or thousands of genotypes need to be investigated for their performance in the field and hence need to be grown and assessed synchronously side by side. It is widely accepted that in such breeding programs, phenotyping of traits that are related to yield and quality is currently constituting a serious bottleneck [2,13], for which the development of technological possibilities has not kept pace with the genomic characterization of the germplasm.
Therefore, we aimed to develop a concept allowing for 1) continuous measurements of genotypes throughout the growing season using RGB and near infrared imaging and thermography, 2) develop protocols to automatically identify individual field plots in images derived by the different sensors at different dates and from slightly different angles, 3) identify suitable traits and optimal plot size based on the repeatability and 4) relate remotely sensed data to ground truth data.
More specifically, this study investigates the application of a camera combination consisting of (1) a standard RGB camera, (2) a camera to determine the normalized difference vegetation index (NDVI) and (3) a high-resolution thermal camera (Table
1
). This sensor array was operated manually on a Zeppelin aircraft offering regular sight-seeing round trips. The maize experiment was placed on one of the flight tracks in order to ensure frequent monitoring during the growing season (Figure
1
). The experimental field contained 16 different maize genotypes, arranged in a well-designed plot structure with plots of multiple sizes (i.e. different number of rows). Each genotype x plot size combination was replicated four times (Additional file
1
). From the acquired images, parameters such as the canopy cover, leaf greenness and canopy temperature were detected, and a software routine was developed that allowed for (semi-) automated identification of and data extraction from the field plot structure. The extracted parameter values were then correlated with ground measurements of relevant crop traits collected throughout the crop development. They comprise phenological traits (like the time needed to reach certain key developmental stages) and morphological characteristics (like plant height and leaf biomass) that contribute to the performance of a genotype in a given environment. We hypothesize that the elaborated methods of image capture and analysis can be used to identify genotypic differences and changes during development of maize throughout the season and that remotely sensed parameters can be related sufficiently well to ground measured plant properties and traits relevant for breeding.
Table 1
Size of ground images (length and width) and effective pixel dimensions (Instantaneous Field of View = IFoV) as affected by sensor resolution and measurement altitude
| Camera | Lens (focal length) | Sensor resolution | Sensor dimensions | Image parameter | Altitude 290 | 300 | 310 |
| --- | --- | --- | --- | --- | --- | --- | --- |
| | mm | pixel | mm | | m | m | m |
| NIR | 60 | 4282 × 2848 | 22.2 × 14.8 | length | 107.6 | 111.3 | 115.5 |
| | | | | width | 71.5 | 74.0 | 76.5 |
| | | | | IFoVa | 0.025 | 0.026 | 0.028 |
| RGB | 60 | 3898 × 2595 | 22.2 × 14.8 | length | 107.3 | 111.1 | 114.7 |
| | | | | width | 71.4 | 73.9 | 76.4 |
| | | | | IFoV | 0.0275 | 0.0285 | 0.0295 |
| IR | 75 | 640 × 480 | 14.9 × 11.2b | length | 61.9 | 64 | 66.1 |
| | | | | width | 46.4 | 48 | 49.6 |
| | | | | IFoV | 0.096 | 0.1 | 0.103 |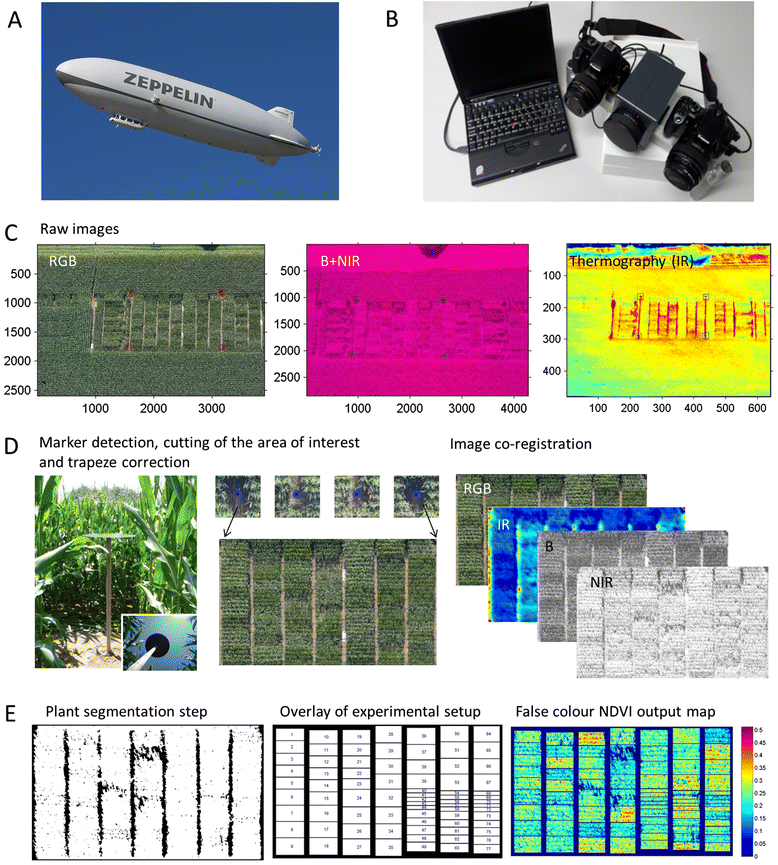 Conclusion
We developed a multi-channel remote-sensing pipeline with semi-automated image analysis.
The comparably low cruising altitude and cruising speed of the Zeppelin combined with high ground resolution enabled image segmentation. Accordingly we could distinguish into canopy cover (CC) and the normalized difference vegetation index of the segmented canopy (NDVIPlant). Such segmentation was not possible for the thermal images with their comparably lower resolution. For CC and NDVIPlant, two row plots enabled a sufficient differentiation among genotypes; for thermal imaging, more than two rows are preferable.
The NDVI camera could be used to measure different traits, depending on the time of the year. Early in the season, CC was related to early vigour, leaf length and plant density, later it was related to radiation interception. NDVIPlant, was well related to the vigour rating and to very late senescence rating. More important, it was related to the leaf area index during flowering, when canopy cover did not correlate well with the trait. Most strikingly, NDVIPlant was negatively related to leaf chlorophyll content measured with the SPAD-meter. This discrepancy demands for an in-depth evaluation of this phenomenon.
For the thermography, highest repeatability of canopy temperature was observed on large plots on temperate days with strongest differences in canopy cooling.
The presented aerial phenotyping approach is applicable to other crops and larger field experiments and genotypic sets as well as other aerial carrier and sensor systems. Similar approaches might be realistic with light weight aerial carriers in the future when sensor technology evolves and sensor weight decreases, especially for thermal imaging. Such approaches can help to close the gap between phenotyping and genotyping and reduce the constraints currently limiting breeding advances.
Abbreviations
NDVI:

Blue band Normalized Difference vegetation Index
CC:

Canopy cover
IR:

Infrared
HSB:

hue-saturation-brightness (color space)
TT:

Thermal time
DT:

Difference between canopy and air temperature
LAI:

Leaf area index
LWI:

Leaf weight index
IFoV:

Instantaneous Field of View
AoI:

Area of interest
TC :

Canopy temperature
TA :

Air temperature
SCO:

Leaf stomatal conductance
LTMP:

Leaf temperature
Declarations
Acknowledgements
We would like to thank Karl-Heinz Camp (Delley seeds and plants, Ltd) for the composition of the set of test genotypes; Roland Lohr for support during sowing, Matthias Hagge (Farm manager Schloss Salem) for field management; and the Zeppelin NT crew, particularly Dietmar Blasius (manager research and special missions), Susanne Federle (tickets and organisation) Kate Board and Fritz Günter (pilots) for the flexible and professional support during flight campaigns. Thanks to Niclas Freitag, Cathrine Meyer, Chantal le Marié and Michael Mielewczik (members of ETH crop science) for support during the field campaigns.
Authors' Affiliations
(1)
Institute of Agricultural Sciences, ETH Zürich, Zürich, Switzerland
(2)
Norddeutsche Pflanzenzucht, Hohenlieth, Germany
Copyright
© Liebisch et al.; licensee BioMed Central. 2015
This is an Open Access article distributed under the terms of the Creative Commons Attribution License (http://creativecommons.org/licenses/by/4.0), which permits unrestricted use, distribution, and reproduction in any medium, provided the original work is properly credited. The Creative Commons Public Domain Dedication waiver (http://creativecommons.org/publicdomain/zero/1.0/) applies to the data made available in this article, unless otherwise stated.