Protocol: Precision engineering of plant gene loci by homologous recombination cloning in Escherichia coli
Received: 14 July 2005
Accepted: 29 September 2005
Published: 29 September 2005
Abstract
Plant genome sequence data now provide opportunities to conduct molecular genetic studies at the level of the whole gene locus and above. Such studies will be greatly facilitated by adopting and developing further the new generation of genetic engineering tools, based on homologous recombination cloning in Escherichia coli, which are free from the constraints imposed by the availability of suitably positioned restriction sites. Here we describe the basis for homologous recombination cloning in E. coli, the available tools and resources, together with a protocol for long range cloning and manipulation of an Arabidopsis thaliana gene locus, to create constructs co-ordinately driven by locus-specific regulatory elements.
Keywords
Bacterial Artificial Chromosome
Luria Bertani
Bacterial Artificial Chromosome Clone
Locus Rescue
Phaseolus Coccineus
Introduction
Plant bacterial artificial chromosome (BAC) resources are being generated for ever increasing numbers of species, providing scientists with long-range physical maps and associated sequence data for both model and crop plants. This provides opportunities for reverse genetics and functional studies at the level of the gene locus and above. The latter requires methods for the cloning and manipulation of large DNA fragments, without the limitations imposed by the need for suitably positioned restriction enzyme sites. Significant advances in this respect arose from the development of homologous recombination (HR) cloning in Escherichia coli, based on RecE/RecT (ET) [1, 2] and λ RED operon gene products [3, 4]. Essentially, in ET-based strategies, PCR-amplified linear DNA fragments with short regions of homology (~50 bp to 60 bp) are precisely targeted into any DNA sequence including high copy number plasmids, the E. coli chromosome and BACs. RED-based protocols rely on a defective λ prophage to provide functions that protect and recombine the linear DNA fragments, under the control of a temperature sensitive λ cl-repressor, with recombinogenic functions switched on at 42°C and off at 32°C. This fixed induction window helps to reduce unwanted rearrangements, allowing DNA to be stably cloned.
HR-cloning in
E. coli
is widely used in the biomedical research field and is becoming an established tool for BAC engineering in functional genomic studies [
5
]. Its applications include recombinogenic targeting for gene disruption or replacement and subcloning of BAC DNA by direct isolation of specific genomic regions. A general schematic of HR cloning is given in Fig.
1
. Thus, the construction of transgenes for plant functional genomics or the next generation of genetically modified crop plants may benefit from the level of precision engineering offered by HR-cloning.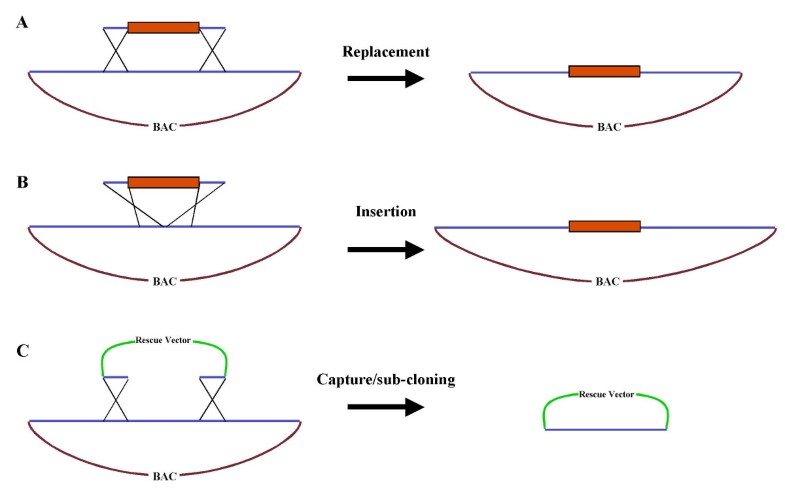 Our interest in long-range HR cloning was driven by a desire to create plant-specific tools and transgene constructs that target expression to the shoot apical meristem. We wanted to express the bean (Phaseolus coccineus) GAPc2ox1 (encoding GA 2-OXIDASE 1, which degrades bioactive gibberellin) in the shoot apex of sugar beet (Beta vulgaris) plants and study the effect on flowering. We present details of our constructs and the molecular tools (plasmids) developed to create these constructs by RED cloning.
Materials
Reagents
• E. coli strain EL250 (genotype DH10B [λcI857(cro-bioA)<> ara C-PBADflpe] where <> indicates that cro-bioA has been substituted with ara C-PBADflpe) available from the authors of [3] who have developed a number of different strains including EL350 (with inducible araC-PBADcre). These strains carry a defective λ prophage with red and gam recombination genes under the control of the λPL promoter and exo and bet tightly controlled by the temperature sensitive cI857 repressor. Exo and Beta provide recombinogenic function while Gam inhibits the E. coli RecBCD nuclease from degrading electroprated linear DNA fragments. The promoter of the ara BAD operon (PBAD) is induced by L-arabinose for flpe and cre expression enabling removal of sequences between FRT and Lox P sites respectively. We used EL250 to enable removal of the kanamycin gene in our FRT-mPGK-Tn5-neo-FRT cassette. OUR RESULTS: The marker gene was removed as described [3] and worked with 90%–100% efficiency and we were able to recover 100 s of colonies which had become kanamycin sensitive.
• Luria Bertani (LB) broth and plates supplemented with antibiotics as required
• Fully sequenced BAC, PAC or other clones with desired gene locus. Plant BAC and PAC clones are widely available from a number of different sources, including individual labs and organisations e.g. The Arabidopsis Biological Resource Centre (ABRC) http://www.biosci.ohio-state.edu/~plantbio/Facilities/abrc/abrchome.htm or the Nottingham Arabidopsis Stock Centre (NASC) at http://arabidopsis.info/ and, http://www.dna.affrc.go.jp/ for rice genes and others. The AtSTM locus used in our experiments is cloned in BAC F24o1, sourced from the Arabidopsis Biological Resource Centre, Columbus, Ohio.
• pUC-based vectors to be used for making (i) the locus rescue gap-repair construct (must be counter selectable to the BAC/PAC), and (ii) the gene of interest (GOI) targeting cassette construct (must contain a counter selectable marker to the gap-repair construct).
• High fidelity Taq DNA polymerase. Preferably one which retains A-tails for TA cloning, e.g. the Expand High Fidelity PCR system (Roche Diagnostics).
• PCR primers – four locus-specific primers to amplify DNA fragments at the locus border flanks for the gap-repair rescue construct and two target site-specific primers (minimum 70 bp long) to generate GOI targeting products with destination site specific 5' and 3' homology arms.
• PCR product and gel purification kits e.g. the Qiagen QIAquick™ range and Dpn I restriction enzyme – used to remove plasmid templates from PCR reactions because it only cleaves methylated sites.
• General reagents for standard gene cloning and gel electrophoresis
Equipment
• Orbital shaking incubator
• Orbital shaking water bath e.g. Grant OLS 200 – essential for induction of recombination functions in bacterial cells.
• Electroporator e.g. Bio-Rad E. coli Pulser
• PCR Machine
• Long wave UV transilluminator – long wave ultra violet light is less damaging to DNA during excision of bands from gels. UV-damaged DNA will not recombine efficiently.
• Electrophoresis equipment capable of field inversion gel electrophoresis (FIGE) or pulsed field gel electrophoresis (PFGE) e.g. BioRad CHEF DR-II, DR-III or Mapper™ XA, for efficient resolution of large DNA fragments
• Spectrophotometer for cell density quantification
• Temperature controlled centrifuge able to run at 4°C
Protocol
The protocols outlined below describe the development of (i) an AtSTM-locus specific gap-repair rescue vector, (ii) a plant gene targeting construct with a removable kanamycin resistance marker cassette from pGK-FRT [6], under the control of both the bacterial Tn5 promoter and the mouse phosphoglycerate kinase (mPGK) promoter for selection in prokaryotes and eukaryotes respectively. This provides templates for PCR amplification of selectable gene fragments that can be precisely targeted into any desired gene locus; and (iii) a bean (Phaseolus coccineus) GAPc2ox1 transformation construct, co-ordinately driven by "all" AtSTM locus elements, designated pSTM 17::GAPc2ox1. We have also constructed a pENTR4-based AtSTM gap-repair rescue vector for the production of a Gateway™ (Invitrogen) compatible entry clone and generic T-DNA transformation constructs as well as an mgfp5-ER targeting cassette. The pSTM 17::GAPc2ox1 was successfully transformed into sugar beet, demonstrating for the first time that the mouse PGK promoter is fully functional in transgenic plants, thus enabling the direct exploitation of existing mammalian tools.
Comments
Manipulation of large DNA fragments to make complex constructs for functional genomics or genetic engineering for crop improvement is possible using HR cloning in E. coli. We have successfully used HR cloning in E. coli to sub-clone the Arabidopsis thaliana SHOOTMERISTEMLESS (STM) gene locus from a BAC clone into pBluescript and to replace exon 1 sequences with a Gibberellin 2-oxidase cDNA gene-of-interest cassette tightly linked to an FRT-flanked kanamycin selection marker gene. This cassette is of generic use because firstly, it can be targeted/recombineered into any locus/destination site. Secondly, the kanamycin resistance gene is under the control of both the bacterial Tn5 promoter and the mouse phosphoglycerate kinase promoter (mPGK), which respectively allow for selection in prokaryotes and eukaryotes. We have now demonstrated the utility of the mPGK promoter for driving expression in transgenic plants and this suggests that there may well be increased scope for plant scientists to directly benefit from existing molecular genetic tools developed for application in the biomedical field.
E. coli ET- and RED-HR cloning are well established technologies within the biomedical field and they have many uses besides the creation of transformation constructs with long-range regulatory elements. The identification of regulatory elements or locus control regions located at a distance from the gene sequence can be assisted by this strategy. Point mutations, deletions or insertions, gene fusions and antisense constructs can be engineered on any BAC for functional genomics studies. The scope for plant science is further enhanced by the recently reported application of HR to convert BACs into binary vectors [8] together with (i) the availability of a BAC-based physical map of A. thaliana, (ii) freely available genome sequence information through the Arabidopsis Genome Initiative, (iii) access to rice sequence data and BAC resources through The Institute for Genomic Research (TIGR) and the Rice Genome Resource Center (RGP).
Resources for RED/ET cloning are available from Neal Copeland and Nancy Jenkins for both profit and non-profit organisations. Details can be found at the following website: http://recombineering.ncifcrf.gov/reagent_request.asp. The commercial company GeneBridges http://www.genebridges.com/web/company/index.htm also offers reagents and a DNA engineering service.
Abbreviations
BAC:

BAC = Bacterial artificial chromosome
bp:

bp = base pairs
FIGE:

FIGE = field inversion gel electrophoresis
GA 2ox:

GA 2ox = gibberellin 2-oxidase
GFP:

GFP = gree fluorescent protein
GOI:

GOI = gene of interest
HA:

HA = homology arm(s)
HR:

HR = homologous recombination
LB:

LB = Luria Bertani medium
LR:

LR = Locus rescue
mPGK:

mPGK = mouse phosphoglycerate kinase promoter
OD:

OD = optical density
PCR:

PCR = polymerase chain reaction
ORF:

ORF = open reading frame
rpm = revolutions per minute:

UV = ultraviolet.
Declarations
Acknowledgements
Ann Mathews, Roz Williamson and Sarah Yallop for technical assistance molecular analyses and sugar beet transformation.
The project was funded by the Biotechnology and Biological Sciences Research Council of the UK as part of the ROPA scheme.
Authors' Affiliations
(1)
Broom's Barn Research Station, Higham, Suffolk, UK
(2)
Cambridge Institute for Medical Research, Cambridge, UK
(3)
Dept. Mol. & Cell Biol., UCT, Cape Town, South Africa
Copyright
© Roden et al; licensee BioMed Central Ltd. 2005
This article is published under license to BioMed Central Ltd. This is an Open Access article distributed under the terms of the Creative Commons Attribution License (http://creativecommons.org/licenses/by/2.0), which permits unrestricted use, distribution, and reproduction in any medium, provided the original work is properly cited.