High-throughput method for ear phenotyping and kernel weight estimation in maize using ear digital imaging
Received: 15 March 2018
Accepted: 7 June 2018
Published: 15 June 2018
Abstract
Background
Grain yield, ear and kernel attributes can assist to understand the performance of maize plant under different environmental conditions and can be used in the variety development process to address farmer's preferences. These parameters are however still laborious and expensive to measure.
Results
A low-cost ear digital imaging method was developed that provides estimates of ear and kernel attributes i.e., ear number and size, kernel number and size as well as kernel weight from photos of ears harvested from field trial plots. The image processing method uses a script that runs in a batch mode on ImageJ; an open source software. Kernel weight was estimated using the total kernel number derived from the number of kernels visible on the image and the average kernel size. Data showed a good agreement in terms of accuracy and precision between ground truth measurements and data generated through image processing. Broad-sense heritability of the estimated parameters was in the range or higher than that for measured grain weight. Limitation of the method for kernel weight estimation is discussed.
Conclusion
The method developed in this work provides an opportunity to significantly reduce the cost of selection in the breeding process, especially for resource constrained crop improvement programs and can be used to learn more about the genetic bases of grain yield determinants.
Keywords
MaizeEarKernelPhenotypingImage analysis
Background
In maize, yield is a function of interdependent characteristics of ears and kernels [1]. A well-developed maize ear may have close to a thousand kernels [2]. The number of kernels per ear is a function of ear width (kernels per row) and kernel rows per ear. Many stresses can affect row number and kernels per row, as well as kernel size/weight. Cairns et al. [3] reported that under drought conditions, yield loss in both hybrids and inbreds was largely associated with a highly significant decrease in the number of kernels per unit of ear area. Plant water deficit at flowering has been shown to negatively affect kernel number [4] and deficiencies in N supply usually decrease grain yield by lowering kernel number per plant [5, 6] as a result of less synchronous pollination [7], and/or greater kernel abortion [8]. This indicates that these ear and kernel features can be used to assess the tolerance of a variety to a stressful condition. From a breeding perspective, studies have found that yield components tend to display greater heritability than overall yield [9, 10]; making it possible to select for these traits separately and then combine the responsible genetic loci to develop a genotype with superior performance or develop a selection index through traits combinations [11]. According to Miller et al. [1], if maize ears, and kernels attributes could be automatically measured with greater objectivity and precision, more could be learned about the genetic bases of yield components and how to improve them using current and future maize genetic resources.
There are few methods that allow the extraction of ear and kernel features through image processing. A method of evaluating one or more kernels of an ear of maize using digital imagery was patented by Pioneer (Hi-Bred International, inc., Iowa) in 2009 [12]. The method enables to extract kernel count, kernel size distribution, proportion of kernels aborted and other information using image processing algorithms that include, without limitation, filtering, watershedding, thresholding, edge finding, edge enhancement, color selection and spectral filtering. Zhao et al. [13] have proposed a method that provides kernel counts from ear photos, with the assumption that a maize ear has double the number of rows and kernels than can be visible on a photo. More recently, Liang et al. [14], have developed a method that scores maize kernel traits based on line-scan imaging. The method provides 12 maize kernel traits through image processing under controlled lighting conditions. In addition, Miller et al. [1] have proposed three custom algorithms designed to compute kernel features automatically from digital images acquired by a low cost platform. One algorithm determines the average space each kernel occupies along the cob axis using a sliding-window Fourier transform analysis of image intensity features. The second one counts individual kernels removed from ears, including those in clusters. The third one measures each kernel's major and minor axis. The main limitation of these methods is that they often rely on systems like a scanner that have controlled lighting conditions and fixed image background. In addition, they do not provide a comprehensive data set from a single image of unthreshed ears i.e. ear count, ear and kernel features simultaneously in an automated manner.
Although there are harvesting equipments that automatically measure grain yield on a plot level, yield component traits such as ear and kernel dimensions are usually measured by hand [15–17]. In addition, this kind of equipment is quite expensive to buy and maintain, therefore not affordable for most breeding programs, especially in sub-Saharan Africa. Digital imaging provides a rapid and low-cost option to collect a large number of ear related traits and has the potential to improve our ability to evaluate yield potential in a breeding program and ultimately help characterize maize lines and advance our understanding of the genetic mechanisms controlling the fundamental yield components [1].
This work reports a simple, high-throughput and robust method for extracting yield components (ear and kernel attributes) from harvested maize ears using ear digital imaging (EDI).
Results
Kernel count and ear attributes
The kernel count model was tested using 180 ears selected over a range of ear sizes from 150 plots as described in the methodology section. Data showed a linear correlation (r = 0.98, p < 0.001) between the estimated kernel count from intact ears using the model and the actual count of detached kernels (Fig.
7
). The same ears used for kernel count validation were also used to compare manual measurements of ear length and width with those generated through the image processing method. Data presented a linear correlation (r > 0.98, p < 0.001) between the two methods for both traits (Fig.
8
a,b). A similar result was recorded for ear count that is much easier to do (data not shown).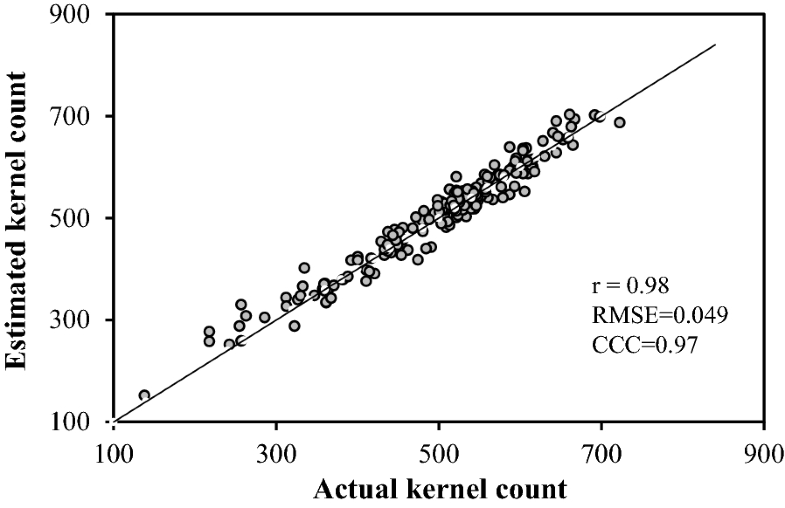 Kernel weight estimation
To validate the kernel weight estimation method, data were collected from six field trial (as described in the methodology). Measured kernel weight was compared with estimated kernel weight using the Lin's concordance test. Results show that the values of the concordance correlation coefficient are all above 0.70 except for trials 2 and 4; with an average of 0.74 (Table
1
). Average values of precision and accuracy were 0.88 and 0.83, respectively. This indicates that overall, the estimated kernel weight is in relatively good agreement with the measured kernel weight.
Table 1
Lin's concordance correlation coefficient between measured and estimated kernel weight. Data are from six hybrid trials conducted under low soil nitrogen conditions at Harare, Zimbabwe, during the season 2016–2017
| Trial | Number of plots | Concordance correlation coefficient | 95% confidence interval | Pearson ρ (precision) | Bias correction factor Cb (accuracy) |
| --- | --- | --- | --- | --- | --- |
| 1 | 150 | 0.7985 | 0.7434–0.8428 | 0.8573 | 0.9313 |
| 2 | 150 | 0.6281 | 0.5553–0.6913 | 0.8715 | 0.7207 |
| 3 | 150 | 0.7205 | 0.6447–0.7823 | 0.7754 | 0.9292 |
| 4 | 150 | 0.5969 | 0.5280–0.6580 | 0.906 | 0.6588 |
| 5 | 165 | 0.9243 | 0.9000–0.9429 | 0.9512 | 0.9718 |
| 6 | 165 | 0.7792 | 0.7394–0.8136 | 0.9744 | 0.7996 |
| Mean | 155 | 0.74125 | – | 0.8893 | 0.835233 |
Heritability of kernel and ear attributes
Broad-sense heritability for measured grain yield averaged 0.44 across all trials, similar to that of estimated (Table
2
) total kernel weight and total ear area, but significantly lower if compared to the heritability of kernel size (average length and width, average area and perimeter) and to a lesser extent the total kernel number (Table
2
). The number of ears per plot and the average ear length had higher heritability than measured grain yield, which is not the case of average ear width.
Table 2
Broad-sense heritabilities (H 2 ) and means for grain yield and kernel/ear attributes estimated through imaging for six maize trials with three replicates evaluated under low soil nitrogen at Harare, Zimbabwe
Trial

Number of

Measured Grain yield(Mg ha−1)

Broad-sense heritability (H 2 )

Kernel attributes

Ear attributes

Entries (hybrids)

Year

Visible Kernel Number

Mean width (cm)

Mean length (cm)

Total area (cm2)

Mean area (cm)

Mean perimeter (cm)

Total Number per plot

Total Weight (g plot−1)

Number per plot

Mean length (cm)

Mean width (cm)

EHYB1746

50

2017

0.591

0.374

0.725

0.815

0.439

0.71

0.842

0.374

0.301

0.781

0.665

0.507

EHYB1747

50

2017

0.596

0.619

0.657

0.761

0.513

0.722

0.765

0.619

0.492

0.358

0.728

0.634

EHYB1748

50

2017

0.595

0.624

0.709

0.624

0.687

0.69

0.569

0.597

0.700

0.746

0.539

0.278

IHYB1747

50

2017

0.599

0.721

0.737

0.693

0.423

0.607

0.735

0.721

0.442

0.515

0.652

0.504

LHYB1619

55

2016

0.146

0.541

0.904

0.930

0.238

0.917

0.934

0.541

0.320

0.647

0.560

0.730

LHYB1617

55

2016

0.137

0.314

0.798

0.830

0.384

0.782

0.903

0.314

0.287

0.450

0.279

0.239

Mean

0.444

0.532

0.755

0.775

0.447

0.738

0.769

0.527

0.423

0.582

0.570

0.482

Mean

EHYB1746

50

2017

4.02

4510.01

0.36

0.66

760.64

0.17

1.85

9243.27

3001.43

24.51

14.95

4.81

EHYB1747

50

2017

5.48

5337.80

0.35

0.65

858.42

0.16

1.81

10941.06

3452.16

28.22

14.71

4.70

EHYB1748

50

2017

2.60

4781.87

0.36

0.67

801.47

0.14

1.91

9800.89

3237.06

27.88

14.42

4.66

IHYB1747

50

2017

5.20

5398.55

0.34

0.63

824.45

0.15

1.77

11065.71

3318.40

28.05

14.34

4.64

LHYB1619

55

2016

2.24

3789.83

0.42

0.76

852.04

0.23

2.31

7766.21

2415.55

21.77

16.43

5.23

LHYB1617

55

2016

1.36

3151.16

0.35

0.60

435.25

0.14

2.02

4420.99

1126.73

23.18

11.17

3.93
Discussion
Maize grain yield can be described as a function of the number of harvestable kernels and their individual weight. From these two yield determinants, kernel number usually explains most variation [25] and is strongly related to ear size. Several studies have reported that kernel weight is a highly heritable trait [26, 27], varying markedly among genotypes [28] and largely influenced by genotype × environment interactions. Maize kernel weight is associated with the duration of the grain-filling period, the rate of kernel biomass accumulation, the rate of kernel desiccation and the moisture concentration at physiological maturity [29]. All these traits had large phenotypic variation and significant response to the interaction between genotype and environment [30]. Although very important, kernel traits are not easy to measure rapidly and accurately, partly due to the need for ear threshing before they can be measured. Kernel count can be done manually by counting the number of rows and multiplying that by the number of kernels in one length of the ear. Regarding ear number and size, the manual methods of data collection include measuring directly the dimensions of an individual ear or kernel with calipers [17]. These manual measurements of yield components have been useful and were, for example, used for a divergent selection study of the relationship between ear length and yield [31]. The problem with these methods is the lack of consistency that is inherent to the way the data is collected (dependent on the training and appreciations of the staff devoted to that task), the time and associated cost, which makes them mostly suitable for very small trials. From a preliminary assessment (data not shown), the proposed EDI method can be twice (example: ear count) to five-fold (example: ear dimensions) or more, faster than the manual methods depending on the targeted measurement. The manual methods are labor intensive, which makes them costly as compared to the EDI method. The difference in terms of cost would depend on the location/country because of variations in the cost of labor. Yield component studies as well as selection for crop improvement could take advantage of automated measurements that are more consistent, fast and low-cost. For example, Takanari et al. [32] and Moore et al. [33] mapped quantitative trait loci (QTL) in rice and Arabidopsis, respectively using image-derived size and shape phenotypes.
Miller et al. [1] have proposed an imaging method of kernel counting based on individual kernel area. The method estimates also kernel size (width and depth) but only on detached kernels. While this method is quite precise, it requires that the kernels are removed from the ears; which may not be convenient especially when dealing with a large number of ears. Similarly, Liang et al. [14], have also developed a method that scores maize kernel traits based on line-scan imaging that cannot be suitable for assessment in the field in terms of time and cost. The advantage of the proposed EDI method it that it generates ear and kernel attributes data from images of intact ears. The approach is to some extent similar to that of Grift et al. [34] who have developed a machine vision-based method to count maize kernels on the ear within a quasi-cylindrical mid-section and ear maps. While their method is, to a large extent, interesting; the imaging is done in a soft box fitted with a light reflector and high-quality diffused lighting scene. The limitation of this type of imaging set up is the throughput. Regarding ear size, the EDI method showed a good agreement between manually measured ear dimensions and the results of automated image processing (Fig. 8). Similar results were reported by Miller et al. [1]. The main difference between the two methods is that the one proposed by Miller et al. [1] uses flatbed document scanners to acquire ear images whereas the EDI method makes use of RGB camera. In addition, while the flatbed scanner gives the advantage of controlling lighting conditions; the logistics associated with using it in the field (i.e. need of a computer) and the limited number of ear (3–5) that can be scanned at a time does not make it suitable for assessing thousands of ears that are usually evaluated in a breeding trial.
The EDI method also estimates kernel weight through kernel size, thereby providing an opportunity for a cheap yield performance assessment, especially in case where ear shelling and kernel weighing may be too costly or the required equipment not available. It is important to mention that this method does not systematically take into account kernel moisture (the kernel weight model was developed for a range of kernel moisture between 11 and 13%), which often quite significantly affect the actual weight if not corrected for. In addition, the EDI method does not include kernel depth for weight estimation which in some cases may lead to a slight underestimation of the actual kernel weight.
Factors affecting extraction of kernel attributes (color, texture and surface reflectance)
Maize ears are diverse in color and texture. The proposed method was tested on different ear colors and textures. As shown in Fig.
9
a, b, ears were successfully segmented across tested colors and sizes. However, ears with flint kernels showed underestimated kernel size as compared to those with dent kernels (data not shown). This is largely because most flint kernels are multi-colored in addition of concave surfaces surrounded by wide and hazy boundaries which negatively affect the segmentation process. On the other hand, with dent ears, which have uniformly white and flat surfaces segments, kernels are much easier to segment.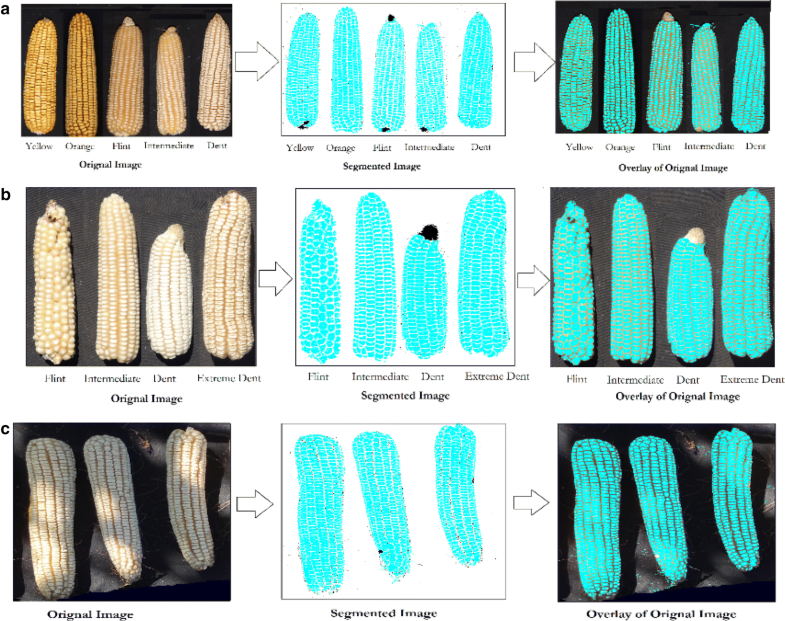 Besides, kernel color and texture, lighting conditions can constitute a challenge for image processing, largely due to surface reflections. This can affect both the kernel count and size estimation because these reflections affect the quality of color segmentation. The proposed method showed a relatively good segmentation for ears that have kernel surface reflections due to non-uniform lighting conditions (Fig. 9c).
Conclusion
This work has shown that the EDI method can be used as an alternative to the traditional methods of ear phenotyping. It is more consistent than manual measurements, which typically employ calipers and manual counting especially for large number of ears that are often evaluated in breeding trials. The accuracy of this method rely largely on the resolution of the camera that is used; however this does not represent a major challenge because of the recent significant improvement in the resolution of all camera types, including those of smartphone or tablet.
From a breeding perspective, kernel number, their total area and weight and number of ears generated through the current method could be a valuable adjunct in increasing the efficiency of selection for grain yield due to their genetic correlation with grain yield and relatively high broad-sense heritability combined with low selection cost. The method will be particularly helpful for breeding programs that have limited operational resources. The ability to measure ear and kernel attributes together may help to develop varieties with desirable farmers preferred traits like ear or kernel size.
Declarations
Authors' contributions
MZ, RM, JEC and JE designed and developed the method. JB and CD participated in the script development. MZ, RM and JEC prepared the manuscript. CM and AT participated in the carrying out the trials and in preparing the manuscript. MO and BMP helped during the method development. All authors read and approved the final manuscript.
Acknowledgements
We thank Hamadziripi Esnath, assistant research associate and Nyamande Boniface, field assistant for assistance with trials management and data collection.
Competing interests
The authors declare that they have no competing interests.
Availability of data and materials
The datasets used and/or analyzed during the current study are available from the corresponding author on reasonable request until they are made publicly available in a repository.
Consent for publication
Not applicable.
Ethics approval and consent to participate
Not applicable.
Funding
This work was supported by the Bill & Melinda Gates Foundation and USAID funded project Stress Tolerant Maize for Africa (STMA), the CGIAR MAIZE research program and the CGIAR Excellence in Breeding Platform.
Publisher's Note
Springer Nature remains neutral with regard to jurisdictional claims in published maps and institutional affiliations.
Open AccessThis article is distributed under the terms of the Creative Commons Attribution 4.0 International License (http://creativecommons.org/licenses/by/4.0/), which permits unrestricted use, distribution, and reproduction in any medium, provided you give appropriate credit to the original author(s) and the source, provide a link to the Creative Commons license, and indicate if changes were made. The Creative Commons Public Domain Dedication waiver (http://creativecommons.org/publicdomain/zero/1.0/) applies to the data made available in this article, unless otherwise stated.
Authors' Affiliations
(1)
International Maize and Wheat Improvement Center (CIMMYT), Harare, Zimbabwe
(2)
University of Queensland, Brisbane, Australia
(3)
International Maize and Wheat Improvement Center (CIMMYT), Nairobi, Kenya
(4)
International Maize and Wheat Improvement Center (CIMMYT), El Batan, Mexico
(5)
Cornell University, Ithaca, USA