Leaf-GP: an open and automated software application for measuring growth phenotypes for arabidopsis and wheat
Received: 11 August 2017
Accepted: 8 December 2017
Published: 22 December 2017
Abstract
Background
Plants demonstrate dynamic growth phenotypes that are determined by genetic and environmental factors. Phenotypic analysis of growth features over time is a key approach to understand how plants interact with environmental change as well as respond to different treatments. Although the importance of measuring dynamic growth traits is widely recognised, available open software tools are limited in terms of batch image processing, multiple traits analyses, software usability and cross-referencing results between experiments, making automated phenotypic analysis problematic.
Results
Here, we present Leaf-GP (Growth Phenotypes), an easy-to-use and open software application that can be executed on different computing platforms. To facilitate diverse scientific communities, we provide three software versions, including a graphic user interface (GUI) for personal computer (PC) users, a command-line interface for high-performance computer (HPC) users, and a well-commented interactive Jupyter Notebook (also known as the iPython Notebook) for computational biologists and computer scientists. The software is capable of extracting multiple growth traits automatically from large image datasets. We have utilised it in Arabidopsis thaliana and wheat (Triticum aestivum) growth studies at the Norwich Research Park (NRP, UK). By quantifying a number of growth phenotypes over time, we have identified diverse plant growth patterns between different genotypes under several experimental conditions. As Leaf-GP has been evaluated with noisy image series acquired by different imaging devices (e.g. smartphones and digital cameras) and still produced reliable biological outputs, we therefore believe that our automated analysis workflow and customised computer vision based feature extraction software implementation can facilitate a broader plant research community for their growth and development studies. Furthermore, because we implemented Leaf-GP based on open Python-based computer vision, image analysis and machine learning libraries, we believe that our software not only can contribute to biological research, but also demonstrates how to utilise existing open numeric and scientific libraries (e.g. Scikit-image, OpenCV, SciPy and Scikit-learn) to build sound plant phenomics analytic solutions, in a efficient and effective way.
Conclusions
Leaf-GP is a sophisticated software application that provides three approaches to quantify growth phenotypes from large image series. We demonstrate its usefulness and high accuracy based on two biological applications: (1) the quantification of growth traits for Arabidopsis genotypes under two temperature conditions; and (2) measuring wheat growth in the glasshouse over time. The software is easy-to-use and cross-platform, which can be executed on Mac OS, Windows and HPC, with open Python-based scientific libraries preinstalled. Our work presents the advancement of how to integrate computer vision, image analysis, machine learning and software engineering in plant phenomics software implementation. To serve the plant research community, our modulated source code, detailed comments, executables (.exe for Windows; .app for Mac), and experimental results are freely available at https://github.com/Crop-Phenomics-Group/Leaf-GP/releases.
Keywords
Growth phenotypes
Automated trait analysis
Feature extraction
Computer vision
Software engineering
Arabidopsis
Wheat
Background
Plants demonstrate dynamic growth phenotypes that are determined by genetic and environmental factors [1–3]. Phenotypic features such as relative growth rates (RGR), vegetative greenness and other morphological characters are popularly utilised by researchers to quantify how plants interact with environmental changes (i.e. G × E) and different experimental treatments [4–6]. In particular, to assess the growth and development, growth phenotypes such as leaf area, leaf convex hull size and leaf numbers are considered as key measurements by plant scientists [7–12], indicating the importance of scoring differences of growth related traits between experiments. To accomplish the above tasks, high quality image-based growth data need to be collected from many biological replicates over time [13, 14], which is then followed by manual, semi-automated, or automated trait analysis [15, 16]. However, the current bottleneck lies in how to extract meaningful results from the increasing image-based data, effectively and efficiently [14, 17].
To facilitate the quantification of dynamic growth traits, a range of imaging hardware and software have been developed. To demonstrate the development of this research domain, we summarise some representative tools and techniques as follows:
While many hardware and software solutions have been created, the threshold for using these existing tools for measuring growth phenotypes is still relatively high. This is due to many analytic software solutions that are either customised for specific hardware platforms (e.g. LemnaTec Scanalyzer and Phenospex PlantEye), or relied on proprietary (LemnaTec HTS Bonit) or specialised software platforms (e.g. Matlab), restricting smaller or not well-funded laboratories to access the existing solutions [22]. Hence, data annotation, phenotypic analysis, and results cross-referencing are still frequently done manually in many laboratories, which is time consuming and prone to errors [21].
Available open software tools are also limited in terms of batch processing, multiple trait analysis, and software usability, making automated phenotypic analysis problematic [33]. In order to provide a fully open analytics software framework for a broader plant research community to measure key growth-related phenotypes, we developed Leaf-GP (Growth Phenotypes), an open-source and easy-to-use software solution that can be easily setup for analysing images captured by low-cost imaging devices. The software uses the community driven Python-based scientific and numeric libraries. After continuous development and testing, Leaf-GP can now extract and compare growth phenotypes reliably from large image series, including projected leaf area (mm2), leaf perimeter (mm), leaf convex hull length and width (mm), leaf convex hull area (mm2), stockiness (%), compactness (%), leaf numbers and greenness (0–255). We demonstrate its high accuracy and usefulness through experiments using Arabidopsis thaliana and Paragon wheat (a UK spring wheat variety). The software can be executed on mainstream operating systems with Python and Anaconda distribution preinstalled. More importantly, we followed the open software design strategy, which means that our work is expandable and new functions or modules can be easily added to the software framework.
Results
Leaf-GP can facilitate plant growth studies through automating trait analysis and cross-referencing results between experiments. Instead of only using machine learning algorithms to build neural network architecture for pixel clustering or trait estimates [59], we chose an approach that combines simple unsupervised machine learning, computer vision and image analysis algorithms to establish an efficient analysis framework. This approach has enabled us to generate biologically relevant outputs at both image and pot levels. Here, we exhibit three use cases where Leaf-GP were employed to study key growth phenotypes for Arabidopsis rosettes and Paragon wheat.
Use case 1—Tracking three genotypes in a single tray
We applied Leaf-GP to measure growth phenotypes in a tray containing three genotypes L
er
(wildtype),
spt
-
2
, and
gai
-
t6 rga
-
t2 rgl1
-
1 rgl2
-
1
(
della4)
at 17 °C. Each pot in the tray was monitored and cross-referenced during the experiment. The projected leaf area trait in 24 pots was quantified by Leaf-GP (Fig.
8
a) and rosette leaves were measured from stage 1.02 (2 rosette leaves, around 5 mm
2
) to stage 5 or 6 (flower production, over 2400 mm
2
), a duration of 29 days after the first image was captured.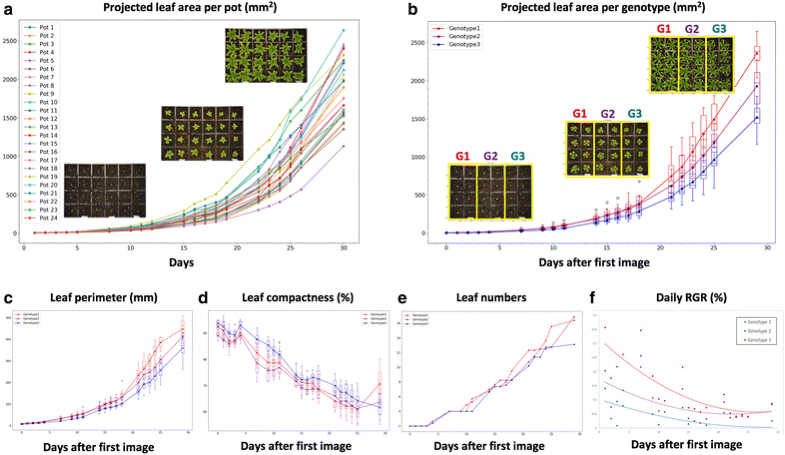 After dividing the quantification into three genotype groups, we used the projected leaf area readings (Fig. 8b) to verify the previously manually observed growth differences between Ler, spt-2, and della4 [2, 3]. Furthermore, the differences in phenotypic analyses such as leaf perimeter, compactness, leaf number, and daily RGR of all three genotypes can be differentiated (Fig. 8c–f). Particularly for Daily RGR (Fig. 8f), the three genotypes exhibit a wide variety of growth rates that verify the known genetic factors published previously [60]. Based on image series, Leaf-GP can integrate time and treatments (e.g. temperature signalling or chemicals) with dynamic growth phenotypes for cross referencing. We provided the CSV file for Use Case 1 in Additional file 4, containing plot-level trait measurements over time. The Python script we used to plot and cross-reference pot- or genotype-based growth phenotypes is provided in Additional file 5, which is also integrated in the GUI version.
Use case 2—Two genotypes under different temperatures
We also used the software to detect different rosette growth patterns between L
er
(wildtype) and
spt
-
2
grown at different temperatures, i.e. 12 and 17 °C. Utilising the projected leaf area measurements, we observed that temperatures affect vegetative growth greatly on both genotypes (Fig.
9
a). Similar to previously studied [
2
,
3
], lower temperatures can have a greater effect on the growth of
spt
-
2
than L
er.
Around seven weeks after sowing, the projected leaf area of
spt
-
2
was around 50% greater on average (1270 mm
2
) compared to L
er
(820 mm
2
), when grown at 12 °C (Fig.
9
c). However, when grown in 17 °C, at 36 days-after-sowing
spt
-
2
had a similar area at around 1200 mm
2
, but L
er
had an area of 1000 mm
2
, a much smaller difference.

As our software can export multiple growth phenotypes, we therefore investigated both linked and independent effects of temperature on wildtype and spt-2. For instance, the larger rosette in spt-2 causes a similar increase in rosette perimeter, canopy length and width, and canopy size. At similar days after sowing, plants of both genotypes grown at 12 °C had more compact rosettes that those growing at 17 °C (Fig. 9b), whereas spt-2 was less compact than Ler in general. The number of leaves produced was greater at the warmer temperature (Fig. 9c). This ability to easily export a number of key growth traits of interest is useful and relevant to broader plant growth research. We provided detailed phenotypic data (csv files) for the Ler (12 and 17 °C, Additional file 8) and spt-2 (12 and 17 °C, Additional file 9) experiments with processed images, which can be downloaded freely at https://github.com/Crop-Phenomics-Group/Leaf-GP/releases.
Use case 3—Monitoring wheat growth
Another application for which Leaf-GP has been designed is to analyse wheat growth images taken in glasshouses or growth chambers using smartphones. In this case, every image only contains one wheat pot. Similarly, red circular stickers (5 mm in radius) are required to attach to the corners of the pot region so that Leaf-GP can extract ROI and transfer traits in mm units. Figure
10
demonstrates a proof-of-concept study demonstrating how Leaf-GP could be used to measure projected leaf area and leaf convex hull based on
Paragon
(a UK spring wheat) image series taken over a 70-day period in greenhouse (Fig.
10
a), from sprouting (Fig.
10
b) to tillering (Fig.
10
c), and then from booting (Fig.
10
d) to heading (Fig.
10
e). With a simple and low-cost imaging setting, Leaf-GP can quantify growth phenotypes for wheat under different experimental conditions. Please note that the leaf counting function in Leaf-GP cannot be reliably applied to quantify wheat leaves due to the complicated plant architecture of wheat plants (the Notebook version for wheat can also be seen on Github, at
https://github.com/Crop-Phenomics-Group/Leaf-GP/releases
).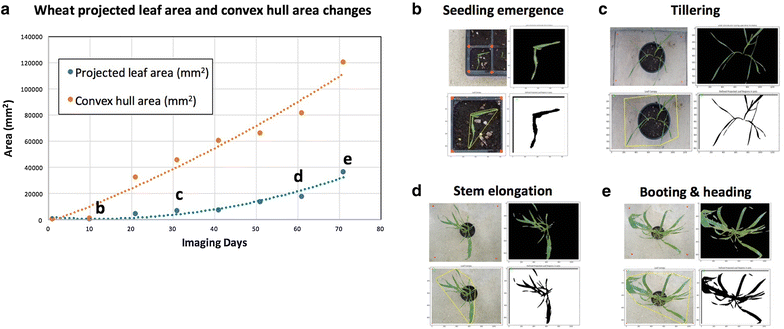 Discussion
Different environmental conditions and genetic mutations can impact a plant's growth and development, making the quantification of growth phenotypes a useful tool to study how plants respond to different biotic and abiotic treatments. Amongst many popularly used growth phenotypes, imaging leaf-related traits is a non-destructive and reproducible approach for plant scientists to record plant growth over time. In comparison with many published image analysis software tools for leaf phenotyping, our software provides an open and automated software framework that is capable of extracting multiple traits from large image datasets; and moreover, it can provide traits analysis that can be used to cross reference different experiments. In order to serve a broader plant research community, we designed three versions of Leaf-GP, including a GUI version for PC users, a command-line interface for HPC users, and a Notebook version for computational users. We provide all steps of the algorithm design and commented software implementation openly, together with raw and processed datasets for others to reproduce our Arabidopsis and Paragon wheat studies at NRP.
Open software design
When developing the software, we particularly considered how to enable different plant research laboratories to utilise our work for screening large populations of Arabidopsis and wheat in response to varied treatments using low-cost imaging devices. Hence, we focused on software usability (e.g. simple command-line interface or GUI), capability (automatic multiple traits analyses running on different platforms), expandability (open software architecture, new functions and modules can be easily added, see the PeakDetect procedure in Additional file 1), and biological relevance (i.e. the extracted features are biological relevant). We trust that Leaf-GP is suitable for studying the growth performance with limited imaging hardware investment and software requirements.
The software has been used to evaluate noisy images caused by algae and different soil surfaces. Still, it can reliably execute the analysis tasks without users' intervention. To verify Leaf-GP's measurements, we have scored manually the key growth phenotypes on the same pots and obtained an average correlation coefficient of 0.958 on three traits (i.e. projected leaf area, leaf compactness, and leaf numbers). As the software is implemented based on open scientific libraries, it can be easily adopted or redeveloped for other experiments. We have also tested the performance of the software when handling large image datasets. Using the profile function in PyCharm [61], we recorded that the software could finish processing 2.6 GB (a series of 437 images with an average size of 6 MB) on an ordinary PC (Intel Core i5 5th generation, quad core 3 GHz, 8 GB memory) within 3 h, averagely 25 s per image.
From a software engineering perspective, we followed best practices in phenotypic analysis [62], i.e. choosing traits based on the statistical variation or dispersion of a set of phenotypic data values. Whilst implementing the software, we built on our previous work in batch processing and high-throughput trait analysis [56, 63, 64] and improved software implementation in areas such as reducing computational complexity (e.g. the usage of CPU cores and memory in parallel computing), optimising data annotation and data exchange between application programming interfaces (APIs), i.e. the objects passing between internal and external functions or methods, promoting mutual global and local feature verification (e.g. cross validating positional information at the image and the pot levels), and implementing software modularity and reusability when packaging the software. Furthermore, we verify that, instead of fully relying on a black-box machine learning approach without an in-depth understanding of why clustering or estimation is accomplished, it is more efficient to establish an analysis pipeline based on a sound knowledge of the biological challenges that we need to address. If the features we are interesting is countable and can be logically described, computer vision methods could be efficient for our phenotypic analysis missions. To support computational users to exploit our work, we have provided very detailed comments in the source code.
The potential use of the software
From a biological perspective, the use of key growth phenotypes generated by the software can be an excellent toolkit for screening leaf growth, leaf symmetry, leaf morphogenesis and movement, e.g. phototropism. For example, the leaf skeleton is a useful tool to estimate hyponasty (curvature of the leaf). Colour features in combination with leaf convex hull could be used as a marker to quantify plant maturation, e.g. Arabidopsis plants transits to the reproductive stage (i.e. flowering), a change from vegetative to flowering meristem when cauline leaves are produced. Some phenotypes are also useful in studies other than plant development biology, for instance, vegetative greenness can be used in plant pathogen interaction to analyse the activity of pathogens on the leaf surface, as most of the times broad yellowish symptoms can be observed from susceptible plants (e.g. rust in wheat).
Conclusions
In this paper, we presented Leaf-GP, a sophisticated software application for analysing large growth image series to measure multiple growth phenotypes in response to different treatments over time. We demonstrated that treatment effects between genotypes could be detected reliably by the software. We also showed the usefulness and the accuracy of the analysis based on quantifying growth traits for Arabidopsis genotypes under varied temperature conditions and wheat growth in the glasshouse. To serve a broader plant research community, we improved the usability of the software so that it can be executed on different platforms. To help users to gain an in-depth understanding of the algorithms and the software, we have provided our source code, detailed comments, software modulation strategy, and executables (.exe and .app), together with raw image data and processing results in this paper as well as at https://github.com/Crop-Phenomics-Group/Leaf-GP/releases.
Leaf-GP software can be used without programming skills and limited requirements on imaging equipment. Our software has confirmed previously reported results in the literature, which can be reproduced in other plant growth studies. Our case studies of temperature effects and different genotypes or plant species are not limited. Many plant growth and development experiments can be analysed by Leaf-GP, for example, natural variation in plant growth, or plants experiencing mineral or nutrient stress.
Abbreviations
RGB:

A red, green and blue colour model
NoIR:

No infrared filter
ROI:

Regions of interest
GUI:

Graphic user interface
HPC:

High-performance computer
CSV:

Comma-separated values
OS:

Operating systems
CPU:

Central processing unit
Lab:

Lightness, a for the colour opponents green–red, and b for the colour opponents blue–yellow
RGR:

Relative growth rate
Ler :

Landsberg erecta (wildtype)
spt-2 :

Spatula-2
API:

Application programming interfaces
Declarations
Authors' contributions
JZ, CA, NP wrote the manuscript, NP, ADA and SO performed the biological experiments under SP and SG's supervision. JZ, NP and DR designed the plant phenotyping protocol. JZ developed and implemented the core analysis algorithm of Leaf-GP. CA, DR and MM implemented and packaged the GUI version under JZ's supervision. JZ, CA and NP tested the software package. NP and JZ performed the data analysis. All authors read and approved the final manuscript.
Acknowledgements
The authors would like to thank members of the Zhou laboratory for fruitful discussions. We thank Thomas Le Cornu, Danny Websdale and Jennifer McDonald for excellent technical support and research leaders at EI, JIC, TSL and UEA for constructive discussions. JZ was partially funded by BBSRC's Designing Future Wheat Cross-institute Strategic Programme Grants (BB/P016855/1) to Professor Graham Moore. NP and ADA were supported by a Leverhulme Trust Research Project Grant (CA580-P11-H) awarded to SP. CA was partially supported by BBSRC's FoF award (GP105-JZ1-B) to JZ.
Competing interests
The authors declare no competing financial interests.
Consent for publication
Not applicable.
Ethics approval and consent to participate
Not applicable.
Publisher's Note
Springer Nature remains neutral with regard to jurisdictional claims in published maps and institutional affiliations.
Open AccessThis article is distributed under the terms of the Creative Commons Attribution 4.0 International License (http://creativecommons.org/licenses/by/4.0/), which permits unrestricted use, distribution, and reproduction in any medium, provided you give appropriate credit to the original author(s) and the source, provide a link to the Creative Commons license, and indicate if changes were made. The Creative Commons Public Domain Dedication waiver (http://creativecommons.org/publicdomain/zero/1.0/) applies to the data made available in this article, unless otherwise stated.
Authors' Affiliations
(1)
Earlham Institute, Norwich, UK
(2)
John Innes Centre, Norwich, UK
(3)
University of East Anglia, Norwich, UK