Chromatin immunoprecipitation: optimization, quantitative analysis and data normalization
Received: 27 June 2007
Accepted: 24 September 2007
Published: 24 September 2007
Abstract
Background
Chromatin remodeling, histone modifications and other chromatin-related processes play a crucial role in gene regulation. A very useful technique to study these processes is chromatin immunoprecipitation (ChIP). ChIP is widely used for a few model systems, including Arabidopsis, but establishment of the technique for other organisms is still remarkably challenging. Furthermore, quantitative analysis of the precipitated material and normalization of the data is often underestimated, negatively affecting data quality.
Results
We developed a robust ChIP protocol, using maize (Zea mays) as a model system, and present a general strategy to systematically optimize this protocol for any type of tissue. We propose endogenous controls for active and for repressed chromatin, and discuss various other controls that are essential for successful ChIP experiments. We experienced that the use of quantitative PCR (QPCR) is crucial for obtaining high quality ChIP data and we explain why. The method of data normalization has a major impact on the quality of ChIP analyses. Therefore, we analyzed different normalization strategies, resulting in a thorough discussion of the advantages and drawbacks of the various approaches.
Conclusion
Here we provide a robust ChIP protocol and strategy to optimize the protocol for any type of tissue; we argue that quantitative real-time PCR (QPCR) is the best method to analyze the precipitates, and present comprehensive insights into data normalization.
Keywords
Histone ModificationActive ChromatinChIP ExperimentChIP SampleInvariant Domain
Background
Epigenetic regulation of gene expression is crucial for cell differentiation, and thus essential for normal growth and development of higher eukaryotes. Epigenetic control is an intricate interplay between various molecular mechanisms, e.g. DNA methylation and histone modifications (reviewed in [1–4]). Whereas DNA methylation has been studied in great detail for several decades, the role of histone modifications has only been fully appreciated for about 10 years [5]. Since then the number of papers on new histone modifications and their possible functions has exploded.
The most widely used procedure to examine histone modifications is Chromatin Immunoprecipitation (ChIP), a technique first established for cultured
Drosophila
cells [
6
]. In short, ChIP relies on antibodies to identify the presence of specific histone modifications at DNA regions of interest. Chromatin is extracted from cells or tissue, fragmented and incubated with antibodies against specific histone modifications (Figure
1
). The chromatin fragments bound to the antibodies are captured using protein A/G beads, and DNA is isolated from the precipitate. This DNA is usually analyzed by (quantitative) PCR to determine the abundance of a region of interest in the precipitated material. ChIP has proven to yield very valuable information on chromatin-associated processes in eukaryotes, including plants and humans. Despite the fact that ChIP on plant material is established for the widely used model system
Arabidopsis
, to implement and optimize the technique for other model plant species, such as maize, is still very challenging and time consuming.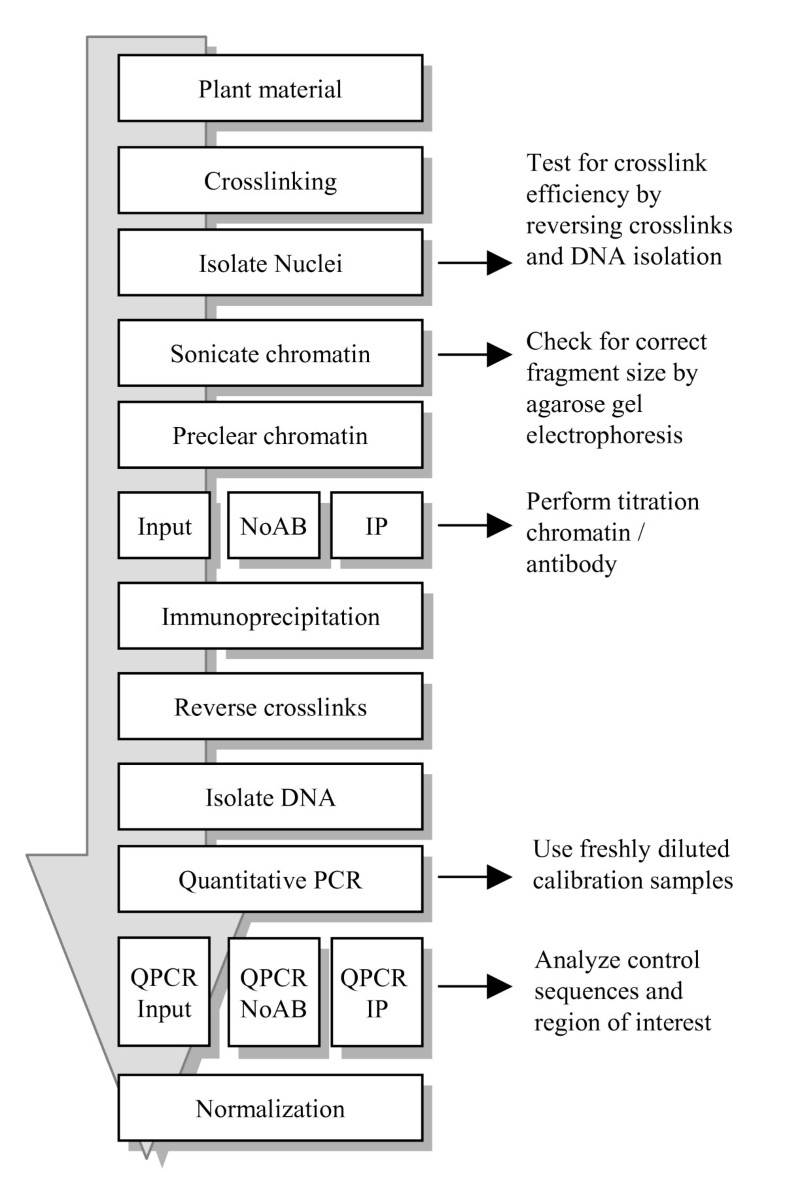 In current literature, conventional PCR is mostly used to analyze plant ChIP precipitates. In this method, the intensity of a DNA band on an agarose gel is assumed to reflect the initial abundance of a specific DNA fragment in the precipitate. Instead, the intensity of the band reflects the endpoint of a non-linear PCR reaction. Since a careful quantification of ChIP signals is important for a correct interpretation of the data, we discuss the application of quantitative real-time PCR (QPCR).
Once the QPCR data are obtained, they can be normalized and presented in different ways. All normalization methods have their own advantages and drawbacks. Therefore, making a well-informed choice is important for correct interpretation of the data. For example, the most commonly used methods, '% of input' (%IP) and 'fold enrichment', may obscure the biological meaning of the ChIP signal by relating the signal intensity to an arbitrary amount of chromatin or to background levels, respectively. Besides the inherent disadvantages of the various methods, the wide range of normalization methods that is currently used can hamper the comparison of published data sets [7].
In this paper we present a robust, optimized ChIP protocol, and in addition a strategy to optimize the protocol when dealing with different experimental systems or conditions. Quantitative real-time PCR (QPCR) is presented as best practice to analyze the precipitated material. A quantitative interpretation of ChIP-QPCR data requires normalization, an often under-illuminated aspect of the ChIP-QPCR procedure. Therefore, this paper provides a discussion on the use of various normalization methods, enabling a well-informed choice for a specific normalization method.
Results and Discussion
Chromatin immunoprecipitation experiments can roughly be divided into two categories. One uses crosslinked chromatin sheared by sonication (X-ChIP), and the other native chromatin digested by nucleases (N-ChIP). Both methods have their own advantages and disadvantages [8]. Our paper provides and discusses a protocol for X-ChIP that involves formaldehyde crosslinking of the chromatin in intact tissue, ensuring the rapid fixation of the existing chromatin structure. Without crosslinking, we systematically failed to obtain significant amounts of precipitate. In this paper, we discuss the whole procedure in four sections: (1) The isolation of good-quality chromatin from plant material, (2) the chromatin immunoprecipitation itself, (3) the analysis of precipitated material by QPCR and (4) data normalization. An outline of the various steps in the whole procedure is shown in Figure 1.
Conclusion
In this paper we provide a robust, optimized ChIP protocol, useful handles for setting up this technique, and strategies on how to further optimize the technique for different plant species and tissues of interest. The use of various types of controls that facilitate the interpretation of ChIP data, and the advantages of QPCR for the analyses of ChIP precipitates are discussed. Good controls and quantitative data allow data normalization and statistical analysis, greatly enhancing data interpretation. Normalization of ChIP data often seems an underestimated step of the ChIP-QPCR procedure. In the literature numerous different normalization methods are used, and this paper provides a discussion on why some methods are more prone to affect data interpretation than others. In addition to the aspects discussed in this paper, there are technical aspects of the ChIP procedure that are difficult to control for experimentally, and which could result in incorrect data interpretation. For example, a two-fold increase in ChIP signal can be interpreted as twice as much of the epitope being present, while it can also be due to masking of the epitope by neighbouring modifications [49, 50], fixation artifacts or the quality of the input chromatin (see also the paragraph 'Choosing antibodies'). These pitfalls are not elaborately discussed in this paper, but they are excellently reviewed in other papers (e.g. [7, 18]).
The molecular mechanisms determining the turnover rate of histone modifications can also influence data interpretation [7]. Particular histone modifications can exist as very transient marks. For instance, both histone H3 lysine acetylation [51, 52] and specific histone H3 lysine methylation marks [53] can undergo turnover. When a particular histone modification has a high turnover rate, only a subset of the crosslinked nucleosomes will carry that modification, resulting in a lower ChIP signal than when that same modification is continuously present. In other words, a relatively low ChIP signal can be due to a high turnover rate of the modification. Additional experiments, for example the use of inhibitors (e.g. TSA or butyrate) to block the turnover of modifications, can provide insight into the dynamic nature of the histone modifications at the genomic locus of interest [7].
Methods
ChIP protocol
This protocol is optimized for maize leaf tissue; some adaptations may be required when this protocol is used for other tissues or species.
Plant material and crosslinking
1. Take 1–5 grams of fresh plant material (e.g. leaves) for each sample to be analyzed in the ChIP procedure. Cut the tissue in pieces and transfer them to a 50 ml tube. Do not overfill the tube as this will reduce crosslinking efficiency. Submerge the tissue in 30 ml Isolation buffer A. "Clog" the tube with a few pieces of porous filter material (e.g. polystyrene) to prevent floating of the tissue. Vacuum infiltrate for 10 min in an exicator at room temperature.
2. Remove the filter material. Add 2,5 ml 2 M glycine to each 50 ml falcon tube and mix carefully to quench the crosslinking reaction. Vacuum infiltrate for 5 min at room temperature. Wash the tissue three times with plenty of water, and dry it carefully between paper towels.
Nuclei isolation
3. Grind the tissue in liquid nitrogen to a fine, dry powder. This material may be stored at -80°C in pre-cooled tubes, or used immediately.
4. Resuspend the ground and frozen material by adding the powder to a 50 ml tube containing 30 ml ice-cold Isolation buffer B, and mix immediately. Incubate for 15 minutes at 4°C with gentle shaking. Filter the solution through 4 layers of Miracloth (Calbiochem) into a new ice-cold 50 ml tube. Centrifuge the filtrate for 20 minutes at 2880 × g at 4°C.
5. Carefully remove the supernatant and resuspend the pellet in 1 ml ice-cold Isolation buffer C. Transfer the solution to a 1,5 ml microcentrifuge tube. Centrifuge at 12000 × g for 10 minutes at 4°C
6. Remove the supernatant and resuspend the pellet in 300 μl ice-cold Isolation buffer D. Add 1500 μl of ice-cold Isolation buffer D to a new 2 ml microcentrifuge tube. Overlay this layer with the nuclei suspension and centrifuge for 1 hour at 16000 × g at 4°C
Chromatin sonication
7. Remove all supernatant and resuspend the pellet in 320 μl ice-cold Nuclei Lysis Buffer. Take a 10 μl aliquot from the nuclei and keep it on ice. This will represent 'unsheared' chromatin. Sonicate the remaining nuclei suspension with pulses of 15 seconds at 3 μm amplitude, as many as needed to obtain an average fragment size between 500 and 1000 bp. Keep the tube cooled in ice water during sonication and cool for 30 seconds in between pulses.
8. Spin 5 minutes at 16000 × g at 4°C to pellet the insoluble fraction. Transfer the clear supernatant, which contains the sonicated chromatin, to a new tube. Keep on ice. Take a 10 μl aliquot from the chromatin solution to check the sonication efficiency. The remaining chromatin can be frozen in liquid nitrogen and stored at -80°C, or used immediately in the next step. Add 140 μl TE, 5 μl 5 M NaCl and 5 μl 20% SDS to the aliquots of 'unsheared chromatin' and 'sonicated chromatin'. Reverse crosslink both samples overnight at 65°C, isolate DNA and estimate the sonication efficiency and chromatin concentration by agarose gel electrophoresis.
Chromatin preclearing and input control
9. Add together in a 2 ml tube placed on ice: 300 μl chromatin, 1660 μl ice-cold ChIP Ab incubation buffer and 40 μl washed and blocked protein A Agarose beads. Take a 55 μl aliquot from the chromatin solution (be careful not to take any beads) and store it on ice as the 'input sample' (see step 15 for further handling). Incubate the remaining chromatin sample 1 hour at 4°C with gentle agitation (Rotator at 12 rpm).
Immunoprecipitation
10. Centrifuge the chromatin samples for 1 minute at 2300 × g at 4°C to pellet the beads. Take three new 1.5 ml tubes and transfer 550 μl of chromatin solution to each tube. One tube will serve as the 'no-antibody' control (NoAb), the other two will be used for precipitation with antibodies (IP). Add to each tube 430 μl ChIP Ab incubation buffer and 20 μl protein A Agarose beads.
11. Add 1 to 10 μl of antibodies to each of the two IP tubes. The two samples can be used for the same antibody in duplo, or for two different antibodies. The amount of antibody to be added has to be determined by titration experiments. Add an equal volume of pre-immune serum or blocking serum to the NoAb control tube. Subsequently, add 20 μl protein A Agarose beads to all three tubes. Incubate the tubes for at least 2.5 hours, or overnight at 4°C with gentle agitation.
12. Centrifuge the tubes for 2 minutes at 200 × g at 4°C. To prevent loss of beads, make sure that all the beads have sunk to the bottom of the tube before proceeding.
13. Wash with the following buffers: 1 × Low Salt Buffer, 1 × High Salt buffer, 1 × LiCl buffer, and 2 × with TE buffer. Wash with 1 ml buffer for 10 minutes at 4°C with gentle agitation. After each wash, spin the beads for 1 minute at 200 × g at 4°C, and discard the supernatant.
14. Remove all buffer, but take care not to lose any beads. Add 250 μl ChIP Elution buffer to the pelleted beads to elute the immune complexes. Vortex briefly and incubate at 65°C for 15 minutes with gentle agitation. Spin the beads for 2 minutes at 3500 × g at room temperature. Transfer the supernatant into a new tube, and repeat the elution step. Combine the second eluate, together with the beads, with the first eluate.
Reverse crosslinking
15. Add 20 μl 5 M NaCl to the NoAb tube and two IP tubes. Add 100 μl TE buffer, 6.5 μl 5 M NaCl and 8 μl 20% SDS to the 'input sample' tube (step 9). Reverse crosslink all samples at 65°C overnight.
DNA isolation
16. Purify the samples using a commercial spin column kit, and elute the column twice with 41 μl of the supplied elution buffer or TE buffer (end volume will be ~80 μl).
17. Use 2–5 μl for a 25 μl PCR reaction. In case the QPCR on the precipitate does not work efficiently, try out if more, but also if less of the DNA sample solves the PCR problems. It can occur that inhibiting factors are present in the DNA sample.
ChIP buffers and chemicals
All buffers must be made fresh and kept on ice, unless indicated otherwise.
Isolation buffer A
10 mM Tris pH 8.0, 400 mM Sucrose, 10 mM Na-butyrate, 3% w/v formaldehyde, 0.1 mM PMSF, 5 mM Beta-Mercaptoethanol.
Isolation buffer B
10 mM Tris pH 8.0, 400 mM Sucrose, 10 mM Na-butyrate, 0.1 mM PMSF, 5 mM Beta-Mercaptoethanol, proteinase inhibitors 1 μg/ml each (see below).
Isolation buffer C
10 mM Tris pH 8.0, 250 mM Sucrose, 10 mM Na-butyrate, 10 mM MgCl2, 1% v/v Triton ×-100, 0.1 mM PMSF, 5 mM Beta-Mercaptoethanol, proteinase inhibitors 1 μg/ml each (see below).
Isolation buffer D
10 mM Tris pH 8.0, 1.7 M Sucrose, 10 mM Na-butyrate, 2 mM MgCl2, 0.15% v/v Triton ×-100, 0.1 mM PMSF, 5 mM Beta-Mercaptoethanol, proteinase inhibitors 1 μg/ml each (see below).
Nuclei Lysis buffer
50 mM Tris pH 8.0, 10 mM EDTA, 0.4% w/v SDS, 0.1 mM PMSF, proteinase inhibitors 1 μg/ml (see below).
ChIP Ab incubation buffer
50 mM Tris pH 8.0, 1 mM EDTA, 0.1% v/v Triton ×-100, 150 mM NaCl, 10 μg/ml BSA.
Low salt wash buffer
20 mM Tris pH 8.0, 2 mM EDTA, 0.1% w/v SDS, 1% v/v Triton ×-100, 150 mM NaCl
High salt wash buffer
20 mM Tris pH 8.0, 2 mM EDTA, 0.1% w/v SDS, 1% v/v Triton ×-100, 500 mM NaCl.
LiCl wash buffer
20 mM Tris pH 8.0, 1 mM EDTA, 1% v/v NP-40, 1% w/v Na-deoxycholate, 250 mM LiCl.
TE buffer
10 mM Tris pH 8.0, 1 mM EDTA.
ChIP Elution buffer
1% w/v SDS, 0.1 M Na-HCO3. Keep at room temperature.
Proteinase inhibitors
Aprotinin, Leupeptin and Pepstatin. Aprotinin inhibits serine proteases; Leupeptin inhibits serine and thiol proteases; Pepstatin inhibits aspartic proteases. Make 1 mg/ml each in MilliQ, aliquot and store at -20°C. It is also possible to use commercially available proteinase inhibitor tablets.
Blocked protein A agarose beads
Take 1 ml commercially available pre-swollen agarose beads with crosslinked recombinant Protein A/G (provided as a 50% v/v suspension). Remove the supernatant and wash three times in a total volume of 1 ml with TE buffer. After each wash step, allow the beads to settle and remove the supernatant. Resuspend the beads in a total volume of 1 ml TE buffer with BSA and sonicated salmon sperm DNA to a final concentration of 10 μg/ml each. Add Na-azide to a final concentration of 0.05% v/v. Incubate overnight at +4°C with gentle rotation (12 RPM). Store at +4°C.
Antibodies
Immunoprecipitation was carried out using antibodies against H3K4me2 (Upstate #07–030, Upstate USA, Chicago, USA), H3K9ac/K14ac (Upstate #06–599), H3K9me2 (Upstate #07–441), histone H3 (Abcam #ab1791, Abcam plc, Cambridge, UK) and Hyperacetylated histone H4 (Upstate #06–946) and non-specific control serum (Sigma #R9133, Sigma Aldrich, St. Louis, USA) according to the protocols described in this paper. This paper uses the nomenclature for modified histones as proposed by the Epigenome Network [54].
QPCR analysis
Quantitative (real time) PCR was performed using the Platinum SYBR Green QPCR supermix-UDG kit (Invitrogen #11733–046, Invitrogen, Carlsbad, USA) in a 25 μl QPCR reaction according to the manufacturer's protocols. The samples were amplified using an Applied Biosystems 7500 Real-Time PCR System (Applied Biosystems, Foster City, USA), and quantified with a calibration line made with DNA isolated from crosslinked, sonicated chromatin. With all experiments, no-template controls, NoAb controls and input samples were taken along for every primer set used. Two primer sets were developed for the actin1 gene (genbank #J01238), and one primer set on the reverse transcriptase sequence of copia (genbank #AF398212; Fw: forward, Rev: reverse): actin UTR: Fw TTTAAGGCTGCTGTACTGCTGTAGA; Rev: CACTTTCTGCTCATGGTTTAAGG (primer set amplifies basepair 10–129 of #J01238); actin exon2: Fw: GATGATGCGCCAAGAGCTG; Rev: GCCTCATCACCTACGTAGGCAT (amplifies bp 377–480 of #J01238); copia: Fw: CGATGTGAAGACAGCATTCCT; Rev: CTCAAGTGACATCCCATGTGT (amplifies bp 6–112 of #AF398212)
Plant stocks
Maize stocks used for ChIP analysis (inbred W23 and K55 background) are obtained from the Chandler laboratory (Plant Sciences Department, University of Arizona, Tucson, Arizona, USA), and Cultivar Montello from AGASaat GmbH, Neukirchen, Germany.
Declarations
Acknowledgements
We thank Vicki Chandler for the maize stocks used in this study. We are grateful to Aline Probst, Jerzy Paszkowski, and Roel van Driel for helpful discussion on the ChIP technique. We would like to thank Roel van Driel, Federico Tessadori and Martijn Luijsterburg for critical comments on the manuscript, the Royal Netherlands Academy of Arts and Sciences (KNAW) for funding to M.S., and the German Research Society (DFG) for funding to C.P.
Authors' Affiliations
(1)
Swammerdam Institute for Life Sciences, Universiteit van Amsterdam, SM Amsterdam, The Netherlands
(2)
Institute for Biology I, Aachen University, Aachen, Germany
Copyright
© Haring et al; licensee BioMed Central Ltd. 2007
This article is published under license to BioMed Central Ltd. This is an Open Access article distributed under the terms of the Creative Commons Attribution License (http://creativecommons.org/licenses/by/2.0), which permits unrestricted use, distribution, and reproduction in any medium, provided the original work is properly cited.